The Pakistan Fashion Week is a notable annual event held in Karachi that has put Pakistani outfits on the world's map. Brands showcase exquisite designs that have gained global recognition so much that the bulging number of Pakistani designers showing their masterpieces at London Fashion Week doesn't come as a surprise.
So, what's so special about Pakistani fashion? What makes it a favorite of many fashion lovers? In this article, we explain five prominent features of Pakistani outfits that attract fashion enthusiasts.
High-quality materials
Pakistani brands like Maria Nasir do not take the fabric's quality lightly. The best Pakistani dresses and suits are made from the finest materials that are super soft and gentle to the body but strong to last a long time.
Some of these high-quality fabrics include satin, cotton, and velvet. Depending on the type of outfit you want, you will also find Pakistani clothes made from chiffon, silk, and linen.
Lawn, a textile material derived from cotton, is a favorite of many Pakistani fashion enthusiasts. It is lightweight, comfortable, and visually appealing.
Rich Culture
When you look at the outfits reputable Pakistani brands design, you will realize that the garments are packed with tradition, which primarily revolves around Islam.
For instance, if you are a fan of Pakistani dresses, then you know that many of the outfits comprise of a dupatta – a long scarf that resembles a shawl. Women use dupatta as a covering, which is a sign of modesty – an invaluable trait in the Asian culture.
Even in this modern era where short, tight clothes are trendy, Pakistani dresses are long, and trousers are loosely fitting. They take a more conservative approach, staying true to their culture.
Colorful
There is never a dull day in Pakistani fashion!
The use of bold colors is a huge aspect when designing Pakistani outfits. They come in a myriad of shades, including red, green, magenta, blue, purple, you name it! These colors not only improve the attire's magnificence but also stand out and cater to wide range of customer preferences.
Extensive Stitching Designs
Pakistani outfits have superb and extensive stitching designs. As designers fuse the traditional Pakistani fashion with the conventional styles, what results in elegant pieces that stand the test of time.
The beautiful stitching designs include peplum frocks, straight shirts, angrakha, and many more designs. All these stitching designs can be plain or printed, depending on personal preferences.
Embroidery
Pakistan has an excellent embroidery artwork that is only unique to them. Most outfits have detailed embroidery patterns such as gota, masnat, and zardozi. The latter is distinguishable through its attractive metal embellishments and pearls. You will also notice the use of precious stones with this type of work.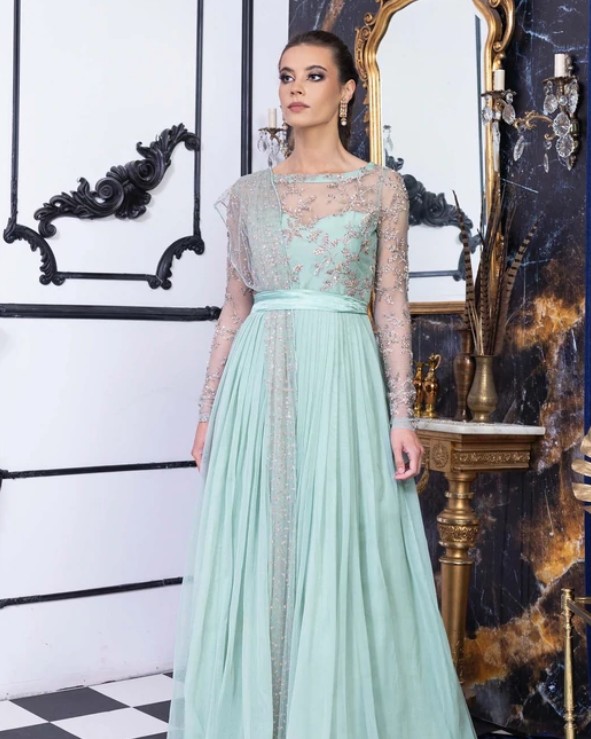 Masnat, on the other hand, is a hand-woven embroidery that you will notice on clothes made from velvet. The patchwork is attractive and familiar, mostly in wedding attires.
As for Gota, this is the gorgeous lacework achieved when designers weave beautiful ribbons onto a piece of fabric, in most cases, satin.