Best Wedding Sherwani Designs 2019
Are you looking for Sherwani for your wedding day ? Culture and tradition are two of the most important things in a society. The best way to gain knowledge about the culture and tradition of society is by gaining knowledge about the clothing of that society. In our society, different dressing are used for different ceremonies, but the most highlighted one and the one that is probably used on the most special day of one's life is the use of Sherwani.
Sherwani is a traditional dress that the groom wears on the day of his marriage. But, for some time now, it isn't just considered a wedding dress only. Now, people have even started to wear these sherwani on different parties and sherwani has also become a party wear attire as well in India and Pakistan. In this article, we will have a look at different designs that are used in the fashion industry these days by the biggest brands like " J.J" and " HSY" Deepak Perwani, or much other brands working in Pakistan. 
We will also have a look at the embroidered sherwani as well as well sherwani that are used as party wear as well. A few of the sherwanis that are most commonly used for wedding are :
Indo Western Sherwani
Achkan Sherwani
Angrakha Sherwani
Printed Sherwani
Pakistani Sherwani
Embroidered Wedding Sherwani
Read More: Best Wedding Sherwani Designs By Deepak Perwani
The name of this sherwani is suggestive of what it is supposed to be. This latest design of sherwani is actually a blend of indian subcontinent's traditional look with the comfort and relaxation of the western clothes. This fusion seems to gel in quite well and gives a brilliant look as a result.
This is a lightweight piece of beauty that is worn by grooms as well as it can be worn formally as well. This is a kind of a jacket that comes to knee length and is closed with buttons.It can be embroidered as well as simple.
It is one of the most famous sherwani going around. Angrakha can even be termed as a better version of achkan as well. In angrakha, both parts of the sherwani overlap each other and either left is joint with right or vice versa.
In this day and age of modernism and innovative techniques, there have also been a lot of new things coming in sherwanis as well. As we know, sherwani is a traditional dress, so when we make modern prints or designs on it, it surely gives a great outlook and we simply love it.
Sherwani is mostly worn by people of Pakistan and India. Pakistani sherwani has a nice close fitting along with full sleeves. It is also longer than the normal kurta as well. It can be embroidered as well and even can be simple.
Most of the Pakistani grooms who wear sherwani on their marriage like it to be highly stuffed with embroidery. Embroidery is actually embellishing of the sherwani with unique and eye catching designs. The embroidery can be done by using light colors as well as the dark one, it can be a light work of embroidery but can also be some heavy work as well, depending upon the demand of the groom. Now,we will try to have a look at few of the designs of embroidery that are used in Pakistan by different famous designers.
This is one of the mostly used method for designing an embroidery on the sherwani. By using this method, one can easily keep the embroidery as light as he wants it to be or even to make it as heavy as he wants it to be. It's a traditional way of etching out embellishments on sherwani. Most of it is done by hands. So, a lot of precision and hard work is required for the craftsmen who perform this koradabka.
A lot of sherwanis have flowers embroidered on them. Flowers have a lot of importance in our society. They are basically considered an example of love and affection. So, what better than wearing something as romantic as this on your special day?
It is just like sending a message of love and care to your newly wed wife and it is lovely and cute to say the least. The flowers that are mostly embroidered are either rose flowers or even the petals of the rose flowers are also embroidered sometimes and all of this embroidery gives a great vibe of love being in the air on that special occasion and that sherwani with flowers embroidered on it seems to represent that feel.
It's not necessary that only the main part of sherwani will be embroidered, even the cuffs can also be embroidered with brilliance. These can be different lines of beauty and they surely add to the beauty of sherwani and make the day even more special.
Read More: Latest Wedding Sherwani Designs By Amir Adnan
Some of the people like to make their sherwani look extravagant and buzzing with brilliance. Hence, they opt for a heavy embroidery. It can be full of beads and other shining stuff as well. The buttons would also be matching to the color contrast and everything just adds to that extravagant effect that is wished by the groom on his special day.It can be an expensive task to complete but as they say that, there is nothing more worthy than your wishes, so people who want to make their wedding day special by being extravagant have this option to choose.
There are some people who are sober enough to keep their special day plain and simple. They go for rather classier look by using less of the embroidery and such additions. This gives the sherwani a more classier look and also tells quite a lot about the man wearing it.
Collar And Back Embroidery 
Sometimes embroidery is also done on the collar and back of sherwani. This gives the sherwani a brilliant look and also gives a hunky look to the groom. Especially the embroidery on the back gives it a great look and it's just amazing to support it on your big day.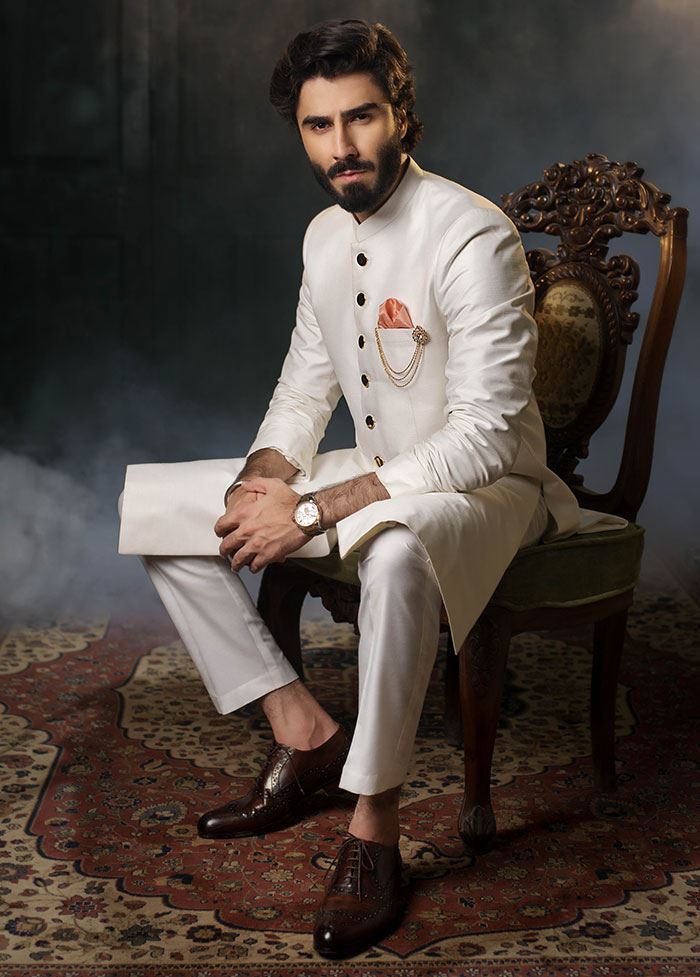 '
A master piece for festive and party wear, amazing bright color with royal look give you amazing look or have a best party and wedding wear attire with sophisticated style.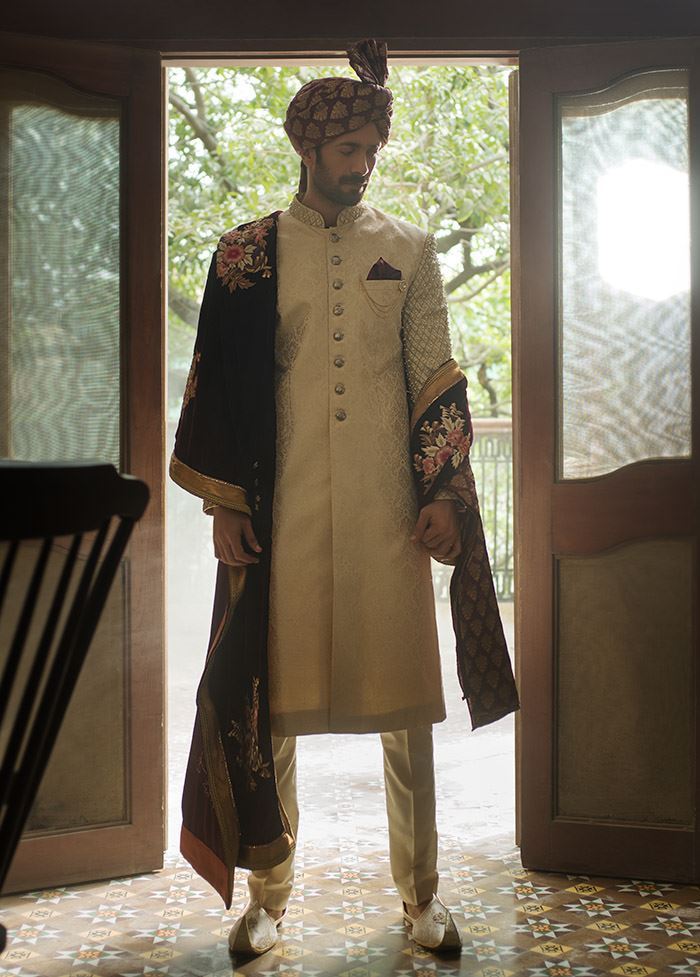 '
Amazing embroidery work with sophisticated combination of colors, shawl giving you prominent look or make you a perfect groom. Traditional Khussa looking dashing with it. So A nice pair of sherwani with luxury shawl and Qualla.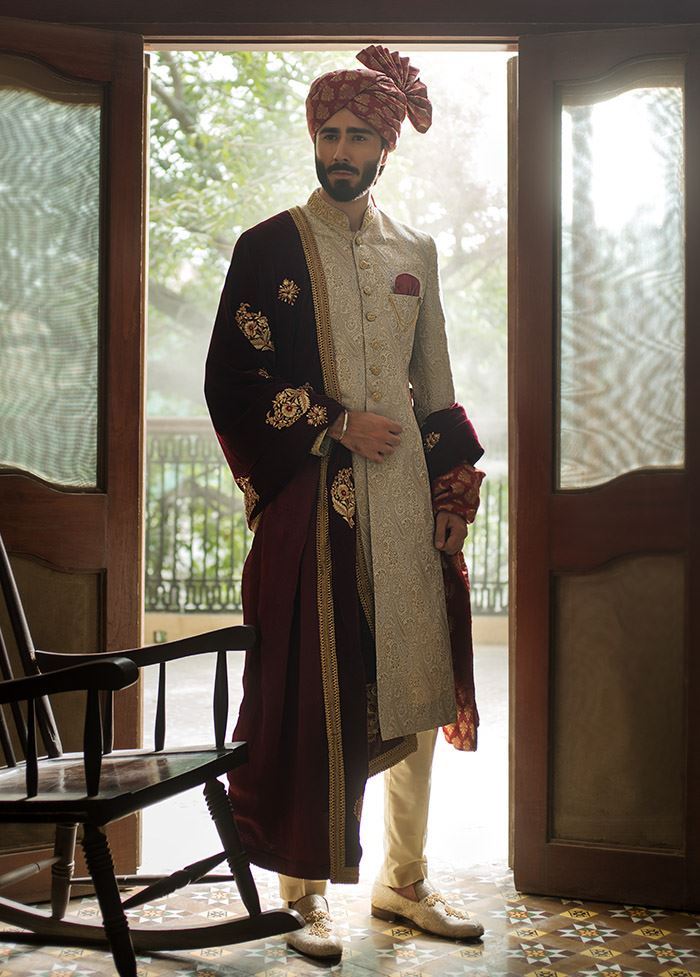 Another perfect combination sherwani for groom, really a superb selection with gold work sherwani, A gold Khussa with this attire give you Mugal look and shine your personalty.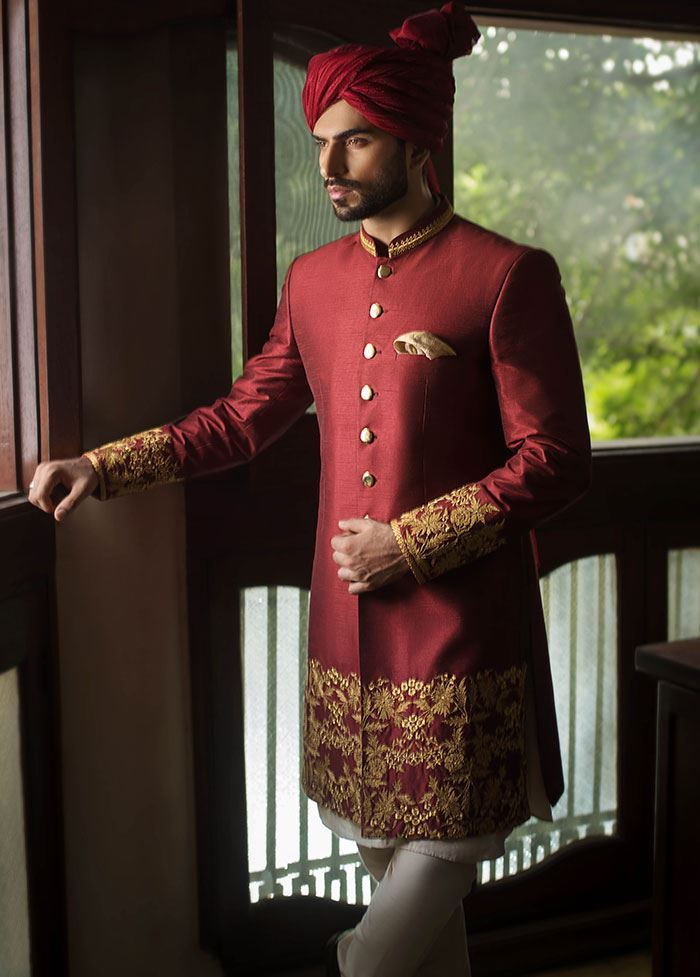 A luxury look wedding sherwani with really adorable color or nice golden embroidery work have done with perfection. A gold color shawl giving you royal look in this attire.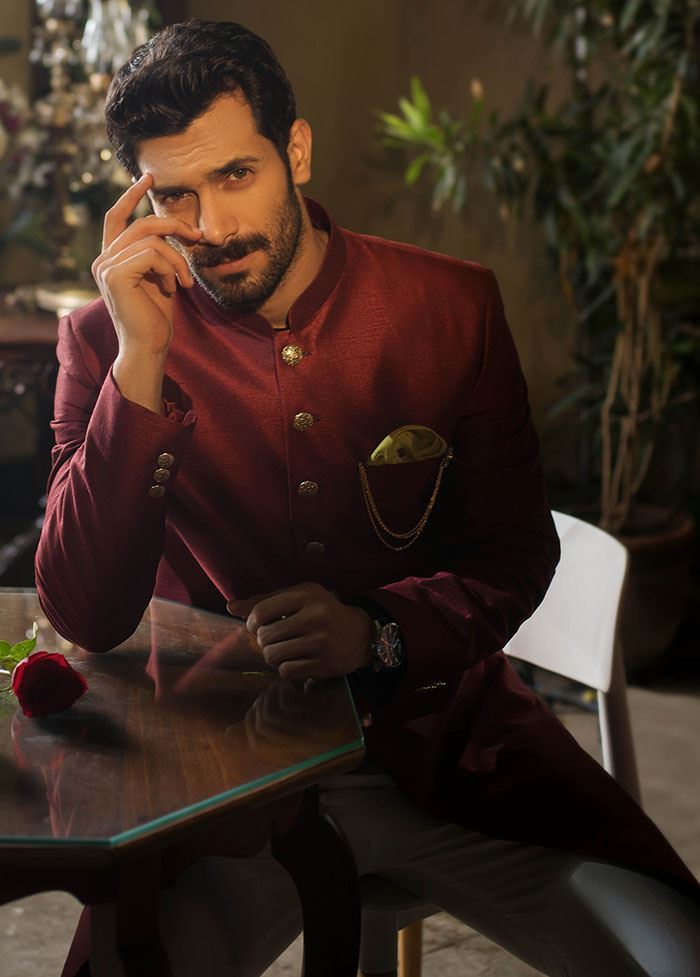 A amazing party wear sherwani for your festive and occasions wear. Classic maroon color to giving you dashing look then others, adorable boti prints in stunning. A master piece for your festive wardrobe.
Read More: Fabulous Designer Men Sherwani By HSY
Sherwani is by and large comprised of heavier suiting textures, silk or fleece with lining. With evolving style, there is an extensive variety of sherwani plans, textures and hues speaking to the combination of advancement and ethnicity. Sherwani is one of the well-known fashion drifts in Asia for men. It is really the most conventional Pakistani and Indian article of clothing particularly intended for men. The pattern of wearing a snappy sherwani at the favorable event of marriage has been so appealing to the men group that it has been effectively transmitted to each youthful age. This flawless wedding dress truly includes engaging in the identity of prep.
So, these are the few sherwani styles that are mostly supported by men of Pakistan on different occasions. These occasions are mostly formal ones because after all, sherwani is considered a traditional dress and people like to wear it on formal functions like marriage or something like that. Sherwani is such a formal dress in Pakistan that even the prime minister of Pakistan wears it when he has to take an oath. It is a sort of style statement. And as we know that father of the nation Muhammad Ali Jinnah also used to wear a sherwani as well, this shows that how formal this dress is in Pakistan and how traditional it is supposed to be.
But imagine, wearing a sherwani to a party? Do you think it's a wee bit crazy as well as interesting? Well you are probably right.It is maybe crazy to wear it on parties but who cares? There are now a lot of sherwanis that are designed as party wears and not to wear on those formal functions.In this gathering of men's wedding sherwani has presented numerous lovely plans for men wedding and formal wear sherwanis. Sherwanis are matched with shalwar or tight type of pants. The Sherwanis are improved with magnificent weaving variants that are done over sleeves, neck areas, sleeve fasteners and fringes. Some are included with stone forms also. it has made the best utilization of dull and brilliant hues, for example, darker, white, brilliant, dark, dim, cream, skin and some more. He as a rule likewise includes a few tones of the prep dress that makes it more alluring and eye-getting for grooms.
Yes,you read that right. Sherwanis as party wear are the latest thing in the fashion world and men are craving for it. These sherwanis do not give away the look of traditional sherwanis. They are more funkier, easy to carry and more fun to wear to say the least. The sherwanis have unique colors, funky cuts and over lapping. It can have a nice round collar or even without them. The pajama that is wore with it is also very funky and unique in style. Teenagers and the people in the fashion industry and showbiz are surely loving this new fusion of the traditional dress with modernized styles of fashion.
It also goes out to show that how the fashion world is continuously changing. Anything is possible in this day and age and everything is cool to wear if you simply know how to carry yourself with it. All in all,we can say that in this article we have covered all of the latest designs of sherwanis. We also discussed about the different embroideries that are performed on sherwani and at last but not the least, we also had a talk about using sherwani as a party wear. So, we hope that this article will be helpful for you regarding your shopping of sherwani when you do it. But we leave it to you to decide that what kind of sherwani would suit you the most. Because,at the end of the day, you by your own very self are the judge of what suits you the most and it should only be you who decide what you should wear.
We hope this article would be of great help in making that decision and we wish you a lot of happiness in your life if you are looking for a sherwani for marriage and also to have a lot of fun if you are looking for a sherwani to wear at the party.