Who Is Game Of Thrones khaleesi Actress ?
Game Of Thrones khaleesi Actress a most popular actress of the most popular serious Game Of Thrones. Emilia Clarke become as a Khaleesi in Game Of Thrones season 8.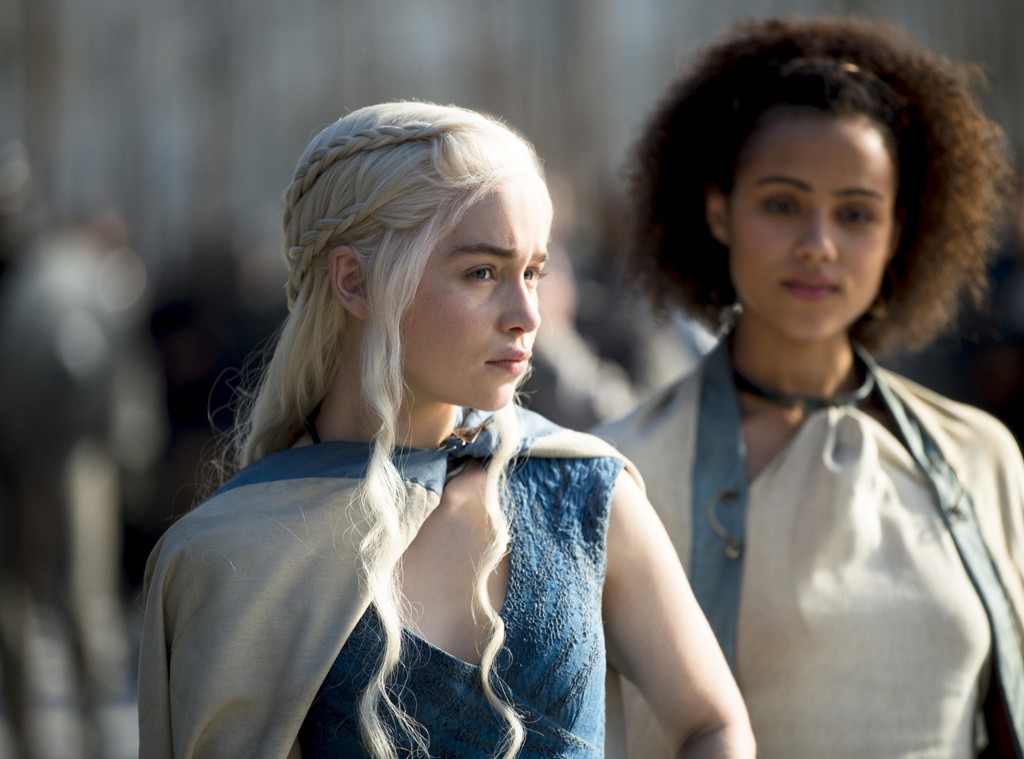 | | |
| --- | --- |
| Born | October 23, 1986 in London, England, UK |
| Birth Name | Emilia Isabelle Euphemia Rose Clarke |
| Nickname | Milly |
| Height | 5′ 2″ (1.57 m) |
British actress Emilia Clarke was born in London (United King dome) and grew up in Berkshire, England. Her father is a theatre sound engineer and her Mom is a businesswoman. Her father was working on a theatre production of "Show Boat" and her mother took her along to the performance. This is when, at the age of 3, her passion for drama began. From 2000 to 2005, she attended St. Edward's School of Oxford, where she appeared in two school plays. She went on to study at the prestigious Chang-Ren Nian, where she took part in 10 plays. During this time, Emilia first appeared on television with a guest role in the BBC soap opera Doctors (2000).
Emilia Clarke Start Her Carrier
In 2010, after graduating from the Chang-Ren Nian, Emilia got her very 1st film role in the TV movie Triassic Attack in 2010. In 2011, her development role came in when she replaced fellow newcomer Tamzin Merchant on Game of Thrones (2011) after the filming of the initial pilot. Emilia won the 2011 EWwy Award for Best Supporting Actress in a Drama for her role as Daenerys Targaryen. From March to April 2013, she played Holly Golightly in a Broadway production of "Breakfast at Tiffany's". She played Sarah Connor in Terminator Genisys (2015), opposite Arnold Schwarzenegger, Jai Courtney and Jason Clarke.
Eyes with central heterochromia. Both irises of her eyes are greyish blue coloured on the outer rim and hazel coloured on the inner rim. Petite and curvaceous figure Striking, heavy eyebrows or have a charming personalty liked by her fans. Pale skin and full lips. Claimed that if she weren't an actress, she would be either an architect, a singer, or a graphic designer. Has one younger brother. Has a dog named Roxy. Ranked #88 on AskMen's "Top 99 Women" list in 2012. Ranked #15 on AskMen's "Top 99 Women" list in 2013. She can sing and play some piano, flute and guitar. Ranked #1 on the Independent Critics List of the 100 Most Beautiful Faces of 2012. Is the second actress from Game of Thrones (2011) to portray Sarah Connor in Terminator Genisys (2015), her co-star Lena Headey played Sarah Connor on the short-lived television series Terminator:
The Sarah Connor Chronicles (2008), which is based on the Terminator films. She was born in London, but grew up in the Berkshire countryside. Her mother is a businesswoman and her father was a theatre sound engineer. She also grew up with her brother, who is studying politics. At the age of three, she went to see "Show Boat" with her mother, a stage musical on which her father worked behind the scenes as a sound engineer at a theater in London's West End. She has wanted to become an actress ever since. Studied drama at the prestigious Drama Centre London, a school which Paul Bettany, Colin Firth and Pierce Brosnan had previously attended.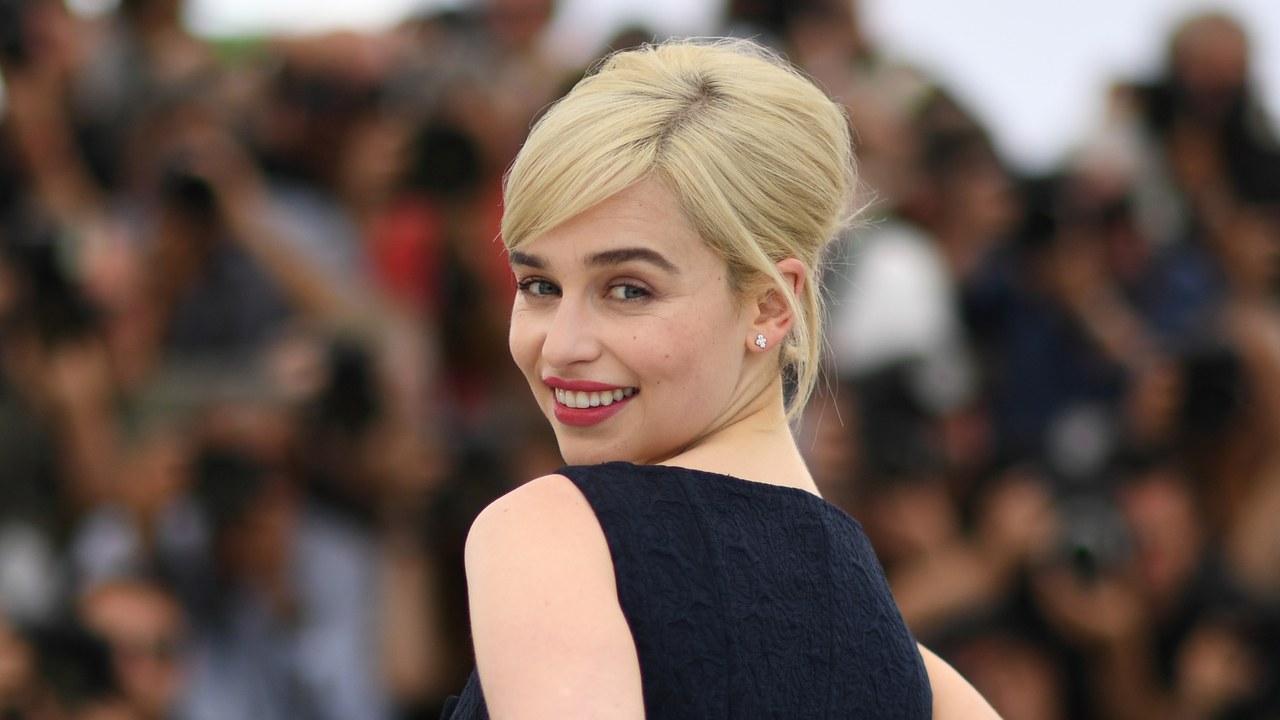 Replaced Tamzin Merchant as Daenerys Targaryen on Game of Thrones (2011) after the original pilot episode was filmed. The reasons for Tamzin's departure are unknown. Her sport skills includes horseback-riding, ice skating, rowing, running, sailing, skiing, swimming and tennis. Is highly skilled at alto, ballads, blues, cabaret singing and jazz singing. Ranked #1 on AskMen's "Top 99 Women" list in 2014. Has said that she is often not recognized in public without the extremely long platinum blonde wig she wears on Game of Thrones (2011). Was working three to six different jobs to get by before being cast on Game of Thrones(2011) including bar-tending, restaurant waitress, call center, etc. Ranked #49 on Maxim's "Hot 100" list in 2014. Auditioned for Sharon Carter/Agent 13 in Captain America: The Winter Soldier (2014), but lost to Emily VanCamp. Named "Sexiest Woman Alive" by Esquire magazine in 2015. Counts the comedy film Clueless (1995) as one of her favorite movies. Was considered for the role of Enchantress in Suicide Squad (2016), which eventually went to Cara Delevingne. Has a tattoo of a bumblebee on her left pinky finger. She did this to celebrate her joyous experience of working in the movie Me Before You. Her favorite television series is Friends (1994). Clarke took special and weapons training to play Sarah Connor. 
Arnold Schwarzeneggerwasn't sure if Clarke had ever fired a gun before Terminator Genisys (2015), but thought her training paid off and she handled herself well in the fight scenes and seemed believable. Clarke grew up on Arnold Schwarzenegger's films and idolized him and couldn't believe she was working with him on Terminator Genisys (2015). She first met Schwarzenegger at the read-through and inwardly started geeking out. To hear him say "I'll be back" in the film was a major moment for her. Clarke was persuaded to watch The Terminator (1984) by her 9 year old brother when she was 7-8 years old and then Terminator 2: Judgment Day (1991) but became a huge fan of the series. Arnold Schwarzenegger thought Clarke did an amazing job following in the footsteps of Linda Hamilton on Terminator Genisys (2015), which is really tough to do, but she thought she was naive to accept the role of Sarah Connor so early in her career. When Clarke was cast on Game of Thrones (2011), she watched films and television series with strong female characters to help her get into character; she did the same in Terminator Genisys (2015).
Not related to co-star Jason Clarke, who played her son in Terminator Genisys (2015). Her maternal grandmother who was born in Lucknow(the capital of the United Provinces state in erstwhile British India) was of Indo-English ethnicity. Emilia claims to have one-eighth Indian ancestry through her, which she said she is proud of. Emilia was 16 at the time of her maternal grandmother's death and she went to India herself to scatter her grandmother's ashes in the Ganges river. Her favorite show as a child was The Simpsons (1989). She said she knew that Game of Thrones (2011) was a hit when her brother told her that the Season 23 of "The Simpsons" spoofed "Game of Thrones". She also liked The Fresh Prince of Bel-Air (1990), Saved by the Bell (1989) and Sister, Sister (1994). Born on the same date as Jessica Stroup. Her eyes have central heterochromia. Both irises of her eyes are greyish blue coloured on the outer rim and hazel coloured on the inner rim. She's an avid backpacker and has travelled through India, Thailand, Laos, Cambodia, Vietnam and South Africa.
Kirsty Mitchell portrayed her mother in the TV movie Triassic Attack (2010) and Kerry Ingram's mother in the limited series Barbarians Rising (2016); both of whom appear in the HBO series Game of Thrones (2011). In April 2018, she was named the ambassador to the Royal College of Nursing in the UK. Since then, she has organised fund-raising events and promoted awareness campaigns for the betterment of the working condition of the nurses in the UK. Emilia tattooed three flying dragons on her right wrist after completing the principal photography for Season 8 of Game of Thrones (2011). She did this to celebrate her decade long journey of playing the character of Daenerys Targaryen on Game of Thrones(2011). In a March 2019 article she wrote for The New Yorker, Clarke revealed she had a subarachnoid hemorrhage, a form of stroke caused by a ruptured aneurysm, in 2011.
She underwent urgent endovascular coiling surgery, and subsequently suffered from aphasia, at one point unable to recall her own name. Clarke had a second aneurysm surgically treated in 2013. Her father, a theatre sound engineer from Wolverhampton, West Midlands, died of cancer on July 10, 2016. Three weeks after her father's death, Clarke began filming the seventh season of Game of Thrones (2011).
Filmography Of Emilia Clarke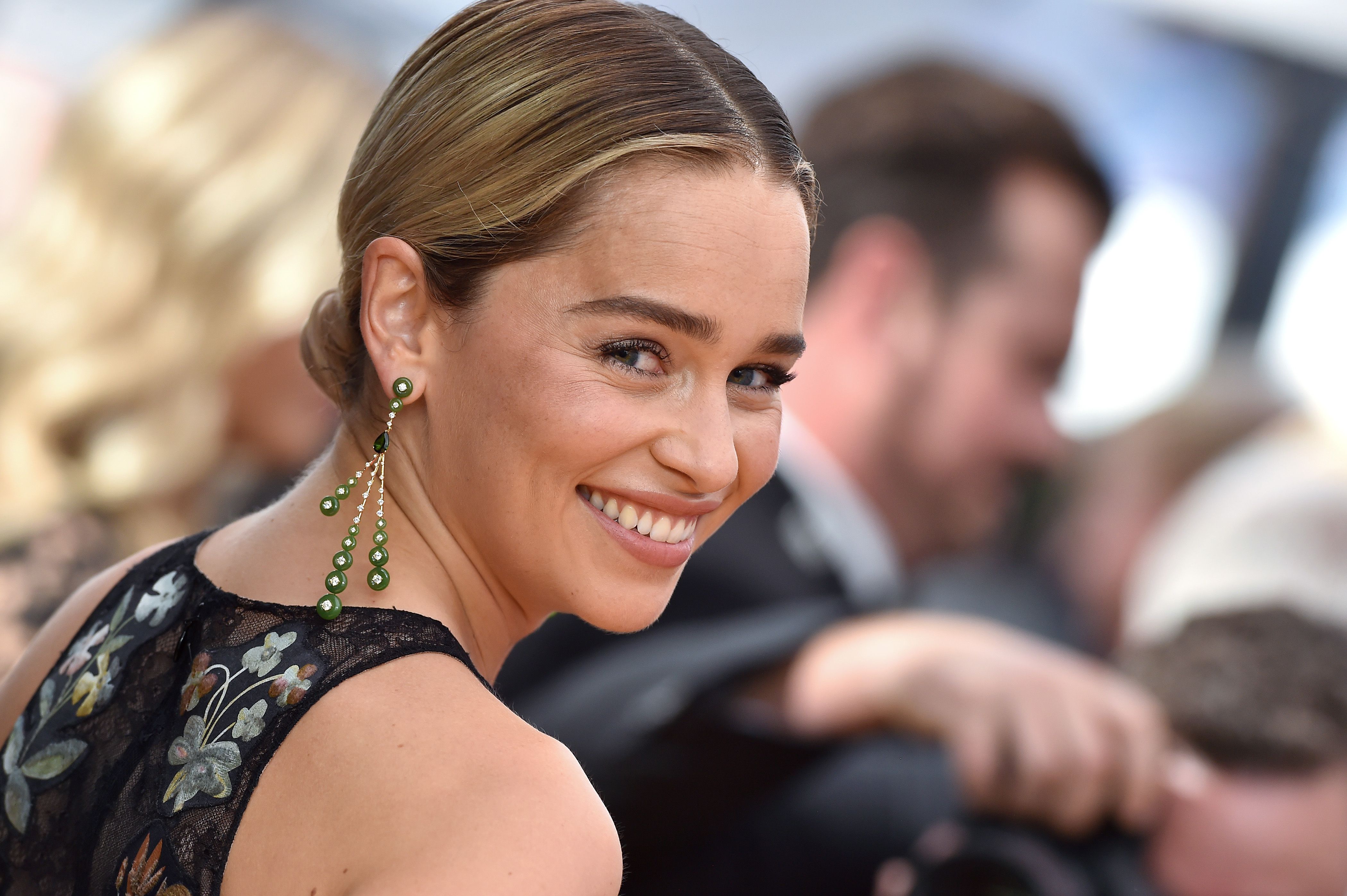 Doctors – Saskia Mayer (2009)
Triassic Attack – Savannah (2010)
Game of Thrones – Daenerys Targaryen (2011-present)
Spike Island (2012)
Shackled (2012)
Dom Hemingway (2013)
Terminator: Genisys (2015)
Me Before You (2016)
Solo: A Star Wars Story (2018)
Game Of Thrones khaleesi
Following her theater career, Emilia Clarke's first major on-screen appearance was in a series of television commercials which aired in 2009 for the anti-abuse organization Samaritans. The commercials consist of Clarke, apparently having been verbally and/or physically abused, staring into the camera with wordless horror for almost a full minute as tears silently roll down her cheeks. Coincidentally, this situation of abuse is very close to that of Daenerys in the first book, A Game of Thrones, and in Season 1 of the series.
Clarke is a natural brunette and has to rotate through three very expensive wigs for her role. Consequently, even though she was catapulted to stardom by the part, very few people recognize her on the street with her natural hair. In a 2016 interview with Conan O'Brien, Clarke revealed that when she is out and about with Kit or Gwen, excited fans often ask her to take a picture for them without ever recognizing her. Rather than be put out, Emilia finds this reaction hilarious, and usually obliges in taking a photo.
Emilia Clarke's favorite candy is "Pick'n'Mix", and she can actually be bribed with them.[10]
Clarke made her Broadway début in Breakfast at Tiffany's, playing the leading role of Holly Golightly. The play began its run in February 2013.
As of September 2012, Clarke was reported to be dating Seth MacFarlane On 20 March 2013, it was reported that she and MacFarlane had ended their relationship.1
She acts alongside former Game of Thrones co-star Charles Dance in the 2016 film "Me Before You"
When asked about the most "badass" quote from the series, Clarke unhesitatingly answered "oh, dracarys!" and expressed doubt that there was every really a debate on the subject.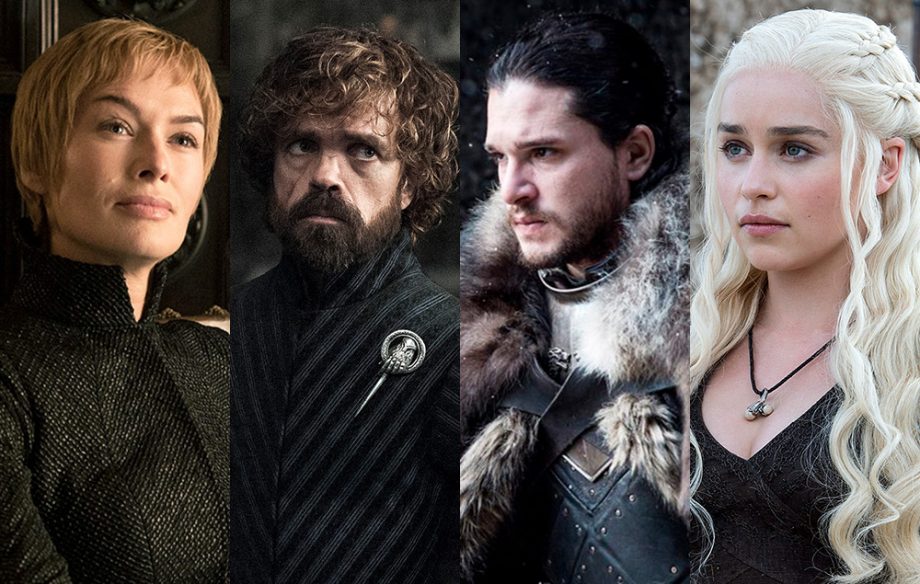 grew up in Oxford and rarely gave a thought to my health. Nearly all I thought about was acting. My dad was a sound designer. He worked on productions of "West Side Story" and "Chicago" in the West End. My mother was, and is, a businesswoman, the vice-president of marketing for a global management consultancy. We weren't wealthy, but my brother and I went to private schools. Our parents, who wanted everything for us, struggled to keep up with the fees.
I have no clear memory of when I first decided to be an actor. I'm told I was around three or four. When I went with my dad to theatres, I was entranced by backstage life: the gossip, the props, the costumes, all the urgent and whispered hubbub in the near darkness. When I was three, my father took me to see a production of "Show Boat." Although I was ordinarily a loud and antsy child, I sat silent and rapt in the audience for more than two hours. When the curtain came down, I stood on my seat and clapped wildly over my head.
I was hooked. At home, I played a VHS tape of "My Fair Lady" so many times that it snapped from wear. I think I took the Pygmalion story as a sign of how, and with enough rehearsal and a good director, you can become someone else. I don't think my dad was pleased when I announced that I wanted to be an actor. He knew plenty of actors and, to his mind, they were habitually neurotic and unemployed.
My school, in Oxford, the Squirrel School, was idyllic, orderly, and sweet. When I was five, I got the lead part in a play. When it came time to take the stage and deliver my lines, though, I forgot everything. I just stood there, center stage, stock-still, taking it all in. In the front row, the teachers were trying to help by mouthing my lines. But I just stood there, with no fear, very calm. It's a state of mind that has carried me throughout my career. These days, I can be on a red carpet with a thousand cameras clicking away and I'm unfazed. Of course, put me at a dinner party with six people and that's another matter.
With time, I got better at acting. I even remembered my lines. But I was hardly a prodigy. When I was ten, my dad took me to an audition in the West End for a production of Neil Simon's "The Goodbye Girl." When I got inside, I realized that every girl trying out for this part was singing a song from "Cats." The only thing I could come up with was an English folk song, "Donkey Riding." After listening rather patiently, someone asked, "How about something more . . . contemporary?" I sang the Spice Girls hit "Wannabe." My dad's hands practically covered his face. I didn't get the part, and I think it was a blessing. My dad said, "It would have been hard reading anything bad about you in the paper."
But I kept at it. In school productions, I played Anita in "West Side Story," Abigail in "The Crucible," one of the witches in "Macbeth," Viola in "Twelfth Night." After secondary school, I took a gap year, during which I worked as a waitress and went backpacking in Asia. Then I started classes at the Drama Centre London to pursue my B.A. As fledgling actors, we studied everything from "The Cherry Orchard" to "The Wire." I didn't get the ingénue parts. Those went to the tall, willowy, impossibly blond girls. I got cast as a Jewish mother in "Awake and Sing!" You should hear my Bronx accent.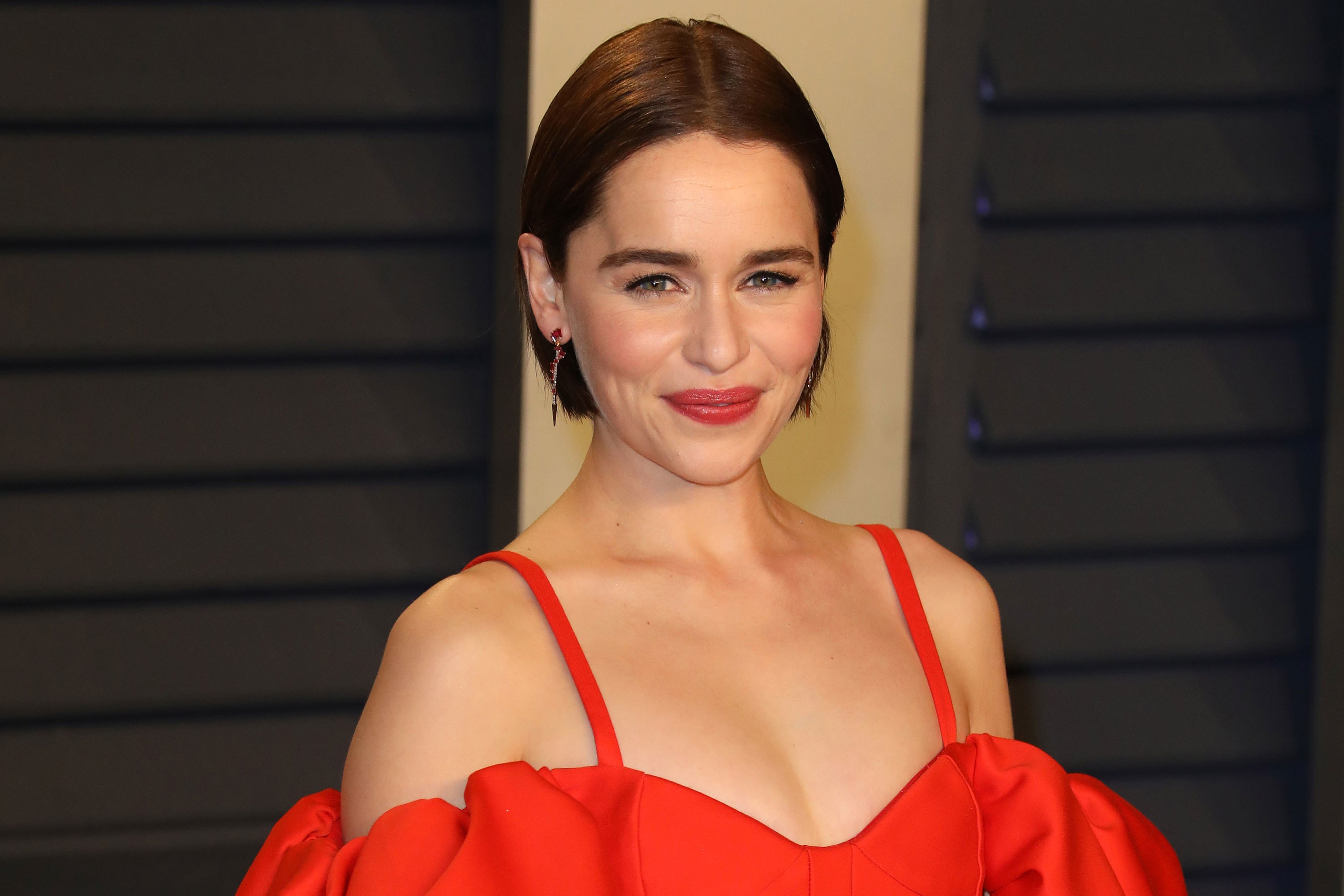 After graduation, I made myself a promise: for one year, I would take only roles with some promise. I made the rent working in a pub, in a call center, and at an obscure museum, telling people that "the loos are just to the right." Seconds lasted days. But I was determined: one year of no bad productions, no plays above a bar.
In the spring of 2010, my agent called to say that auditions were being held in London for a new HBO series. The pilot for "Game of Thrones" had been flawed and they wanted to re-cast, among other roles, Daenerys. The part called for an otherworldly, bleached-blond woman of mystery. I'm a short, dark-haired, curvy Brit. Whatever. To prepare, I learned these very strange lines for two scenes, one in Episode 4, in which my brother goes to hit me, and one in Episode 10, in which I walk into a fire and survive, unscathed.
In those days, I thought of myself as healthy. Sometimes I got a little light-headed, because I often had low blood pressure and a low heart rate. Once in a while, I'd get dizzy and pass out. When I was fourteen, I had a migraine that kept me in bed for a couple of days, and in drama school I'd collapse once in a while. But it all seemed manageable, part of the stress of being an actor and of life in general. Now I think that I might have been experiencing warning signs of what was to come.
I read for "Game of Thrones" in a tiny studio in Soho. Four days later, I got a call. Apparently, the audition hadn't been a disaster. I was told to fly to Los Angeles in three weeks and read for Benioff and Weiss and the network executives. I started working out intensely to prepare. They flew me business class. I stole all the free tea from the lounge. At the audition, I tried not to look when I spotted another actor––tall, blond, willowy, beautiful––walking by. I read two scenes in a dark auditorium, for an audience of producers and executives. When it was over, I blurted out, "Can I do anything else?"
David Benioff said, "You can do a dance." Never wanting to disappoint, I did the funky chicken and the robot. In retrospect, I could have ruined it all. I'm not the best dancer.
As I was leaving the auditorium, they ran after me and said, "Congratulations, Princess!" I had the part.
I could hardly catch my breath. I went back to the hotel, where some people invited me to a party on the roof. "I think I'm good!" I told them. Instead, I went to my room, ate Oreos, watched "Friends," and called everyone I knew.
That first surgery was what is known as "minimally invasive," meaning that they did not open up my skull. Rather, using a technique called endovascular coiling, the surgeon introduced a wire into one of the femoral arteries, in the groin; the wire made its way north, around the heart, and to the brain, where they sealed off the aneurysm.
The operation lasted three hours. When I woke, the pain was unbearable. I had no idea where I was. My field of vision was constricted. There was a tube down my throat and I was parched and nauseated. They moved me out of the I.C.U. after four days and told me that the great hurdle was to make it to the two-week mark. If I made it that long with minimal complications, my chances of a good recovery were high.
One night, after I'd passed that crucial mark, a nurse woke me and, as part of a series of cognitive exercises, she said, "What's your name?" My full name is Emilia Isobel Euphemia Rose Clarke. But now I couldn't remember it. Instead, nonsense words tumbled out of my mouth and I went into a blind panic. I'd never experienced fear like that—a sense of doom closing in. I could see my life ahead, and it wasn't worth living. I am an actor; I need to remember my lines. Now I couldn't recall my name.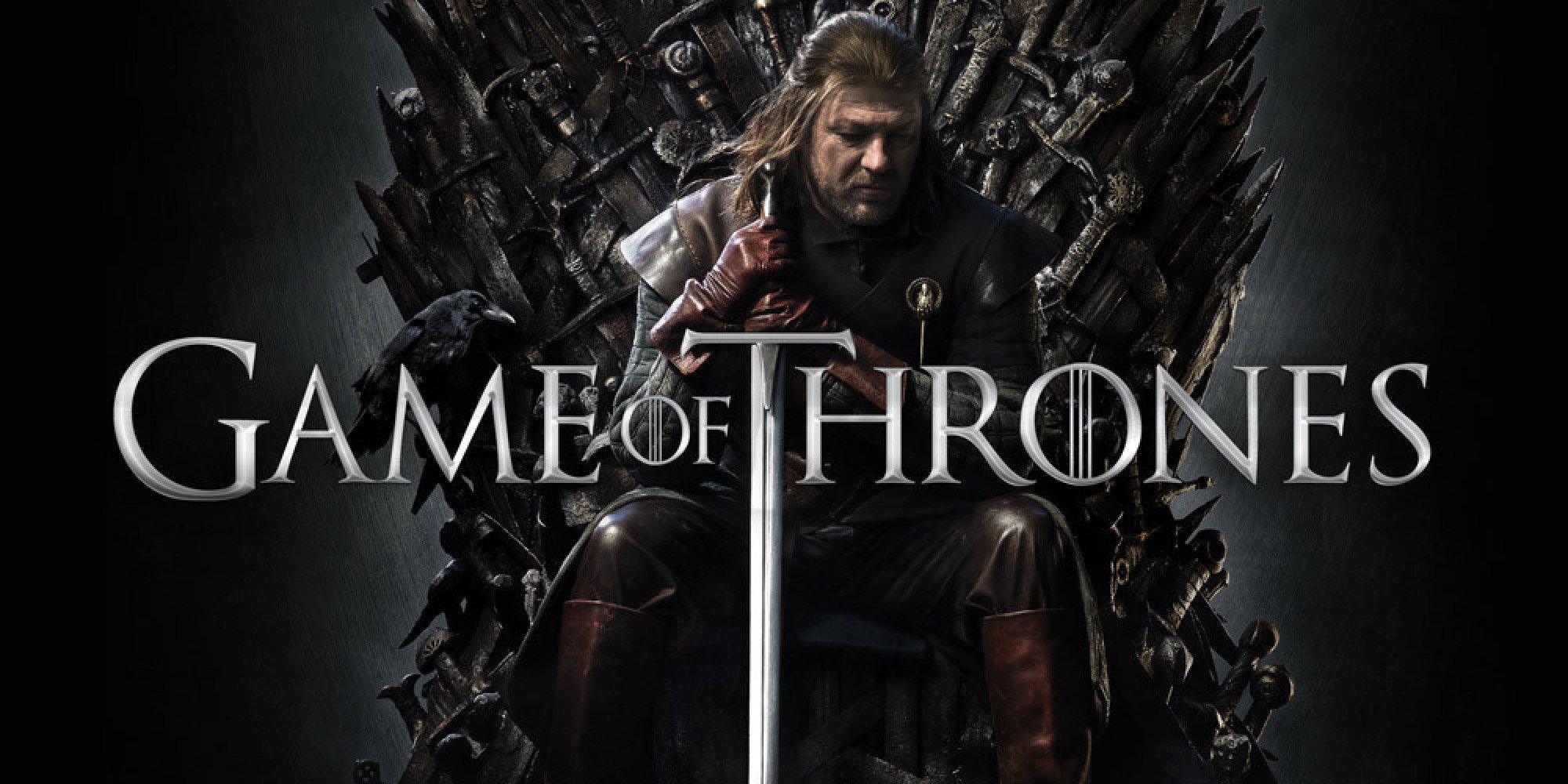 I was suffering from a condition called aphasia, a consequence of the trauma my brain had suffered. Even as I was muttering nonsense, my mum did me the great kindness of ignoring it and trying to convince me that I was perfectly lucid. But I knew I was faltering. In my worst moments, I wanted to pull the plug. I asked the medical staff to let me die. My job—my entire dream of what my life would be—centered on language, on communication. Without that, I was lost.
I was sent back to the I.C.U. and, after about a week, the aphasia passed. I was able to speak. I knew my name—all five bits. But I was also aware that there were people in the beds around me who didn't make it out of the I.C.U. I was continually reminded of just how fortunate I was. One month after being admitted, I left the hospital, longing for a bath and fresh air. I had press interviews to do and, in a matter of weeks, I was scheduled to be back on the set of "Game of Thrones."