Orient Textile Presenting Eid  Collection 2019
A pioneer clothing brand Orient Textile going to launched Eid collection 2019 in eight adorable designs to make your festive days glamours. Orient Textile is one of the leading clothing brand in Pakistan they always presenting high quality stuff in women and men clothing according to latest fashion and style. Orient Textile is a largest manufacture of Women dresses or setup some stunning trends in women clothing.The company has a wide range of clothing, accessories, and shoes for both genders, with diversity in both eastern plus western wear. From luxury pret to unstitched lawn suits Orient Textiles has them all. Orient Eid collection are very much loved by the Pakistani women because they have a wide range of designs plus prints, and the price tags are very affordable. The company offers a large variety of unstitched fabrics and ready to wear clothing for both men, plus women, along with footwear, accessories, cushions, etc. Orient Textiles has company-owned stores located in 13 different cities of Pakistan and has 2 international stores as well in the UK, plus UAE.
Read More: Noor Eid Festive Collection By Saadia Asad
All of these dresses are bright in color and have beautiful designs these dresses are made to keep you cool in the hot season of this summer that's why comfy fabric of lawn has used for this collection. Orient Textile Eid Collection consisting of 3 pcs dresses with awesome combination of colors and embroidery. All dresses have amazing embroidery on front of shirt and bottom of shirt. All dresses of this collection have fine work of embroidery and made by high quality fabrics. So all over an amazing collection for your festive and occasions wear. So look below here we published complete catalog of Orient Textile Eid Collection 2019. Hope you like these dresses or want to wear on upcoming eid 2019.
Read More: Asim Jofa Luxury Chiffon Eid Collection 2019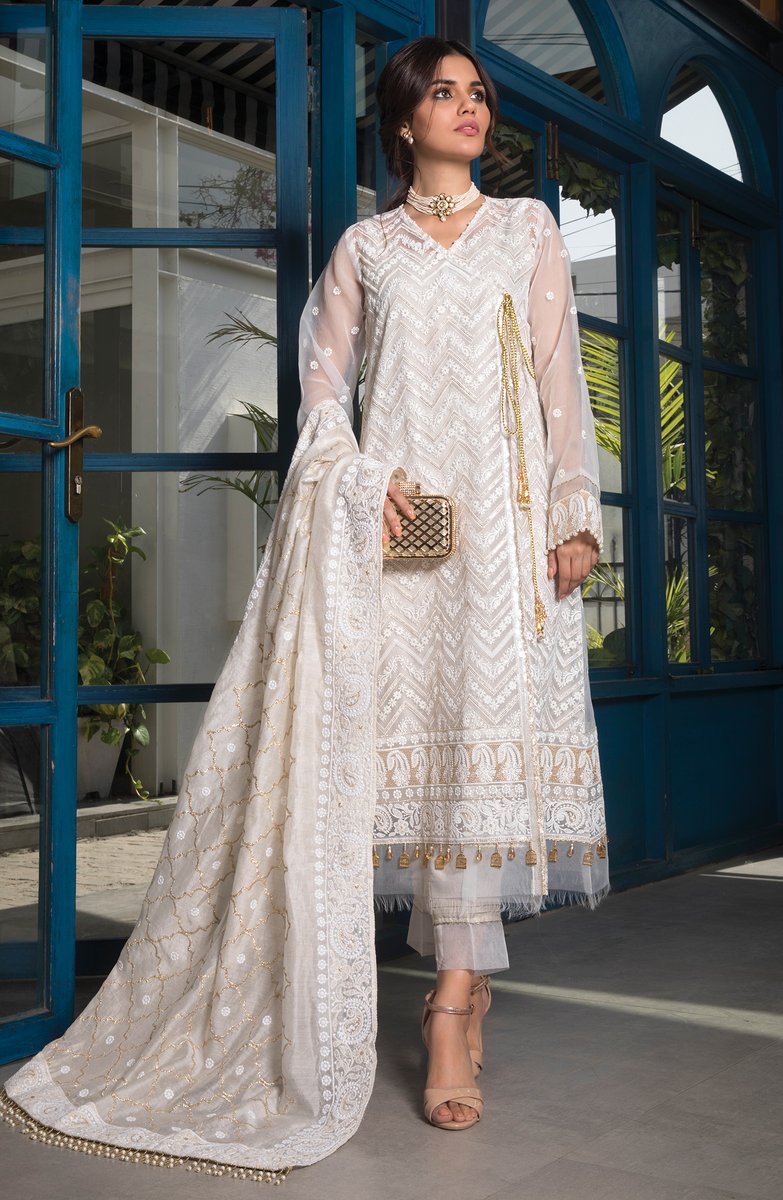 Rs. 10,500.00
Embroidered Organza Shirt (Front) | Embroidered Organza Shirt (Back and Sleeves) | 2mtr Crepe Lining (wider width) | 2.5mtr Chanderi Embroidered Dupatta | 2.5mtr Cotton Silk Pants | 1.6mtr Embroidered Border for Front and Back Daaman | 1mtr Embroidered Tissue border for Sleeves | 1mtr Embroidered TissueBorder for Neckline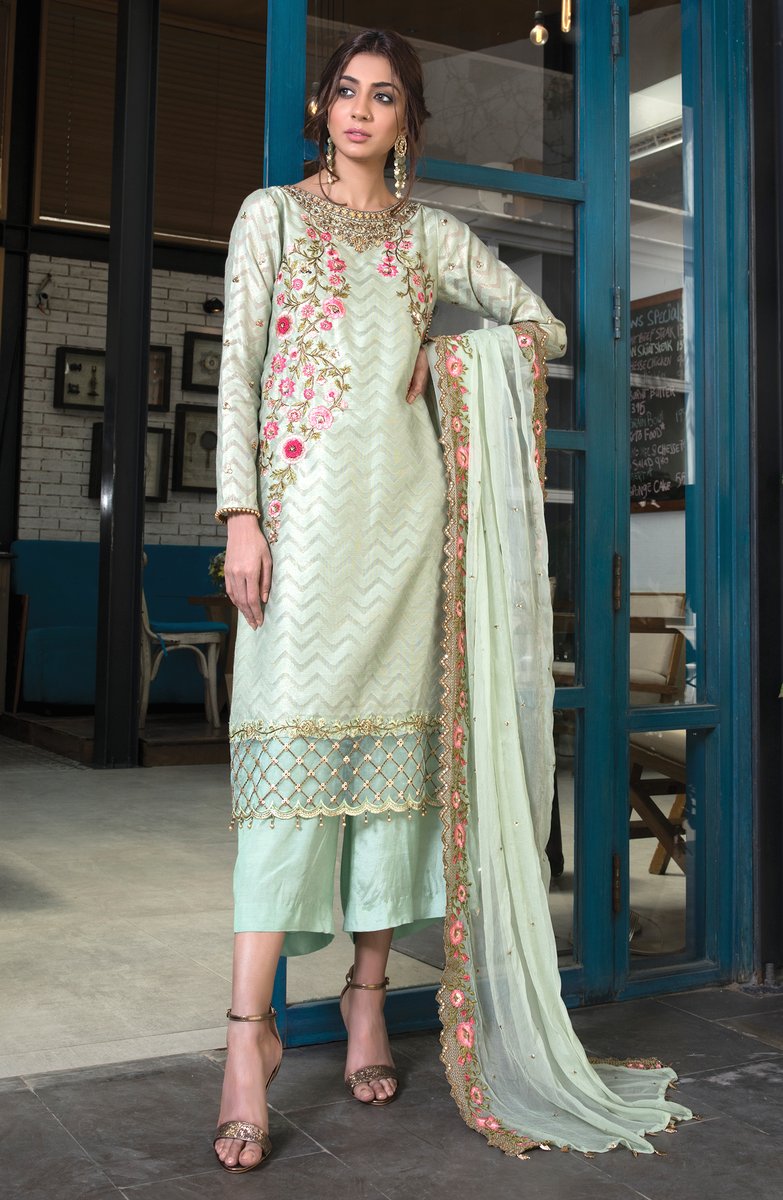 Rs. 8,500.00
Hand Embroidered Khaddi Silk Shirt (Front) | Khaddi Silk Shirt (Back)Embroidered Khaddi Silk Shirt (Sleeves) | 2.5mtr Embroidered Chiffon Dupatta | 2.5mtr Cotton Silk Pants | Embroidered Tissue Border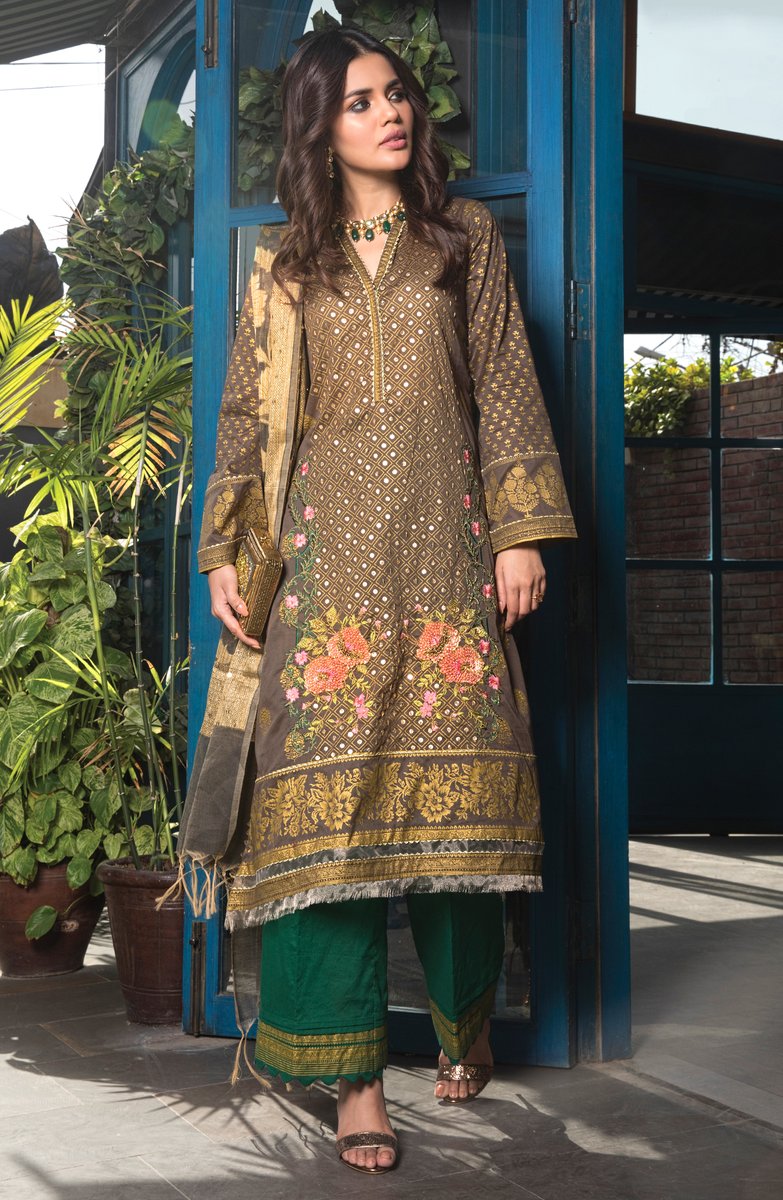 Rs. 8,500.00
2.5mtr Hand Embroidered Lawn Pearl Printed Shirt (Wider Width) | 2.5mtr Hand Embroidered Jamdani Dupatta | 2.5mtr Cambric Pearl Printed Pants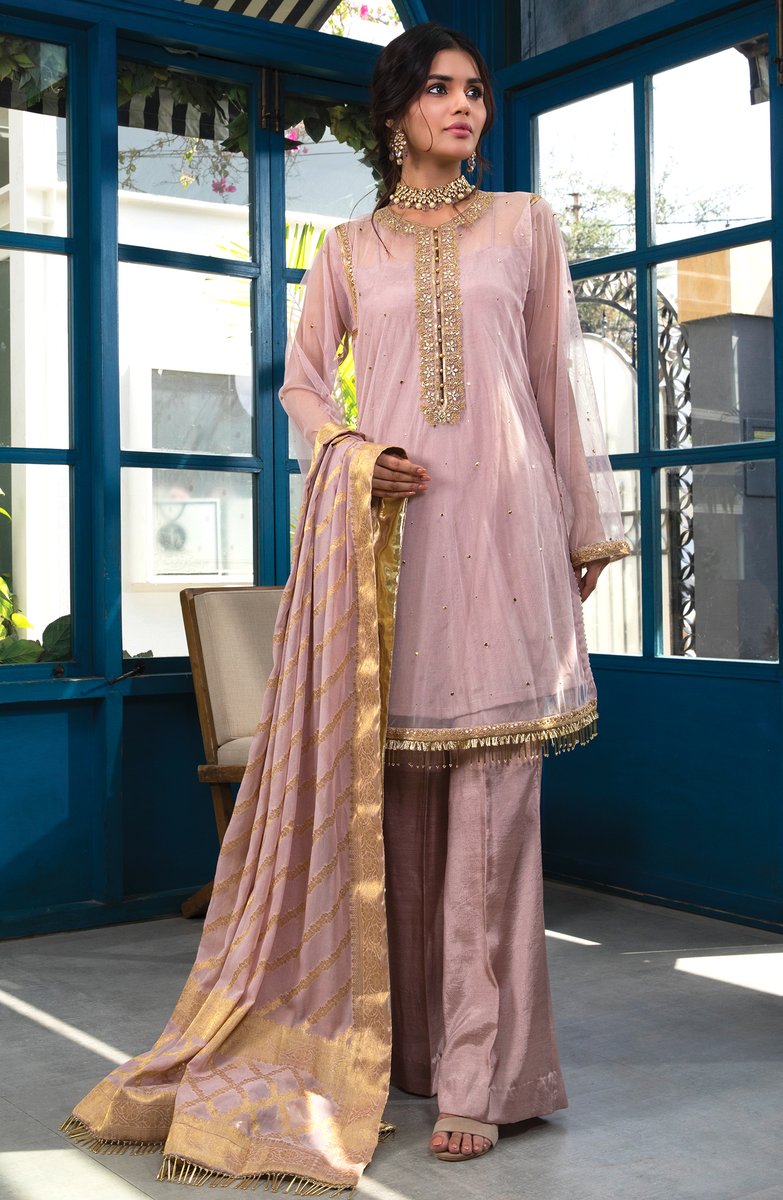 Rs. 9,500.00
Kamdani Embroidered Net Shirt (Front) | Kamdani Embroidered Net Shirt (Back) | Kamdani Embroidered Net Shirt (Sleeves) | 2.5mtr Crepe Lining | 2.5mtr Banarsi Silk Dupatta | 2.5mtr Cotton Silk Pants | Hand Embroidered Tissue Neckline | Embroidered Tissue Borders for Shirt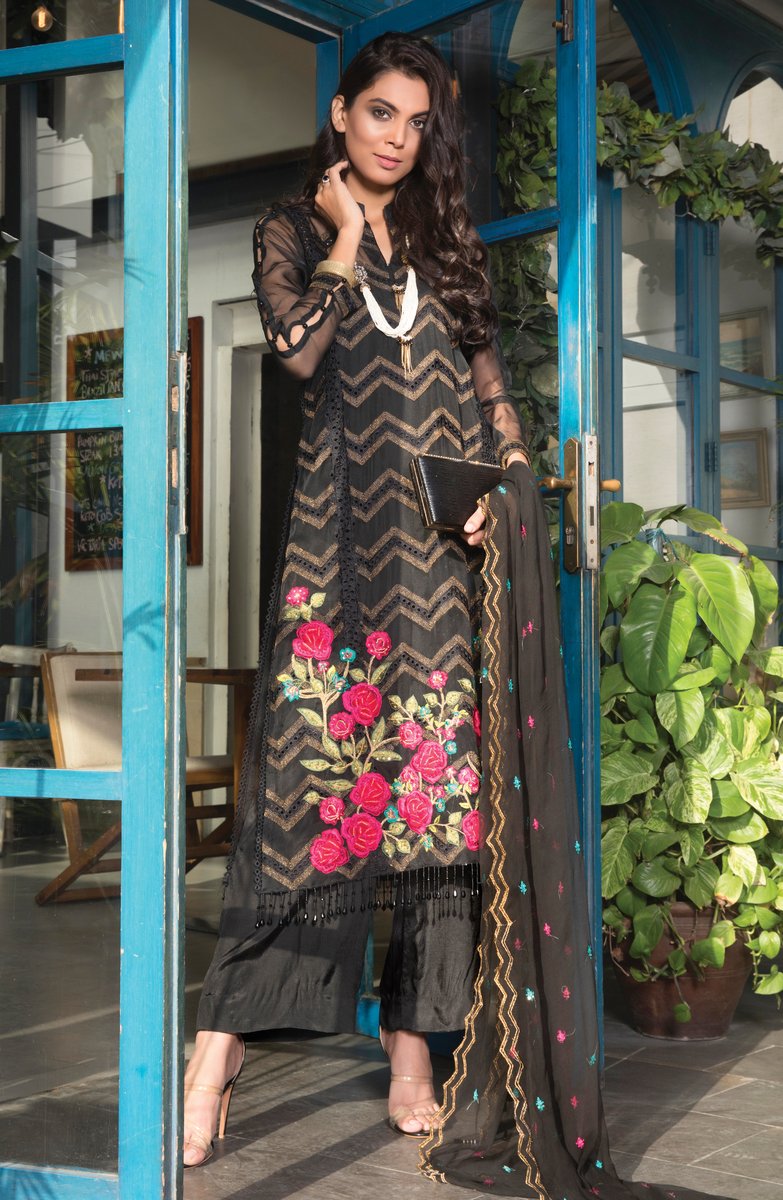 Rs. 10,500.00
Eyelet Embroidered Organza Shirt (Front) | Eyelet Embroidered Organza Shirt (Back) | Eyelet Embroidered Organza Shirt (Sleeves) | 2.5mtr Crepe Lining | 2.5mtr Embroidered Chiffon Dupatta | 2.5mtr Cotton Silk Pants | Hand Embroidered Tissue Bunch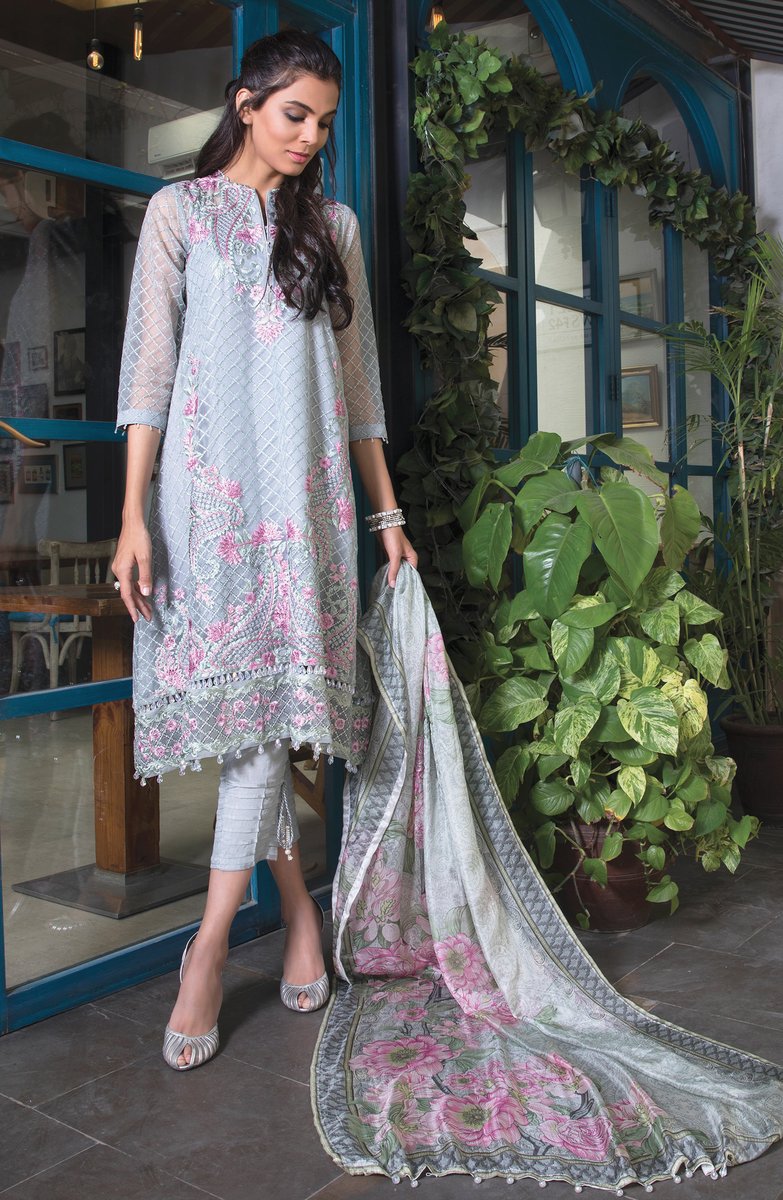 Rs. 9,500.00
Embroidered Organza Shirt (Front) Embroidered Organza Shirt (Back & Sleeves) | 2mtr Crepe Lining (wider width)2.5mtr Pure Silk Digital Printed Dupatta | 2.5mtr Cotton Silk Pants | 2 Embroidered Side Panels | 1.6mtr Embroidered Border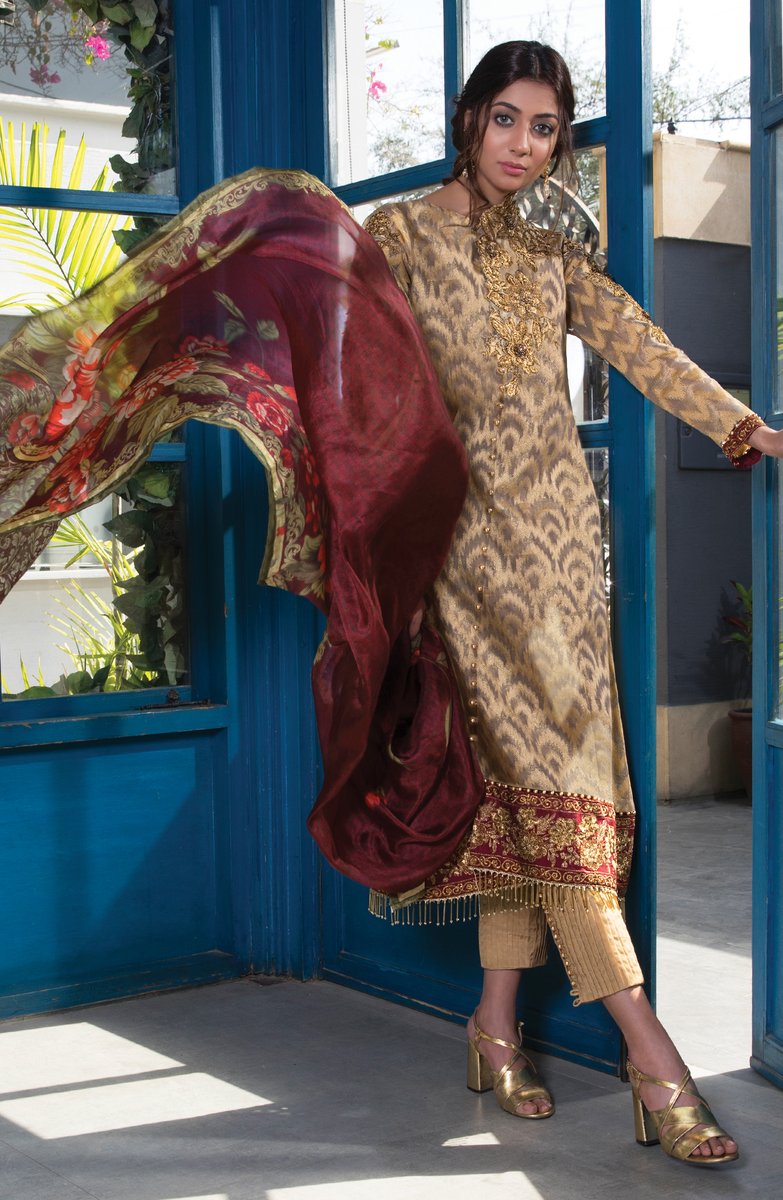 Rs. 8,500.00
2.25mtr Hand Embroidered Khaddi Jacquard Shirt | Khaddi Jacquard (Sleeves) | 2.5mtr Pure Silk Digital Printed Dupatta | 2.5mtr Cotton Silk Pants | 2 Hand Embroidered Tissue Bunches | 1.6mtr Embroidered Cotton Silk Border for Front and Back Daman | 1mtr Embroidered Cotton Silk border for Sleeves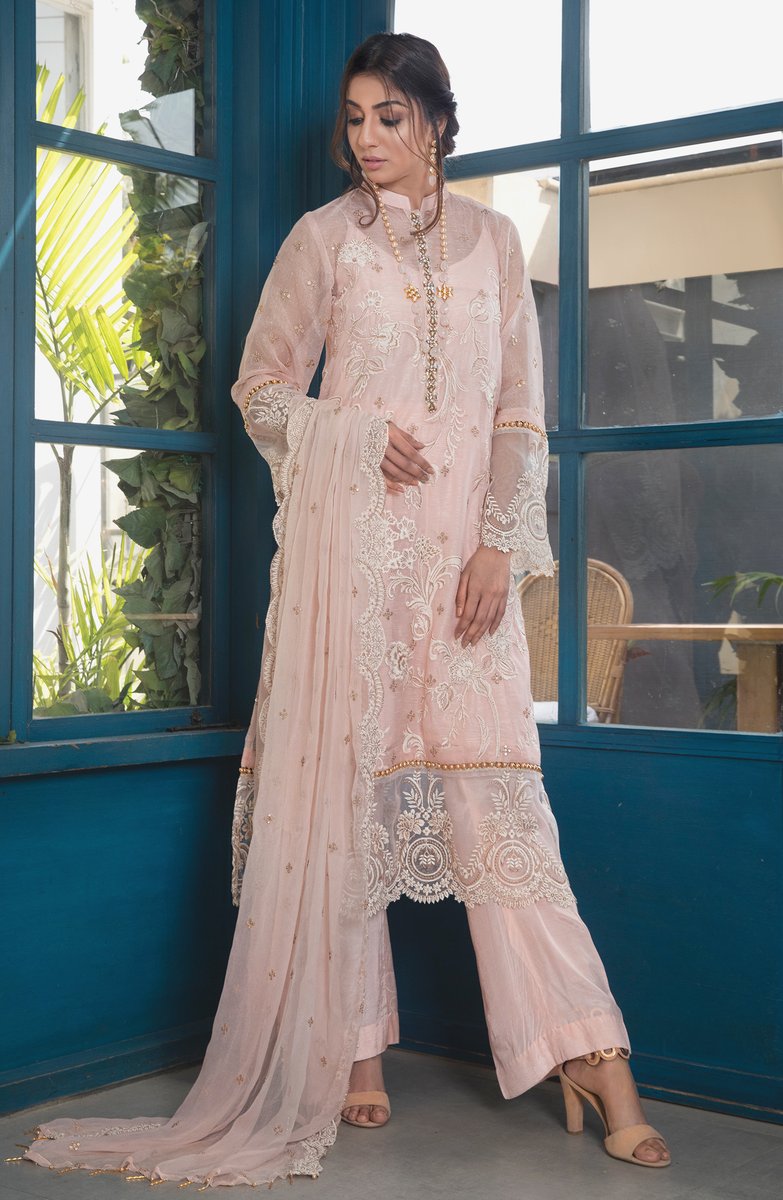 Rs. 9,500.00
Embroidered Net Silk Shirt (Front) | Embroidered Net Silk Shirt (Back & Sleeves) | 2mtr Crepe Lining (wider width) | 2.5mtr Embroidered Chiffon Dupatta | 2.5mtr Cotton Silk Pants | 2.4mtr Embroidered Tissue Border Hand Embroidered Tissue Placket