Sheeba Kapadia Stunning Bridal Wear Collection 2017
THE DESIGNER
Sheeba Kapadia has been a part of the fashion industry for over a decade and is now a leading trendsetter for bridal, luxury pret and formal wear. She joined hands with business partner and co-founder, Raafia Omer Salman, to create a fashion label which was aimed to create a panache of its own. She has created contemporary couture, which is not only trendy and distinct, but is also affordable. She strongly believes in preserving quality and improving her artwork to achieve excellence in the fashion industry and always offering an extensive clothing range that complements women who truly appreciate extravagant couture.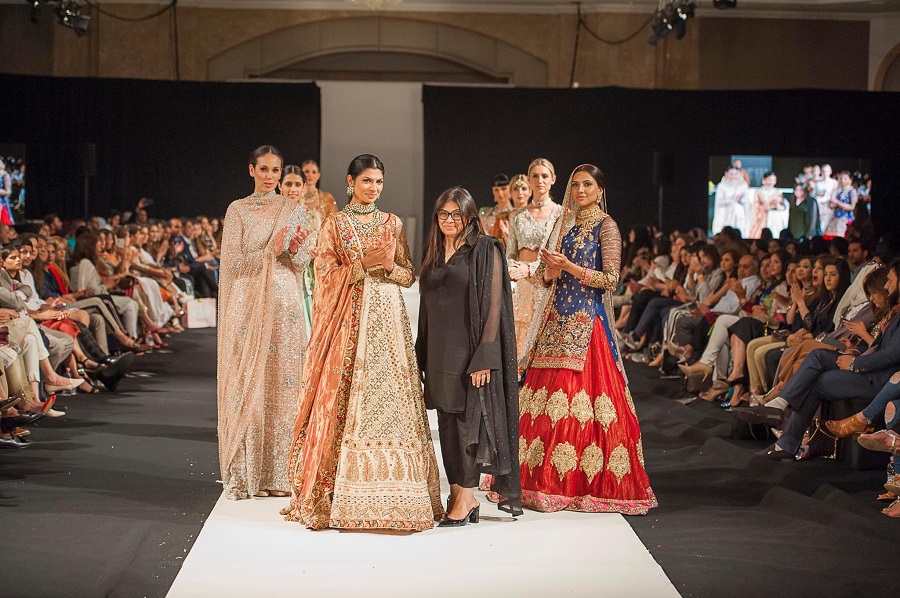 THE BRAND
The name of the designer 'Sheeba', which means 'promise', defines the brand and its essence of commitment. A commitment to hold tradition, uphold sophistication and establish uniqueness, while embracing the trendy expectations of the new age women.
THE COLLECTION
Aurora
Sheeba Kapadia first launched 'Aurora' which personified origin – the origin of her creative work which has transmuted her experience over the years into her own signature style. The predominant use of pastel colors with shades of green, pink, lilac, blue and peach evoked openness and relaxation. The collection includes simple cuts with traditional work of kaamdani, dabka, kat-dana and resham along with trendy outfits embellished with leather appliqué motifs and sequins cut work. Aurora's unique color arrangements and trendy ensemble was aimed to define today's women of all age groups.
Aspire
After the phenomenal response received on her signature Aurora collection, Sheeba Kapadia launched "Aspire", a gorgeous range of luxury pret and formal wear that focuses on contemporary couture at its finest. One can best define the style this collection has by saying it exemplifies casual elegance. It features outfits such as "Zard Peplos", "Lilac Temples", "Imperial Tunic" and "Coral Cranes" that have evocation of Baroque patterns and Chinoiserie motifs and artwork. Keeping up with her signature style, Aspire also includes "Jahanara" which is unique for its extremely intricate leather and velvet appliqué work and mosaic patterns on the boot cut pants. Another crowd-favorite is "Feroza" that has a silver and gold organza appliqué work that gives it a very tasteful outlook.
Izdihar
And now Sheeba Kapadia is bringing her finest and most aesthetically gracious dressmaking to life with the haute couture "Izdihar". This exclusive collection has been designed specifically to adorn the modern bride with grace and glamour. All the magnificent dresses in this ensemble are embellished with Zardozi work which accentuates the beauty of the bridal and formal wear. Being a premium fashion house, each dress of the collection has been named to reflect its spirit and overall appearance. Versatility is key within the brand values of Sheeba Kapadia, therefore while the outfits such as Emerald Empress, Mandarin Garnet and Gulalai connote the literal meaning of "Izdihar", Mahzala, Omorose and Zuri Gravel witness the alluring artistry of the collection in its enraptured glory.
LOGO AND INSIGNIA
The logo is meant to embody the brand and the designer's signature. Peacock – the brand's insignia – represents the possessor of the most admired human characteristics including dignity, integrity, self-confidence and above all, beauty. It is distinguished from all other birds due to its stunning feathers and eerie calls, which embellishes the brand's image to be distinct in the fashion industry. The eyes on its feathers epitomize the brand's vision to gauge its present image against future trend expectations in the light of the traditional past.