How To Treat Acne Scars ?
Acne scars leave their mark not only on the skin but also on the sufferers psyche. With rapid developments in dermatology, treating acne scars is becoming easier.
Acne scars leave their mark not only on the skin but also on the sufferers psyche. With rapid developments in dermatology, treating acne scars is becoming easier. Please consult your dermatologist about the best treatment for your acne scars. The choice will depend upon your medical history, the type of scar and the kinds of treatments available for that type of scarring. Some treatments are cheaper than others but may not give perfect results. The choice therefore also depends upon your budget and the kind of results you desire. Let us look at the kinds of treatments available for acne scars.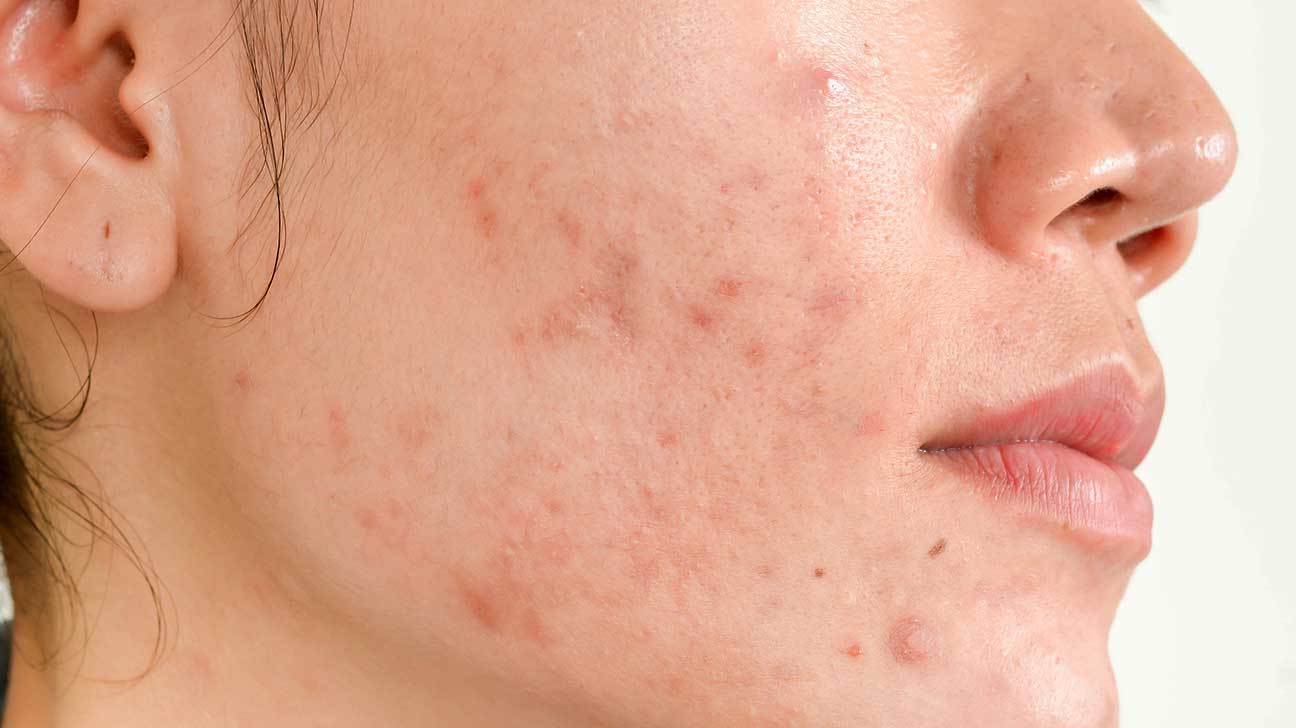 Dermabrasion- this is considered one of the most effective treatments for acne scars. In this procedure the doctor uses a local anesthetic or freezes the skin and then uses a high-speed rotary abrader to remove unwanted surface skin. As the skin heals, it shows a brighter appearance. This procedure may remove superficial scars altogether and reduces deeper scars.
Read More: What is Acne And Pimple ?
Chemical Peeling – depending on the scar, your doctor will apply a mild chemical peel on the affected skin. This slowly peels away the old skin and brings in fresh skin. Mild scars can be treated with chemical peels.
Laser Therapy- lasers of different types are used by the doctor to give a new shape to the scarred skin by recontouring the scars. The high burst of laser may leave the skin red for sometime.
Soft Tissue Filling- Collagen that may be bovine in source or patients own may be injected below the scar to lift the skin and give a smooth appearance. As the injected collagen gets absorbed in the body over a period, further treatments may be needed after about six months. Similarly fat may be injected below deep scars for giving a lift to the skin. Similar to collagen filling, fat injections may need to be repeated after some months. Your doctor will advise you about that.
Skin surgery- Skin may have to be surgically corrected with grafting or other procedures to remove some scars.
Microdermabrasion- In this procedure very tiny aluminum oxide crystals are passed through a vacuum tube to scrape the surface of the skin. this procedure may have to be repeated many times, an d gives a fresh look to the skin by scraping .Very mild scarring can be treated with microdermabrasion.
For people who have the tendency to form keloids, no surgical method can be used. If one can develop keloid with acne injury, more keloids will be formed by further surgery. steroid injections may be used to treat keloids. In some cases topical retinoic acid is applied directly on the keloids.
This article is only for informative purposes. This article is not intended to be a medical advise and it is not a substitute for professional medical advice. Please consult your doctor for your medical concerns. Please follow any tip given in this article only after consulting your doctor. The author is not liable for any outcome or damage resulting from information obtained from this article.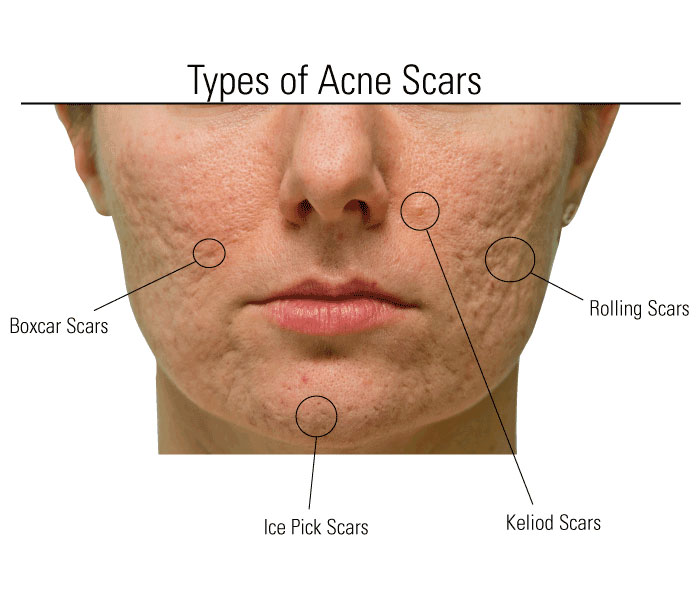 Acne – Types, Causes And Treatments
Acne Vulgaris, commonly referred to as pimples, is an inflammatory disease of the skin. This condition is very common in puberty. As one reaches their early twenties, it either disappears or decreases. Acne begins because of the comedo, an enlarged hair follicle plugged with oil and bacteria. The comedo is invisible to the naked eye and is present beneath the surface of the skin. When it gets the right condition, it grows into an inflamed lesion. The oil produced from the skin helps bacteria to flourish within the swollen follicle.
Non-inflammatory acre are of two types – Closed comedo or white head, and Open comedo or black head. There are 4 types of inflammatory acne –
· Papule – It is the mildest form that appears on the skin as a small, firm pink bump.
· Pustule – They are small round lesions containing visible pus. They may appear red at the base and yellowish or whitish at the center.
· Nodule or Cyst – Large and painful, they are pus-filled lesions lodged deep within the skin. The nodules may persist for weeks or months with the contents hardening into a deep cyst. Both nodules and cysts often leave deep scars.
Read More: How To Treat Painful Pimples
· Acne Conglobata – This severe bacterial infection develops mostly on the back, buttocks and chest.
The chief causes of acne are hormones like androgen, production of extra sebum, follicle fallout, bacteria and inflammation. For controlling acne, you can carry out the following steps –
· Avoid excessive washing of your skin. It can leave the healthy skin dry, thus irritating the acne prone areas. Over-washing may also stimulate extra oil production.
· Avoid alcohol products to tone your skin. Alcohol is a strong astringent that strips the top layer of the skin causing sebaceous glands to produce more oil.
· Do not squeeze or pick the acne with fingernails, pins or any other thing. It forces the bacteria deeper into the skin and often leaves a permanent acne scar.
· A wash is required after exercise. The heat and moisture trapped against the skin creates an ideal breeding ground for the spread of bacteria.
· Consume food rich in Vitamin A, Vitamin B-2, Vitamin B-3, Vitamin E and Zinc like eggs, nuts, liver, milk, fish and leafy green vegetables.
· Proper sleep and a life without stress and emotional anxiety can reduce acne.
· Wear little make-up while exercising. Avoid garments that are made exclusively with nylon.
Laser surgery is often used to reduce the scars left behind by acne. Treating acne with azelaic acid, salicylic acid, tropical retinoids and benzoyl peroxide is also common. A large number of people started trying herbal acne treatments over the traditional medications by using teas, oils and herbal creams.