Qalamkar Luxury Lawn 2019 Collection Daur-e-Hayat
Daur-e-Hayat Lawn 2019 By Qalamkar now available at our Online clothing Store so you can prebook you favorite dresses at our Store before ending of stock, so hurry up order now or get your favorite in your hand. We also provide stitching service for our international and national customer with our highly trained tailors. So let's do hassle free shopping with us.
Daur-E-Hayat Luxury Lawn introducing by Qalamkar for summer 2019 in amazing designs to enhance your style in summer. Daur-e-Hayat a luxury lawn collection consisting of 3 pcs embroidered dresses with stunning embroidery pattern to giving you luxury look on occasions. A high quality stuff introducing by one of the best clothing brand with contemporary ideas. Qalamkar is a feminine clothing brand in Pakistan who introducing magnificent clothing for your whole wardrobe. Recently Qalamkar introducing FORÊT DE LUXE wedding wear collection in fashionable designs or become a famous collection in women.
Read More: Gulaal Lawn Collection 2019
Too much mystery surrounds the Summer Palace in the city of dreams. The vagueness is like the nebulous parts of a painting; it has a charm that it might be a mistake to dispel. Nor is it certain that the historian, could he lift the veil, would discover the truth.
When she arrived in the city, she began reminiscing about this ancient architectural marvel, with opulent history and fine architecture. The miniature art, paintings and plenty of fine detailing from the bygone era, lovely depictions from the past, and some bold use of colors; made this palace a bewitching beauty.
She began wandering, sometimes in her vintage car, on the lookout for it, the city's age-old skeleton, that goes back to 1,700 years which could still be seen with that familiar combination of domes and rounded arches. The different places and their prolific history make it an intriguing proportion for all the explorers. For some time in the afternoon, she would sit in the veranda to ponder upon the story of how her own life diverged. She had refused to accept traditional mores, and dreamed of careers in literature and art. She spent her time in the evening transforming a canvas into something magical, or sculpt and weave, even explore the art of tiny letters.
Read More: Muzlin Spring Lawn 2019 By Sana Safinaz
For her, the place, the memory and the era was Daur -e -Hayat Qalamkar Lawn 2019, the circle of life. A massage by Qalamkar.
Daur-e-Hayat Lawn 2019 a rich embroidered lawn collection embellished with amazing thread work in a unique way. A 3 pcs Digital Printed embroidered lawn collection with Digital printed and embroidered dupatta with marvel prints. Luxury, soft and reliable collection to keep you cool in hot days or defiantly fascinate your self with sophistication.
So here is very first look of Daur-e-Hayat Lawn 2019 By Qalamkar for your summer wardrobe hope you like it well or want to change your style in summer 2019. Look below or enjoy summer with luxury style or amazing fashion sense introducing by Qalamkar. Don't forget to like our Facebook page to stay update what's coming next in Pakistani fashion industry. .
Read More: Bagh-e-Gul Lawn 2019 By Gul Ahmed
So this is summer now or whole leading clothing brands of Pakistan introducing consistently lawn collection for summer season 2019 in creative designs for chic women. Here is adorable collection by Qalamkar Daur-e-Hayat Luxury lawn collection 2019. Daur-e-Hayat Lawn 2019 By Qalamkar introducing such a amazing cut and style or modern stitching ideas. You can adore these dresses with trendy tassel on shirts and arms bottom or also apply same colors beads to adorned these dresses. Here the brand presenting some amazing stitching ideas for you hope you like these ideas well.
Read More: Alkaram Lawn 2019 | Latest Lawn Collection By Alkaram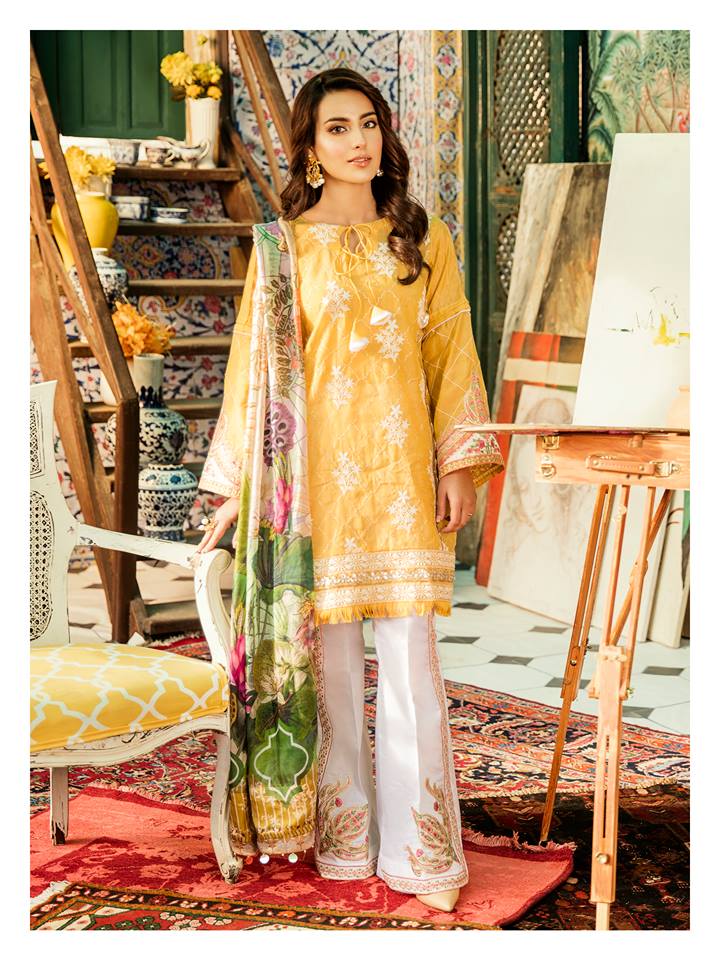 Chickenkari Embroidered Front
Digital Printed Back
Plain Sleeves
Digital Printed Pure Silk Dupatta
Dyed Trouser
Embroidered Neckline
Embroidered Sleeves Patch
Embroidered Trouser Patch
Embroidered Trouser Lace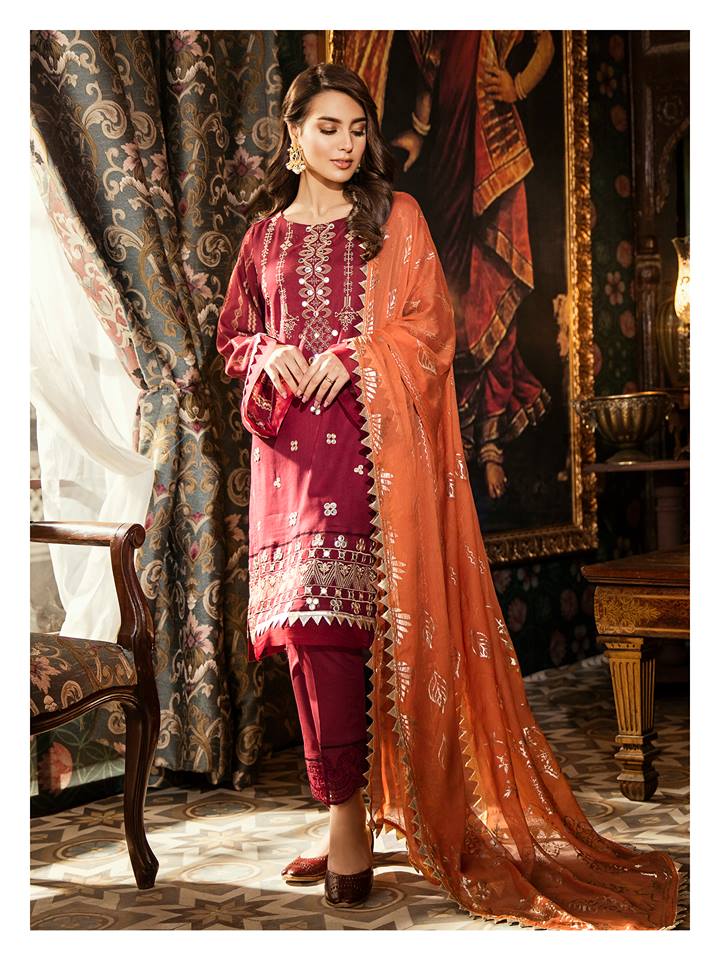 Sheesha Embroidered Front
Jacquard Back
Jacquard Slvees
Foil Printed Chiffon Dupatta
Dyed Trouser
Sheesha Embroidered Daman Patch
Schiffli Embroidered Trouser Patch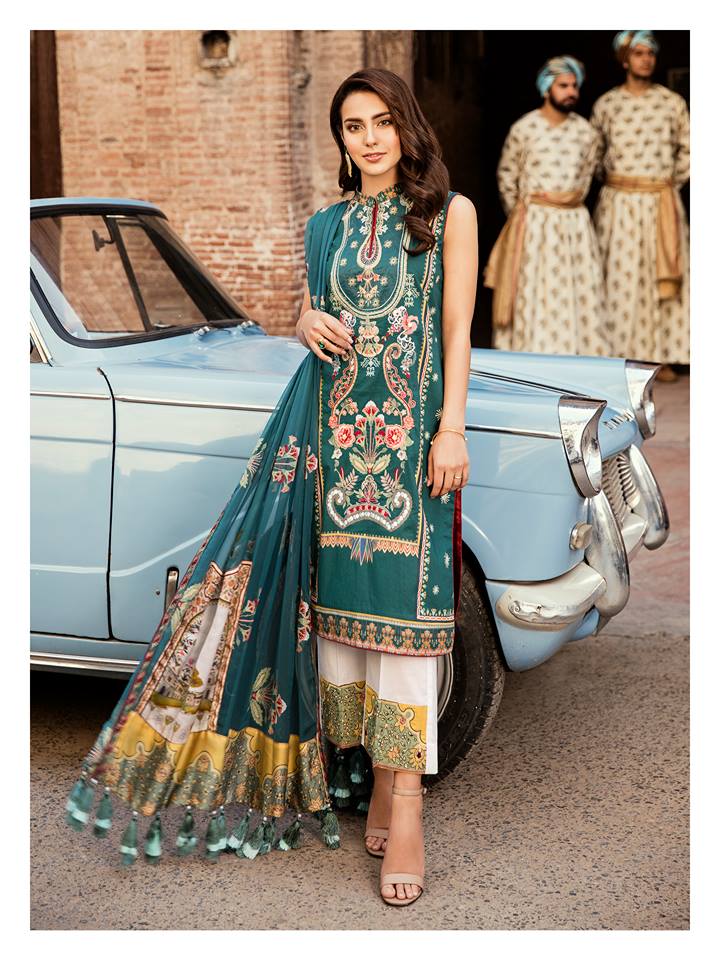 Digital Printed Embroidered Front
Digital Printed Back
Digital Printed Sleeves
Chiffon Embroidered Dupatta
Dyed Trouser
Digital Printed Charmouse Silk Dupatta Patch
Charmouse Silk Embroidered Trouser Patch
Embroidered Neckline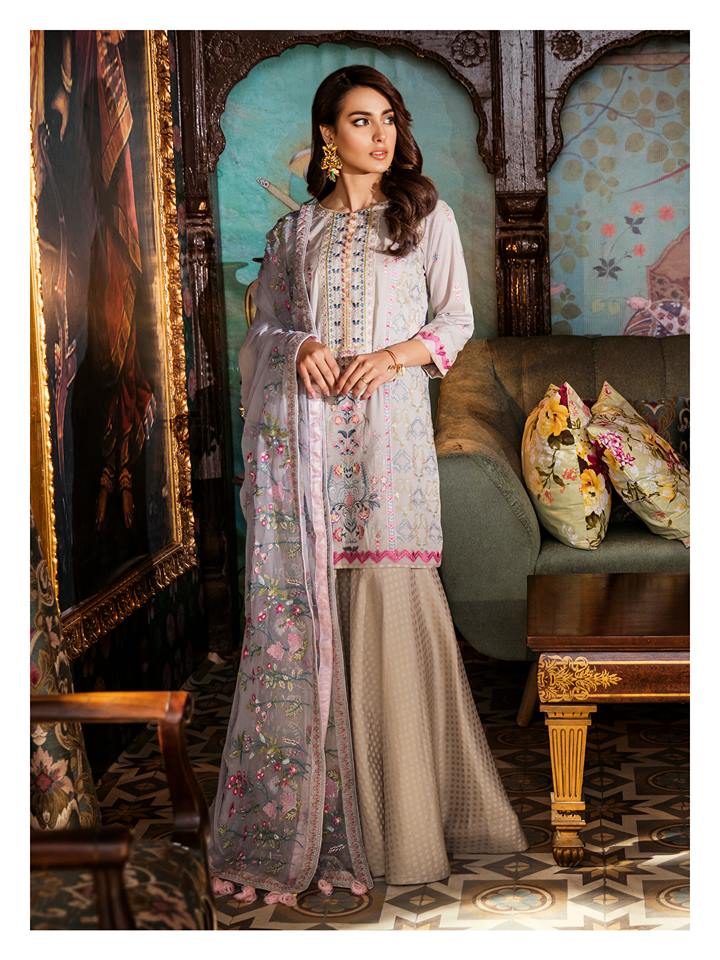 Embroidered Front
Digital Printed Back
Embroidered Sleeves
Embroidered Digital Printed Chiffon Dupatta
Jacquard Trouser (there is enough cloth for a gharara's stitching – as shown in picture)
Embroidered Lace
Embroidered Border Patti for Dupatta
Dehdari from Daur-e-Hayat, Luxury Lawn 2019 has an embroidered front and sleeves with a minimalist design that makes this a piece you can wear every day. The soothing color palette of the outfit is a filtered take on the simplicity nature. The generous display of hand-done embroidery on the printed duppata heightens the elegance of the pretty design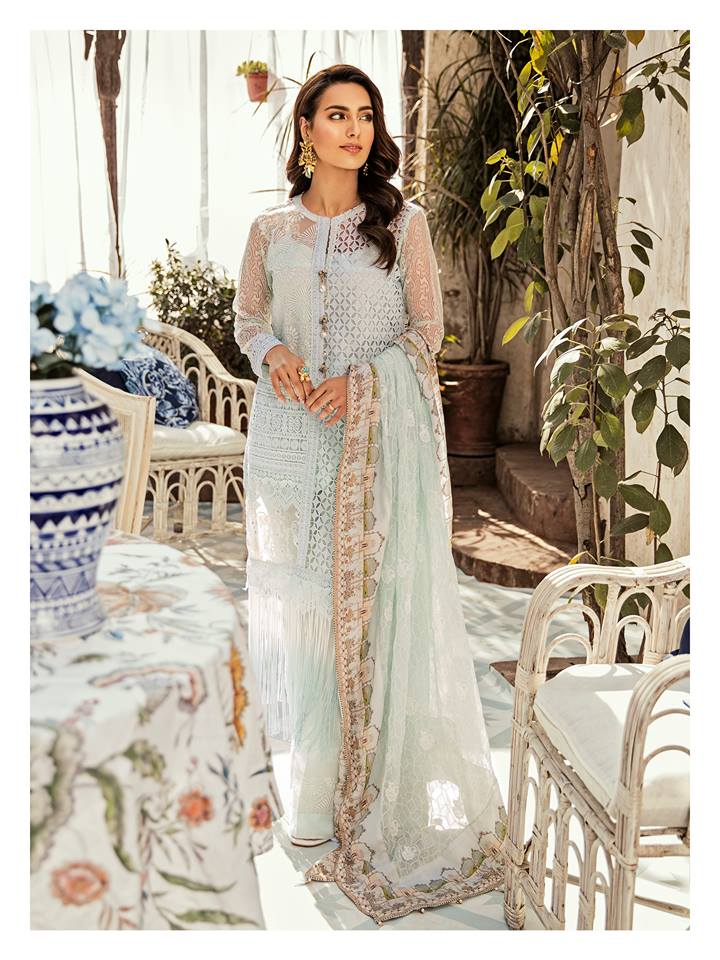 Schiffli Embroidered Front Piece
Organza Embroidered Front Piece
Schiffli Embroidered Lace for Front
Schiffli Embroidered Border
Plain Slip for Front
Digital Printed Back
Net Sleeves
Schiffli Embroidered Chiffon Dupatta
Digital Printed Charmouse Silk Patch
Dyed Trouser
Arshfam from Daur-e-Hayat, Luxury Lawn 2019 – from the charmouse patches and embroidery to the net sleeves and the schiffli embroidered dupatta, everything in this dress will oomph up your swag!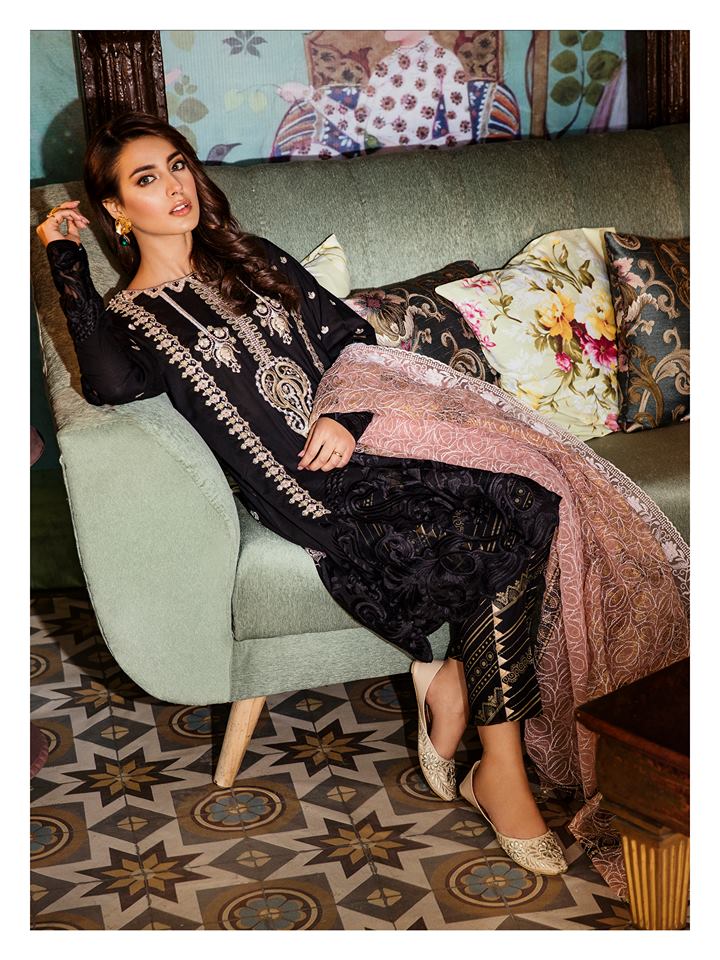 Laser Cut Embroidered Front
Printed Back
Embroidered Sleeves
Organza Schiffli Embroidered Block Printed Dupatta
Pearl Printed Trouser
Embroidered Neckline
Laser Cut Embroidered Sleeves Patch
Embroidered Front Lace
Zehresh from Daur-e-Hayat, Luxury Lawn 2019 is beautifully adorned with laser cut embroidery on the front and sleeves. The organza duppata with schiffli embroidery and hand printing is a perfect melange of regal finery and modern aesthetic.
Read More:  Beech Tree Lawn Collection 2019
Qalamkar Egyptian lawn collection is quality sustainable fashion offered in a string style in the form of three piece lawn dresses blended in attitude and passion. These beautiful dresses are design in the prints of botanic garden, tribal pattern and digital printing of geometric shapes and old ancient historical buildings, embroidered brooders are also there with, Patti laces, floral motifs and tassels. Moreover color scheme of this collection is very revitalizing and energizing to comfort your eyes with coolness even in the hottest summery days. Dresses are offered in longer length cloth for shirts and trousers weaved in lawn threads while chiffon duppata are cream on the cake.