Pakistani Bridal Dresses By Aisha Imran
Latest Pakistani bridal dresses presenting by well known fashion designer of Pakistan Aisha Imran for 2019. Aisha Imran introducing a wide range of heavy embroidered bridal dresses in chic designs to make your wedding day stunning. Famous Pakistani fashion Designer Aisha Imran is known for her formal and bridal diversity in fashion. or also setting up some very unique clothing trends in Pakistani Bridal Dresses.
She presented her very famous bridal dresses that grabbed a lot of attention in Pakistani women due to his creative designs or rich embellished bridal wear. Aisha Imran introducing Pakistani Bridal Dresses in various style especially Heavy embroidered Lehenga, Lehenga Choli, Bridal Angrakha, Bridal Gharara , or stunning Bridal Maxi dresses in contemporary designs.

Every girl have a dreams of looking the absolute stunning on her wedding day so that was she need for beautiful Pakistani wedding dresses comes in. Brides the world over wear a special dress to symbolize the auspicious day. Every culture has a different norm but all dresses are ethereal and fit for princesses. In Pakistan brides wear dresses that are heavily embellished and embroidered with beads, threads, sequins and other adornments. Here we giving some advice for different types of Pakistani wedding dresses that can be chosen by girls on her wedding day. Mostly girls want to wear heavy embroidered designer Lehenga or most common color is Red and Gold. So here is so many choice for you.
With just the right amount of flare and volume that a bride deserves, Lehenga is the perfect choice for your Big Day. Typically consisting of three pieces, a choli, dupatta and a floor length lehenga or that's the most trendy attire of wedding day, this bridal wear is the most popular choice among girls. Choli could be replaced with a long shirt according to the bride's wish because in Pakistan mostly girls want to wear long tail heavy embroidered Lehenga. And hey! Remember the dreams of having your moment of a perfect princess twirl? The fluffy flare of lehenga will give you just that. So look here we present you some Latest Pakistani bridal dresses ideas presenting by Aisha Imran for your wedding day hope you like these ideas. Let's have a look or enjoy.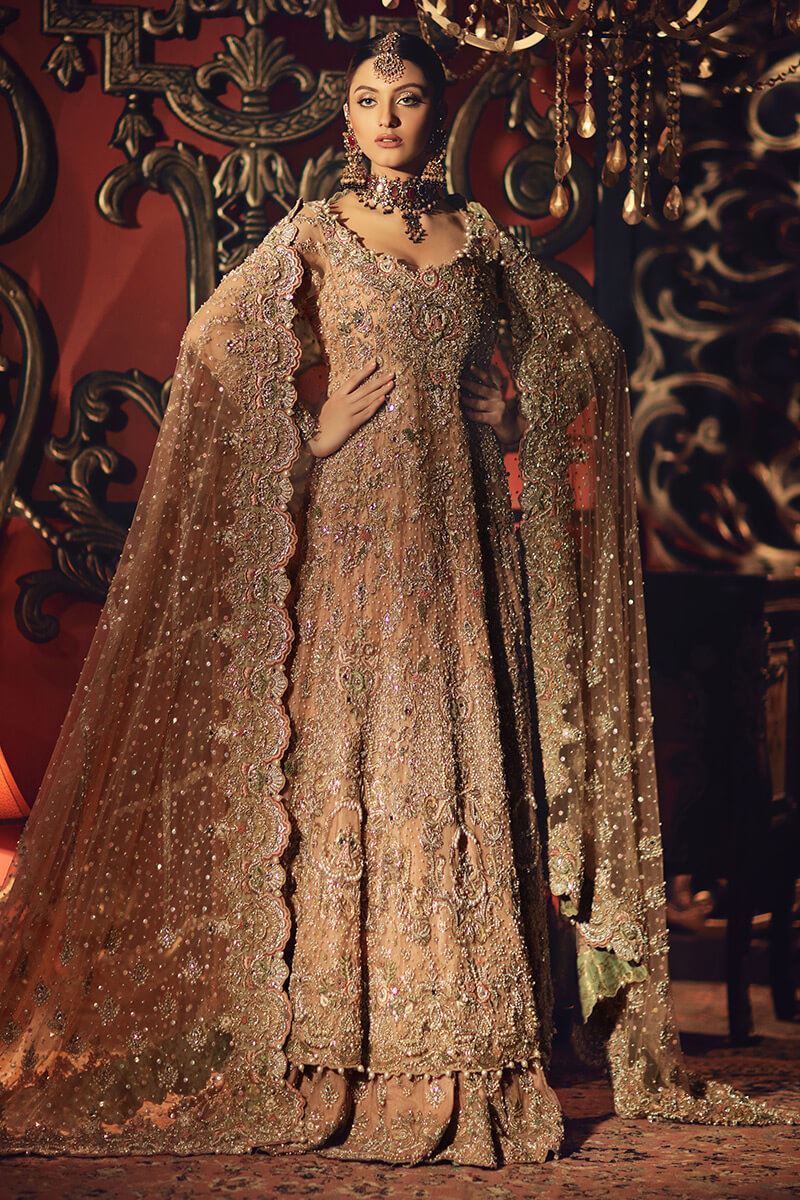 A lustrously worked Peach Net long gown with complimenting net dupatta which has an elegant border with all over spray. Paired with a peach net lehnga, this bridal is perfect for your big day!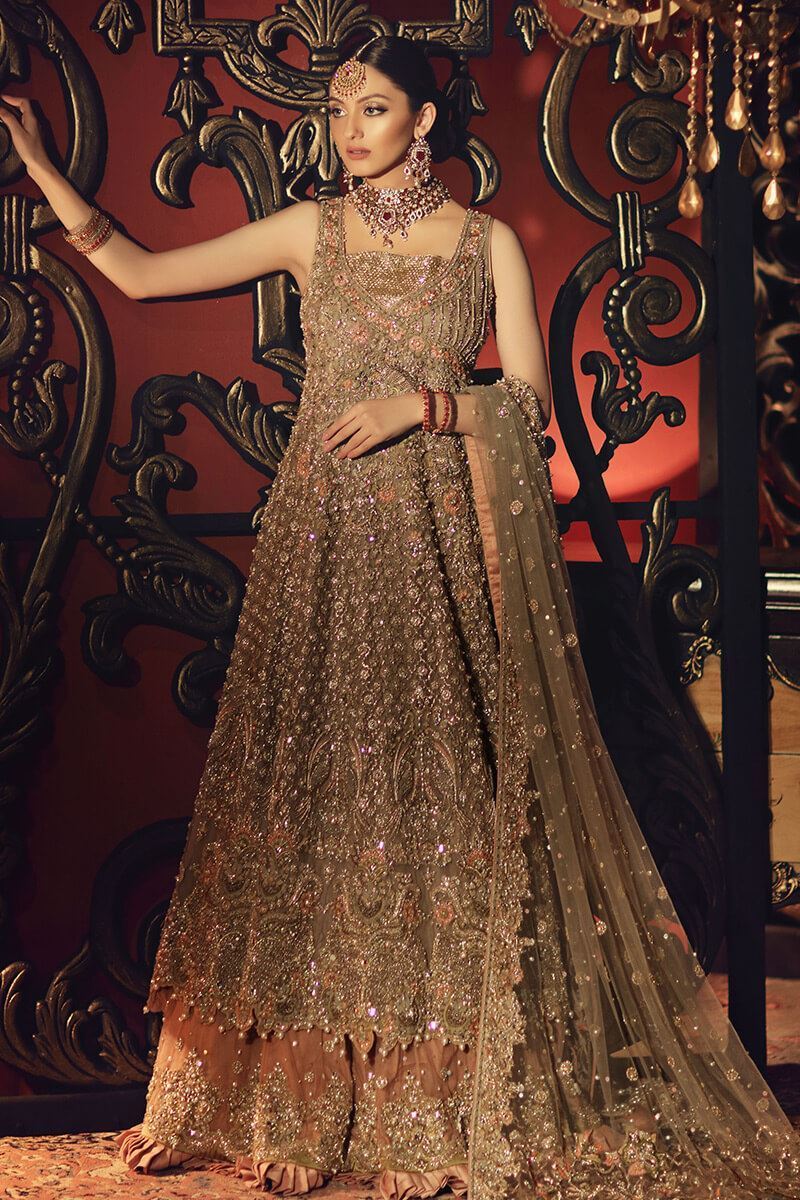 A lustrously worked Grey net long gown with 3D embroidery and embellishment. The exoticly crafted bird motifs are studded with diamantes. The complimenting net dupatta has an elegant border with all over spray. Paired with a grey net lehnga, this one is bound to steal the show.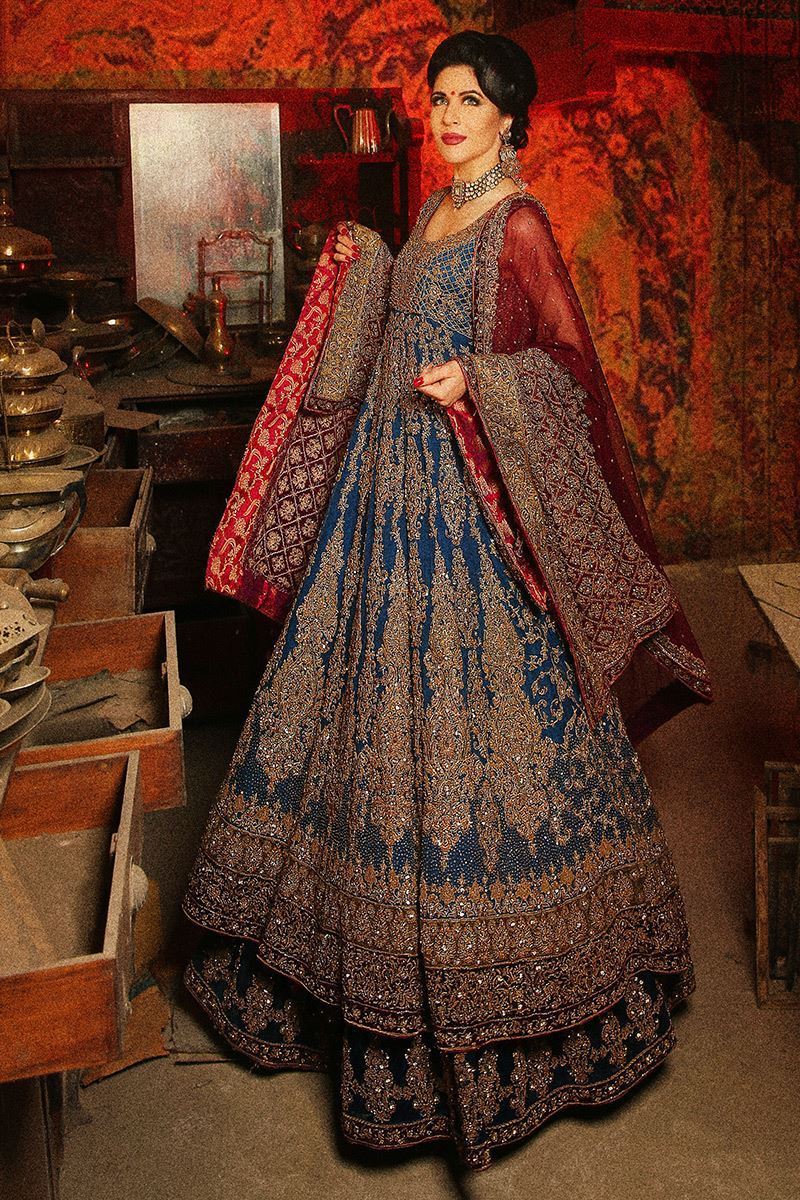 VIBRANT CHARM
Head turning heavily embellished navy blue chiffon gown paired with a beautifully crafted mehndi green chiffon lehnga. Deep maroon chiffon dupatta also adds to the vibrance of this exquisite piece.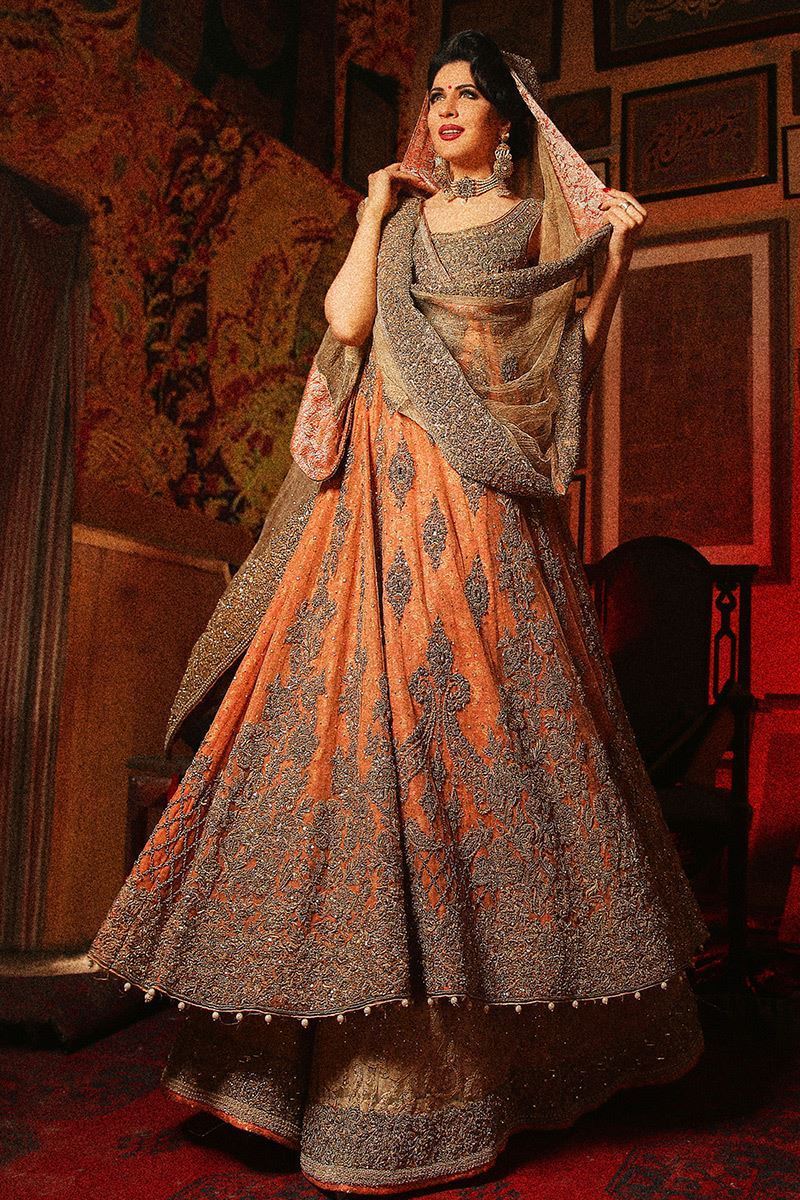 MALACHITE HYMN
Eye catching peach net heavy bridal dress and gold net lehnga with intricate embellishments. Heavily embellished gold net dupatta adds to the grace of this bridal dress.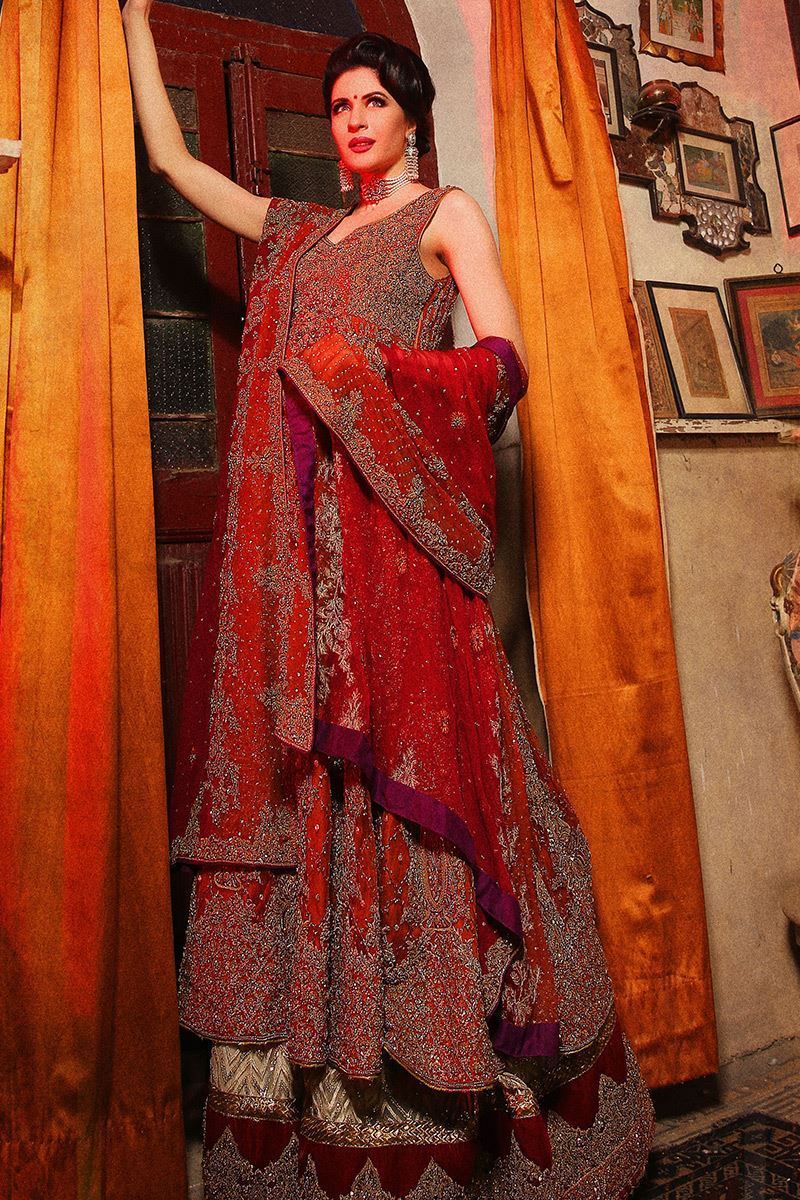 MAJESTIC SWAN
Celestial heavy rust chiffon gown with intricate details of antique work, stones and sequins paired with a heavy red chiffon duppata and gold lehenga to make it class apart.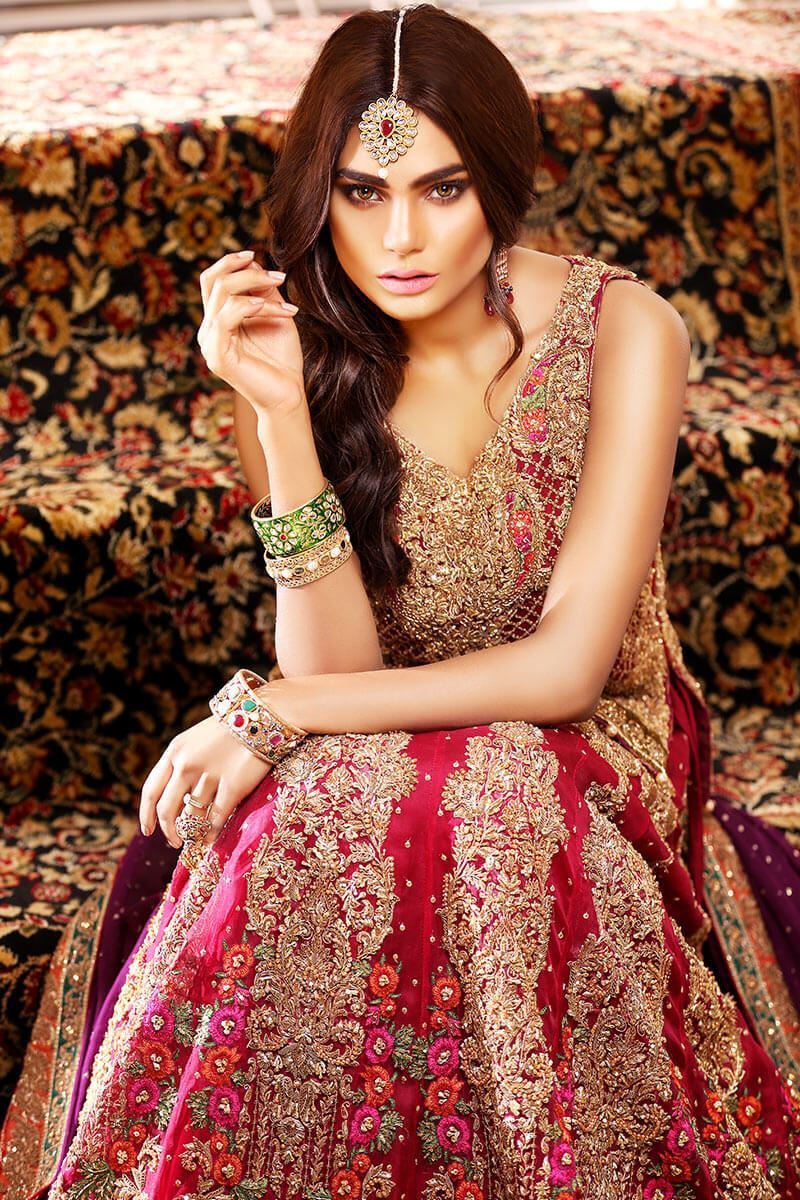 NOOR JAHAN
Celestial heavy red dress with intricate details of antique work, resham, stones and sequins paired with a heavy plum dupatta to make it class apart.
May You Like: 
Aisha Imran true to its name has permeated Pakistani luxury fashion with its endearing delicate designs. A fashion house of eastern and haute couture clothing that ensures the uniqueness of each piece in its level of individuality and originality. It brings the dynamic fusion of bridal couture and formal/party wear.
Aisha Imran has been contributing towards national and international fashion exhibitions to shape the very image of bridal couture industry of Pakistan. Over the period of time Aisha Imran has introduced an elegant range of bridal wear and couture. Her pieces are always a combination of traditional touch and modernity.
The strong identity of Aisha Imran has evolved since its birth without forgetting its roots. An unmistakable style and fashion which season after season, combines strong innovation with the flavor of its origin. Aisha Imran's bridal wear is highly customizable according to the needs and desire of customers. We listen to customer's set of mind and ideas. The dress is then transformed to the best of possibilities. In just over two years, the label has proven its potential with its immensely refined designs for pret, luxury pret, semi-formals, wedding wear, and bridals that are all inked with rich handcrafted techniques and pure sophisticated fabrics.