Asim Jofa Bridal Collection 2019
Asim Jofa Bridal Collection 2019 presenting in chic designs and sophisticated style to give you magnificent look on your wedding day. Girls here is latest collection of your favorite fashion designer of Pakistan Asim Jofa is one of the best and well known fashion designer in Pakistan. Asim Jofa also presenting adorable fashion ideas in women clothing for each season. Asim Jofa also introducing highly liked summer lawn, embroidered chiffon for party wear, Silk collection for winter, embroidered Mysorie formal wear, luxury pret wear or Bridal wear also. Asim Jofa introducing stunning ideas in women clothing or setting up some very unique clothing trend that's liked by young girls and women's.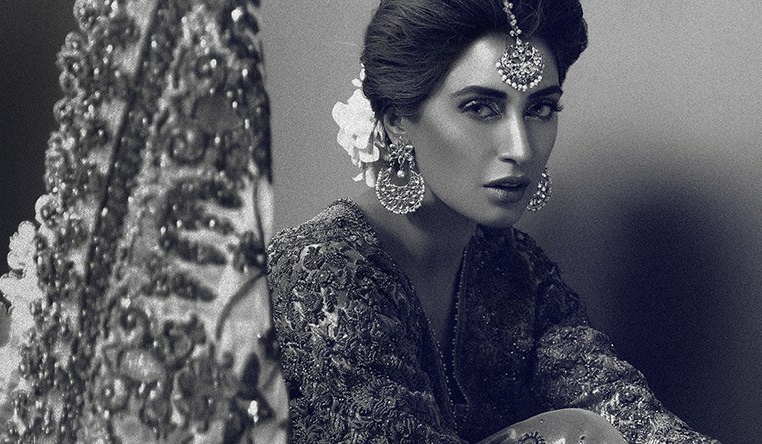 Here we are publishing Asim Jofa Latest Bridal dresses for 2019, very unique and dramatic designs presenting by one of the best fashion designer of Pakistan Asim Jofa. Rich embroidered dresses with traditional embroidery style or western look make these dresses so gorgeous for your wedding day. Asim Jofa bridal dresses are one of the pioneer choice of girls due to creative style and luxury look and rich embroidery liked by girls. So Stock your formal wardrobe with these chic outfits and make your wedding day glamorous. The overall collection depicts the finest series of classy and stunning fancy bridal dresses. Nothing converses of femininity and elegance louder than these bridal dresses presenting by Asim Jofa. Asim Jofa creates magic with Gota, Dori and Zari work beautifully amalgamated with the royal, of pure high quality fabric. So look below here we published some latest bridal dresses of one of the best and stylish fashion designer of Pakistan Asim Jofa. Hope you like or plan to wear something unique and elegance on your wedding day to enhance your look and glamour.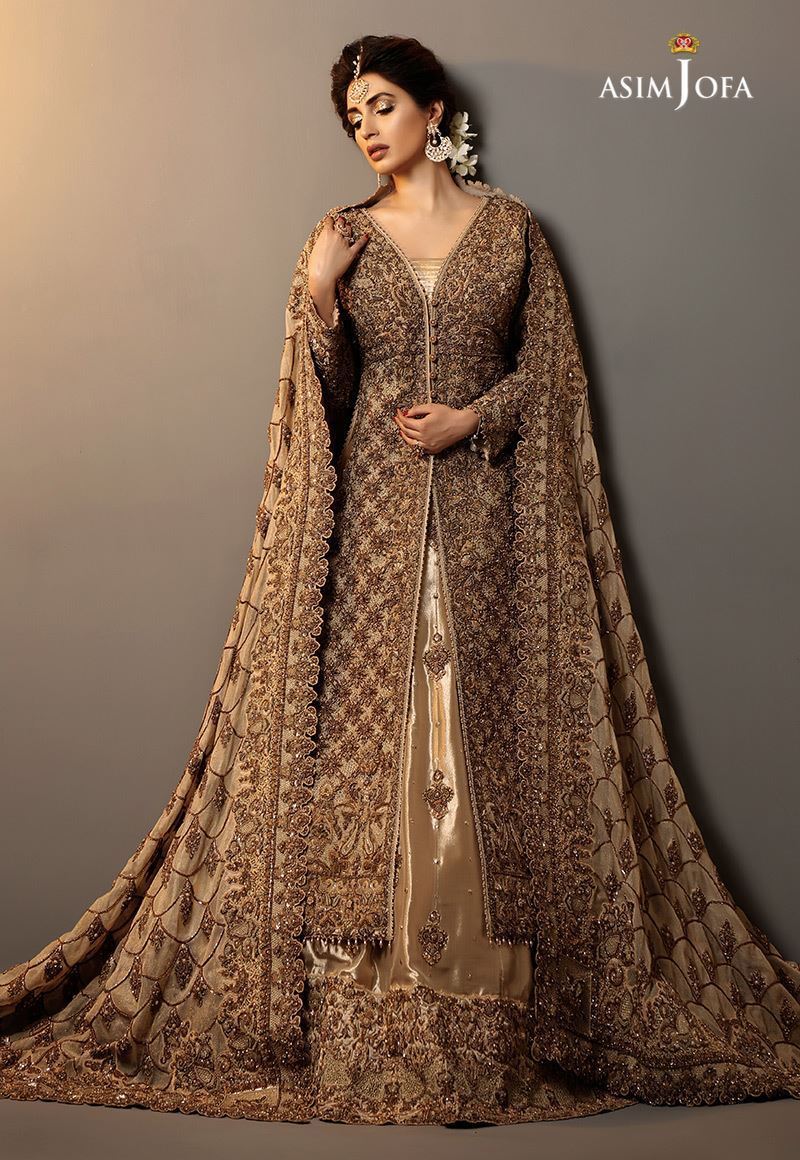 Gold bridal bodice dress with full sleeves and front open A-Line Net shirt with beautiful hand embroidered body attached to a fully worked panels with Zardoze, Kora and Dhaka. The daman of shirt compromised with beautiful heavy embroidered motifs and embellished borders on the front and back hemline. It comes with a gold lehnga with scattered booti chan and finished with a thick gold hand worked border on hemline, continuing along the back with a trail. Dress is complimented with a heavy bridal Net dupatta with thick embellished borders and boties on all four sides, enhanced with a heavy jal, chan and booties sprayed all over it.
Emerald green fully embellished cutwork lehnga with golden Sequins and Pearls. Cutwork border runs along the hemline all over the lehnga A stitched cancan with the lehnga. It comes with a red sleeveless embellished choli featuring golden work in Kora and Dhaka. Daman of the shirt has a beautiful cutwork border. It is matched with a red Net dupatta, embellished with golden border, crisscross pattern all over the dupatta with chan and bootis sprayed all over.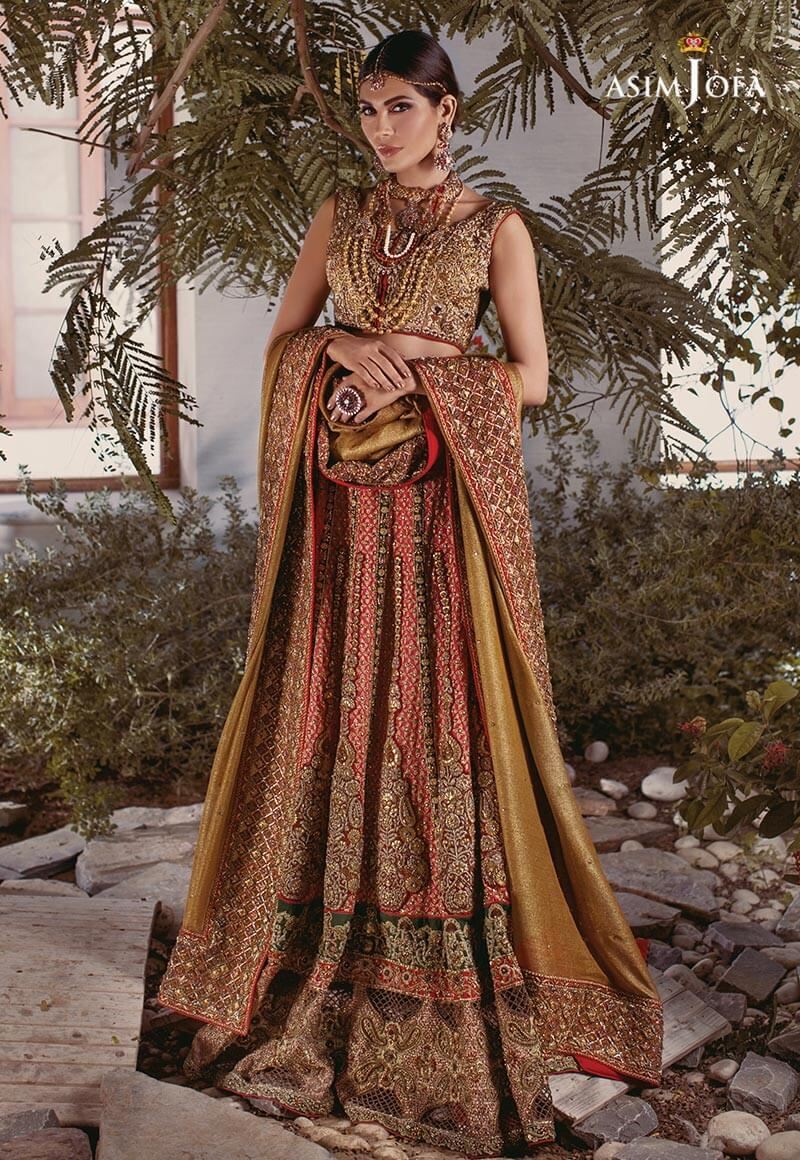 Gold heavily embellished choli featuring gold work on the front and the back in Kora Dhaka, Sequins, Kundan. It comes with a red sharer with beautiful embellished motifs around the hem and vertically worked gold lines and it finished with a thick appliqued embellished border. Outfit is beautifully co-ordinated with bronze Mysorie dupatta with Sequin spray all over. The dupatta has heavy embellished appliquéd borders on all four sides.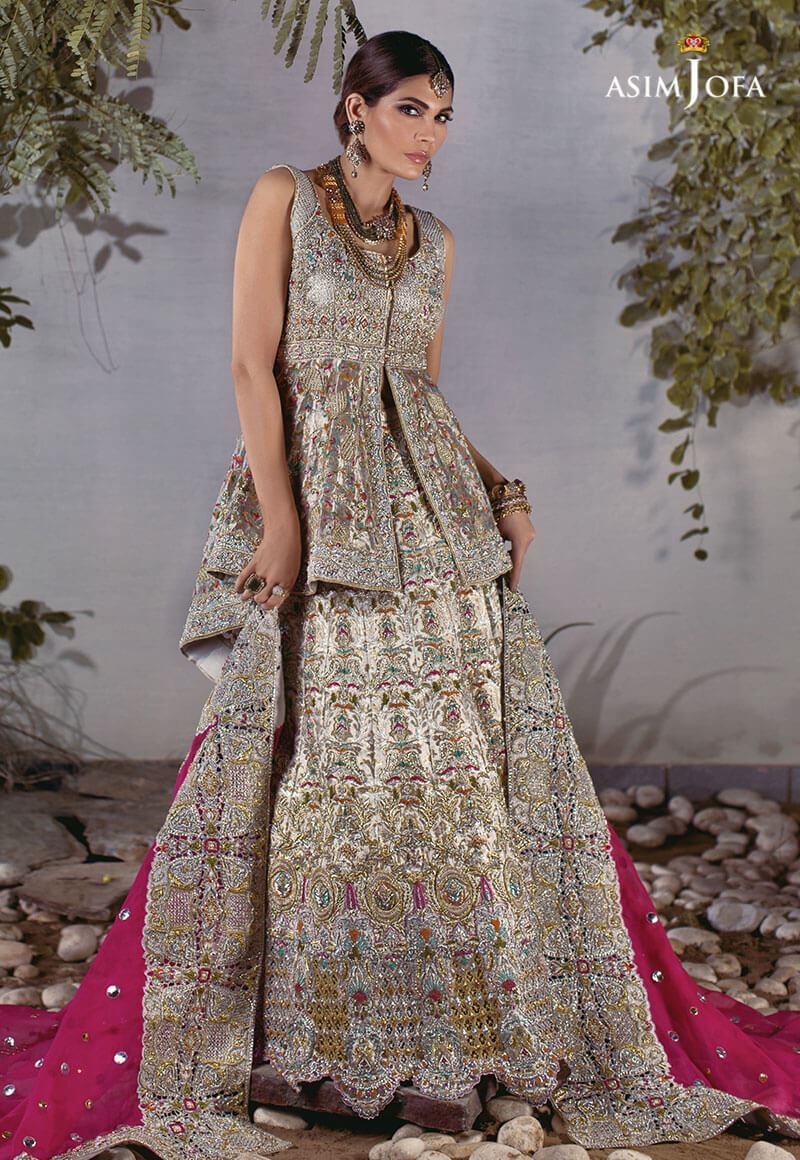 Off white heavily embroidered front open bridal peplum style shirt with heavy multi colored embroidery all over the front and back of the shirt feauturing Resham, Kora and Dhaka with golden details.  It comes with Banarsi Lehnga with full heavy multicolored and gold embroidery with embroidered motifs all over it. Finished with beautiful heavy cutwork border, cancan and a trail. It is paired with a Shocking Pink dupatta with heavy matha patti border and cutwork borders on other 3 sides with chan sprinkled all over the dupatta.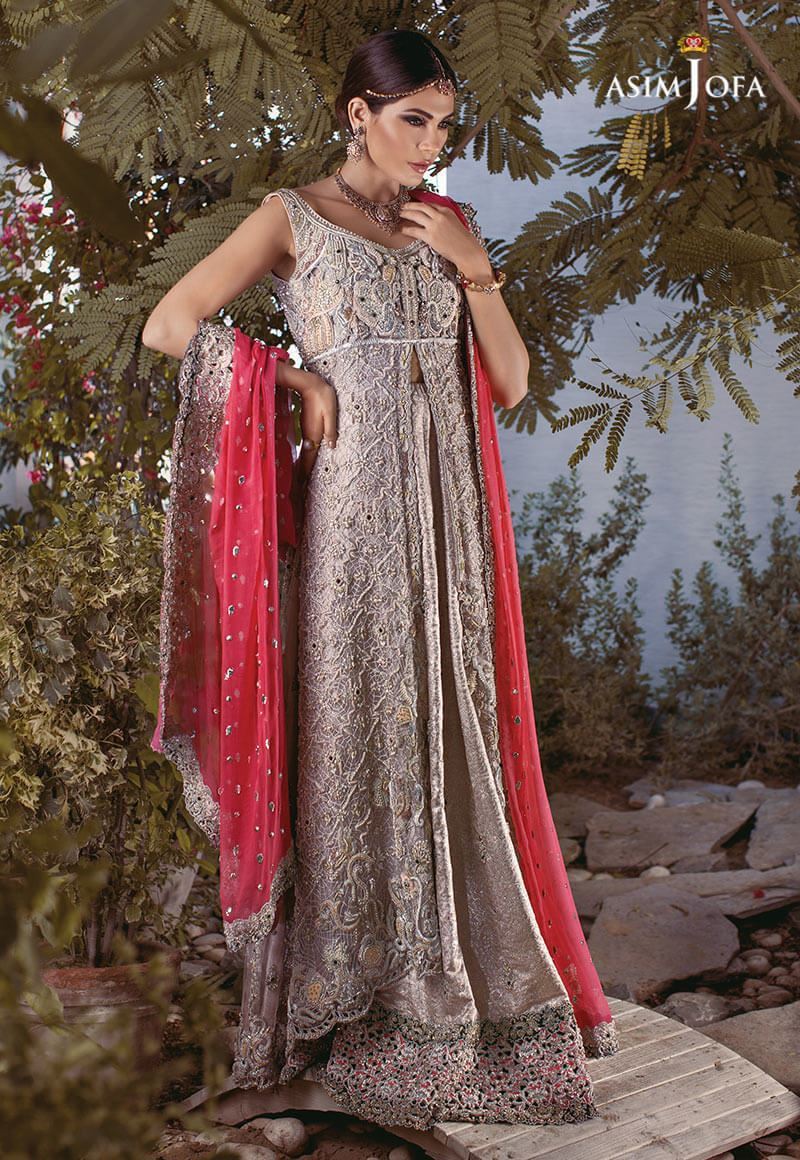 Light baby pink sleeveless Net gown back trail style with beautiful silver work in Kora Dhaka and Pearl work all over. Top front and back of the dress is composed of heavy work with vertical lines at the back and motifs scattered all over the dress. It comes with Light baby pink sharer with cut work border in pink green and silver. Pink coral color Chiffon dupatta with silver Kamdani scattered all over it and also with silver cut work matha patti and 3 sides border.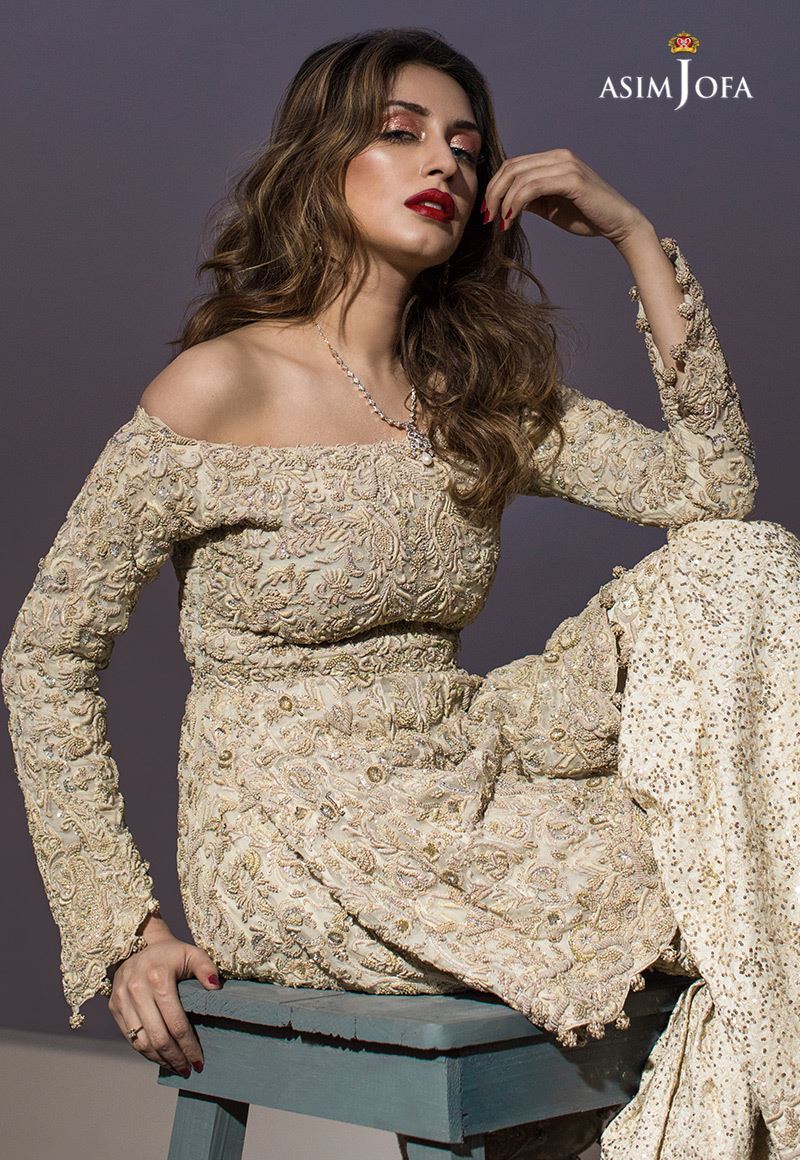 An Ivory modernized peplum bodice dress with full sleeves in a front short and back long style with beautifully hand worked with silver Kora, Dhaka and Sequins, on the front and continuing in the back. It is also embellished with drop balls finishing on scalloped edges of the shirt hem. It comes with an embroidered pants with embellished pattern at the goat with sequin spray and finished with an embellished border.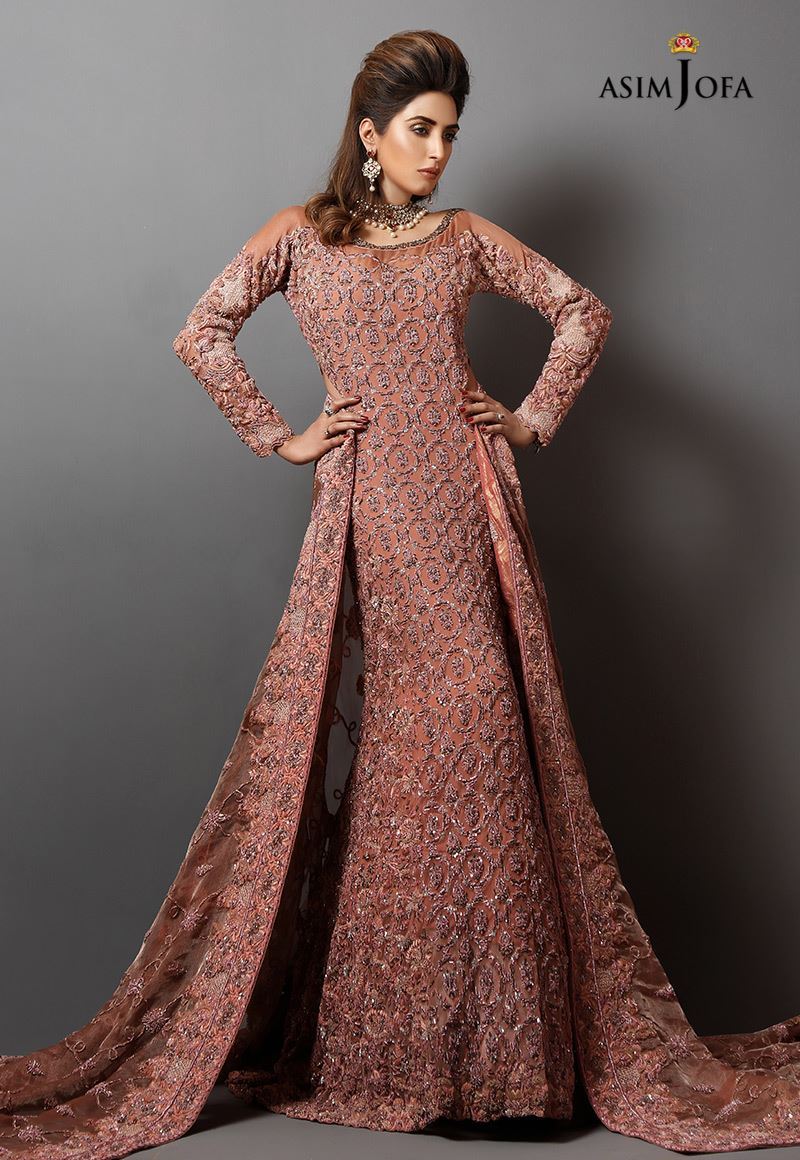 Luxurious Rose Gold hand embroidered full sleeves bridal gown with beautiful intricate embroidery on the front and back with a long Tila embellished with Kora, Dhaka, Resham and Sequin. Fitted till knee with a beautiful cancan flare from knee line with a cutout waist and sheer yoke on top, compromises of beautiful embroidery around the neckline. It is matched with a rose gold dupatta with heavily embellished borders on all 4 sides and also with thick jall and botis all over the dupatta.
Latest Bridal Collection 2019: 
ABOUT ASIM JOFA
Asim Jofa one of the best and leading fashion designer in Pakistan or also well known due to introducing creative ideas in women clothing according to latest fashion trends for every age women. Asim Jofa also presenting sensational fashion trends with contemporary designs or presenting unique stitching ideas in women clothing. Asim Jofa burst on to the Fashion scene as a breath of fresh air. Carrying on the legacy of his forefathers he started with a jewelry line 12 years ago, establishing the highly exclusive, one of a kind diamond boutique 'The Diamond Gallery'. Having been certified in Design from the prestigious Central Saint Martins, Asim Jofa went on to create ripples in the fashion industry. He has achieved great acclaim for his various collections displayed on the runways in the fashion capitals of the world. He has been honored with IAFA International Asian Fashion Awards as the Best Designer Brand in 2012. In the same year Asim bagged the Collection of the Year award held by the Pakistan Fashion Awards. He continues to improve on perfection and in the future, Asim plans to create more buzz and dress Pakistani women fabulously, breaking fashion stereotypes along the way.