Resham Ghar Luxury Embroidered Chiffon Collection 2019
Resham Ghar Luxury Collection 2019 is now available for prebooking at our online store. A finest and adorable collection introducing by a famous clothing brand Resham Ghar. Another stunning collection introducing with magnificent designs and modern cut and style for chic women. Resham Ghar Luxury Chiffon collection have very unique and elegance embroidered pattern with bright and Fluffy colors combinations.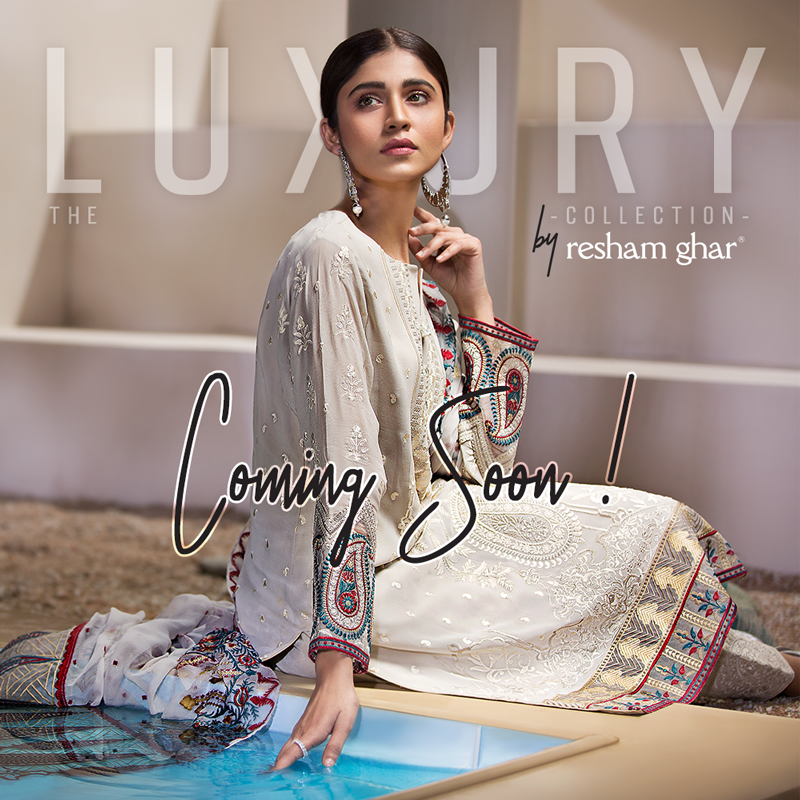 Read More: Nostalgic Climax Collection By Imrozia Premium
Resham Ghar is a luxury clothing brand of Pakistan or introducing finest and chic clothing for girls and women with unique ideas. Resham Ghar presenting a wide range for your every day need like pret wear, Stitched or unstitched fabrics, or luxury formal wear for your occasions. For each season Resham Ghar introducing a wide range of attires so at this time here is Luxury collection introducing by Resham Ghar in rich embroidered chiffon fabrics with finest embroidery or high quality fabrics. Resham Ghar also know well how customers keep satisfied on quality so you no need to worry about quality of fabrics.
Read More: LadyLike Formal Collection By Xeniaformal
Resham Ghar Luxury Collection 2019 consisting of 6 outstanding designs that's leave you speech less because every dresses of this collection have a different story. Every dresses embellished with traditional embroidery or delightful prints to amazed you. Colors combination is gorgouse or have bright and dark combination to represent your personalty as well. Resham Ghar Luxury Chiffon Collection 2019 consisting of 3 pcs embroidered dress with embroidered or printed chiffon dupatta with Raw Silk plain trouser. Some dresses have embroidered chiffon dupatta or some dresses with printed chiffon dupatta with embroidered patches. All over Resham Ghar Luxury Collection is one of the best collection for your occasions wardrobe or defiantly these dresses enhance your grace in party functions or others occasions.
Read More: Maria B Evening Wear Collection 2019
So this collection going to launched on 15th of Feb nation wide or all leading clothing stores across Pakistan. Pk vogue bring this collection online for our beloved customers or prebook your orders now. So don't waist your time or get in hand your favorite dresses before ending of stock. Look below here we published complete catalog for you hope you like or make a part of your festive wardrobe. So look or enjoy this wedding season or be chic and adorable with sophisticated clothing introducing by Resham Ghar. Stay with us we bring all leading clothing brands for you at one place or like our Facebook page to stay update about latest fashion trends.
Read More: Buy Online Gul Ahmed Rose Collection 2019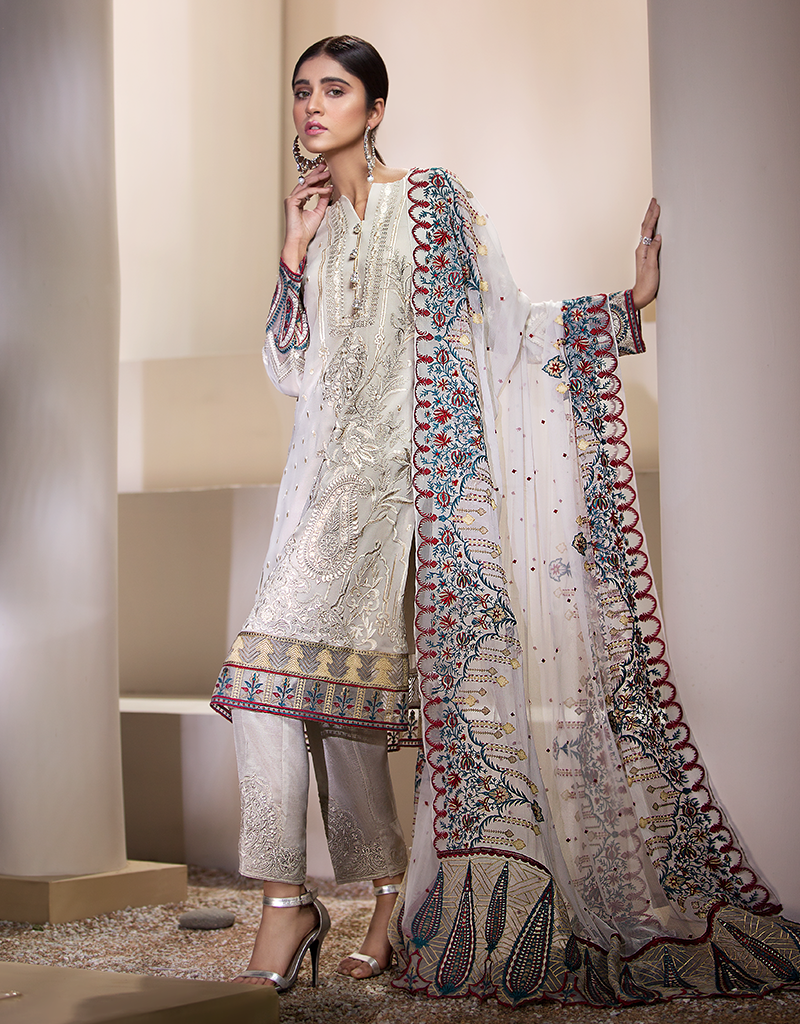 Product Details:
Chiffon Embroidered Front
Chiffon Embroidered Back with Front Extension
Chiffon Embroidered Sleeves
Chiffon Embroidered Dupatta
Organza Embroidered Border for Front and Back
Organza Embroidered Border for Sleeves
Organza Embroidered Pallu for Dupatta
Organza Embroidered Motif for Trouser
Raw Silk Trouser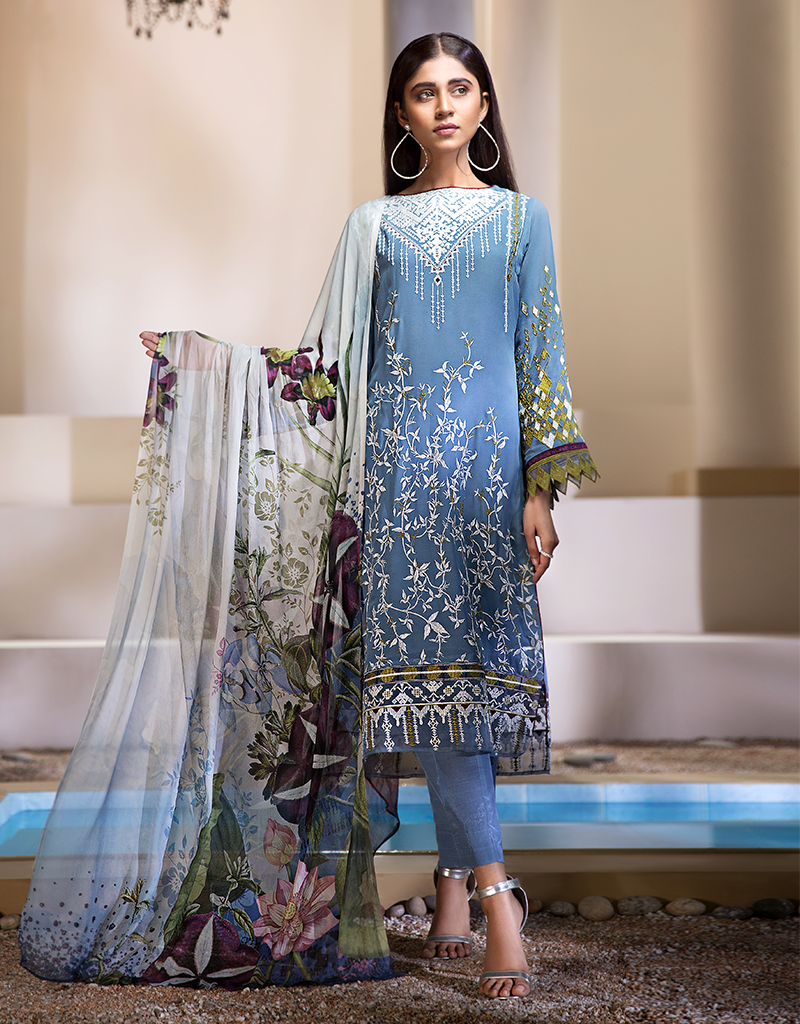 Product Details: 
Chiffon Embroidered Front
Chiffon Embroidered Back with Front Extension
Chiffon Embroidered Sleeves
Chiffon Printed Dupatta
Organza Embroidered Border for Front and Back
Organza Embroidered Border for Sleeves
Raw Silk Trouser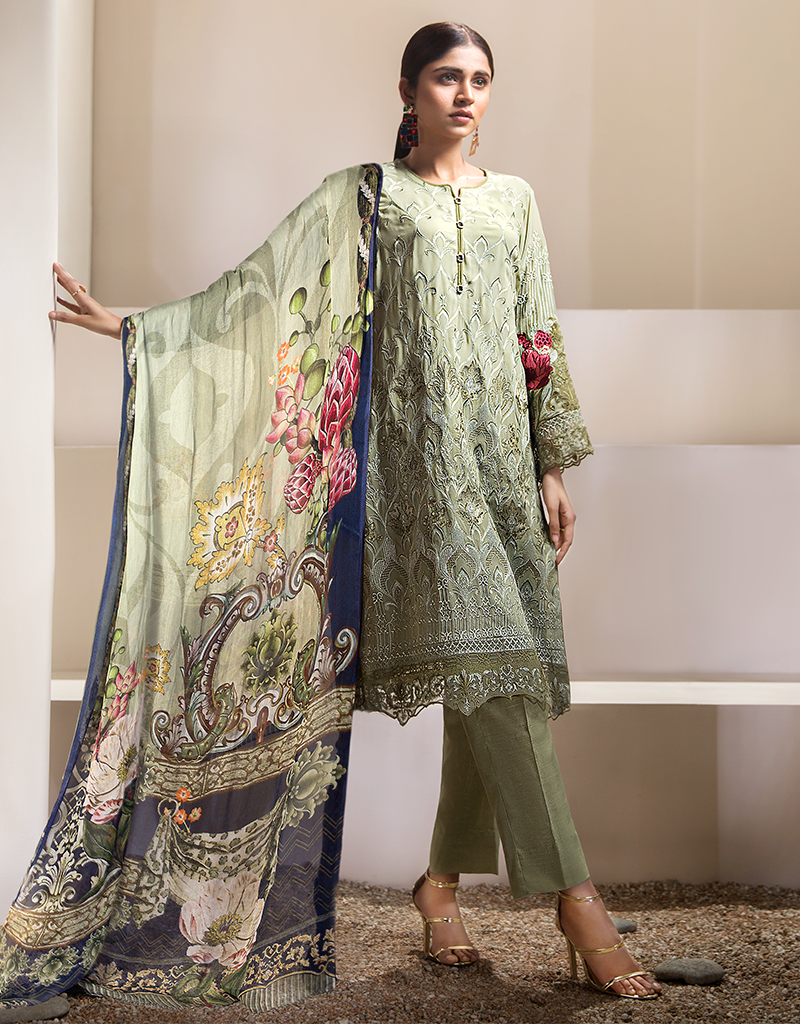 Product Details: 
Chiffon Embroidered Front
Chiffon Embroidered Back
Chiffon Embroidered Sleeves
Chiffon Printed Dupatta
Organza Embroidered Border for Front and Back
Organza Embroidered Border for Sleeves
Raw Silk Trouser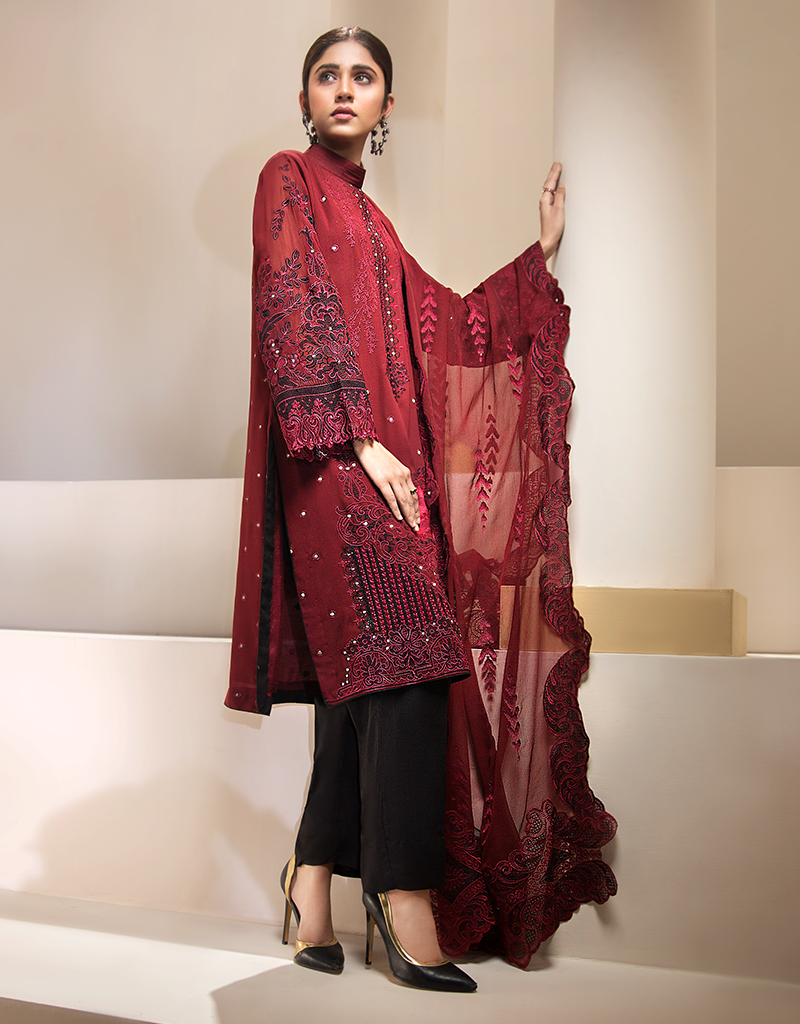 Product Details: 
Chiffon Embroidered Front
Chiffon Embroidered Back with Front Extension
Chiffon Embroidered Sleeves
Chiffon Embroidered Dupatta
Organza Embroidered Border for Front and Back
Organza Embroidered Border for Sleeves
Organza Embroidered Pallu for Dupatta
Raw Silk Trouser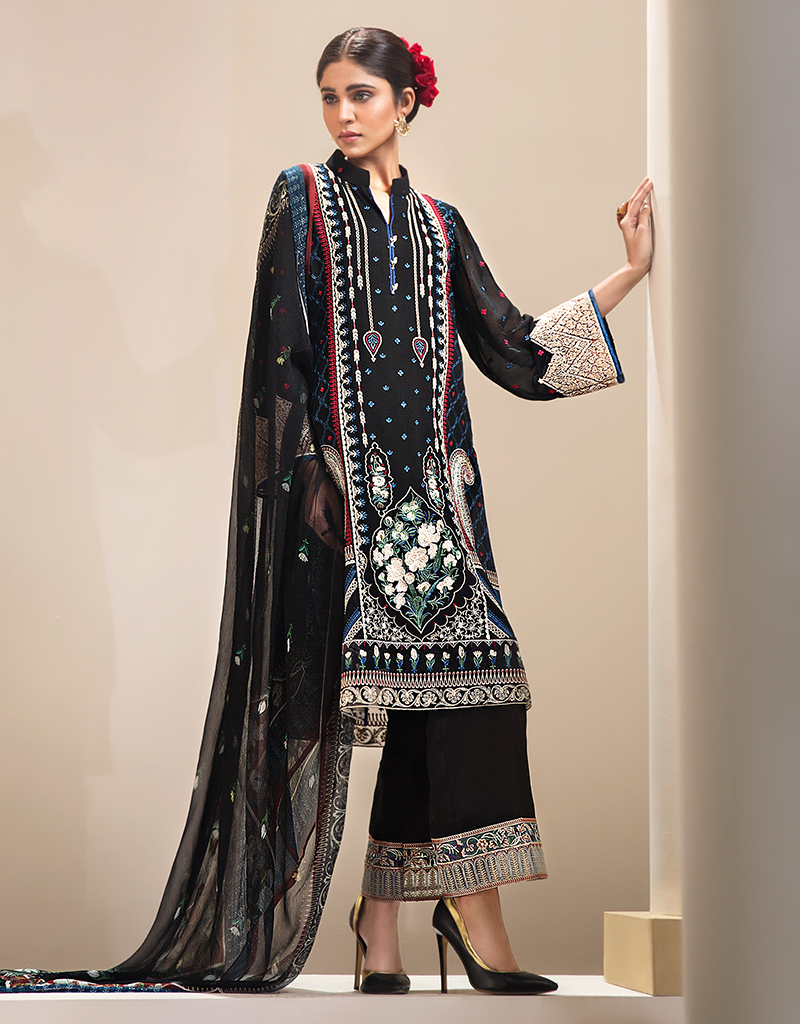 Product Details: 
Chiffon Embroidered Front Panels
Chiffon Embroidered Back
Chiffon Embroidered Sleeves
Chiffon Printed Dupatta
Organza Embroidered Border for Front & Back
Organza Embroidered Border for Sleeves
Organza Embroidered Border for Trouser
Raw Silk Trouser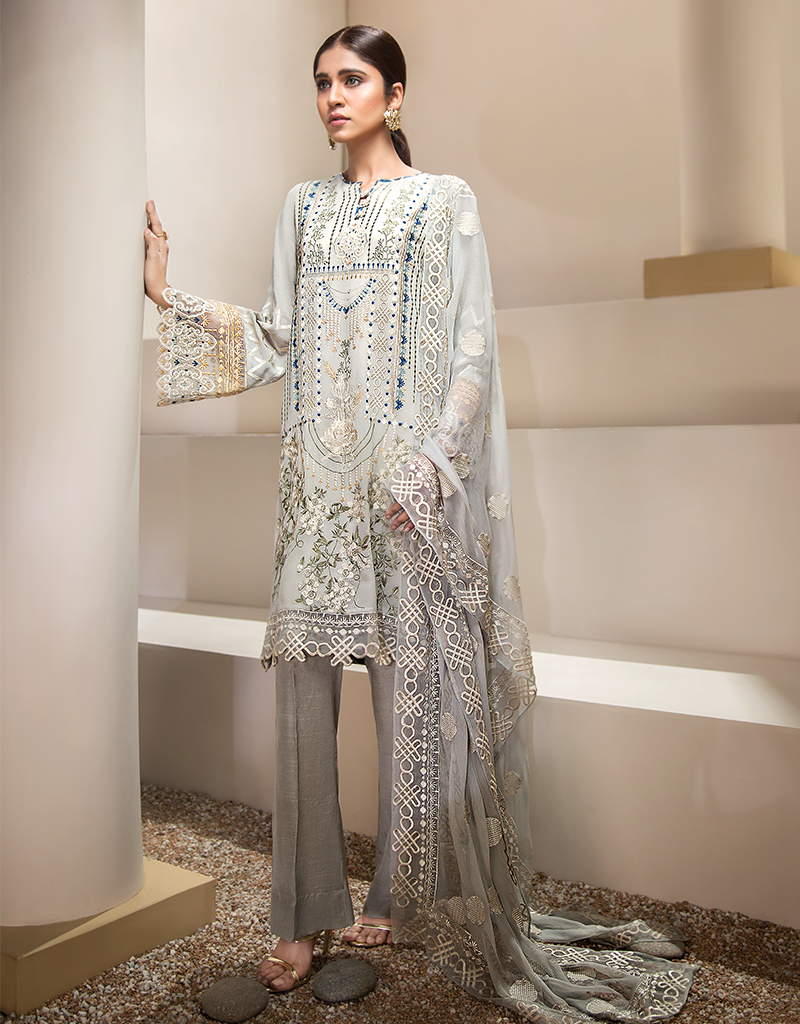 Product Details: 
Chiffon Embroidered Front
Chiffon Plain Extension for Front
Satin Silk Printed Back
Chiffon Embroidered Sleeves
Chiffon Embroidered Dupatta
Chiffon Embroidered Pallu for Dupatta
Organza Embroidered Border for Front
Organza Embroidered Border for Sleeves
Raw Silk Trouser