Baroque Introducing Chantelle Chiffon Collection 2019
Chantelle Chiffon Collection 2019 by Baroque launching on 6th Feb, 2019. A finest collection with rich embroidery or modern cut and style introducing for sophisticated and chic women. Baroque is well know party wear or formal wear clothing brand of Pakistan also introducing magnificent clothing for women in high quality fabric and trendy designs. Baroque also know well how customers keep satisfied so that's was Baroque never compromise on quality.
Read More: Chinon Chiffon Collection 2019 By Iznik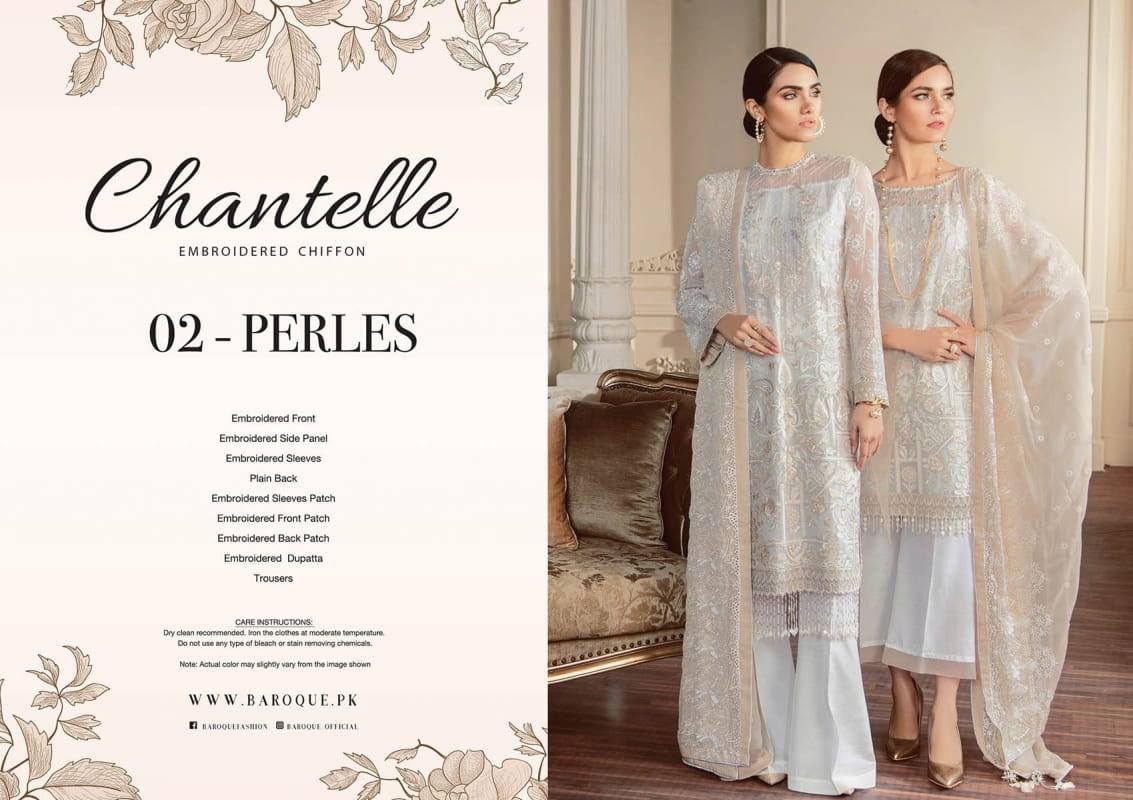 With many years of experience in the fashion and textile sector, producing fabric that is rich in quality and
craftwork
, Baroque has successfully ventured into the retail sector by establishing itself as a high-end, fast fashion women's wear brand.
Staying true to the name of the brand,
Baroque
focuses on producing
apparel
that is fashionable, stylish and timeless – by introducing outfits that have trendy silhouettes and are majorly made of embroidered and traditionally crafted fabric. Catering to a wide set of audience, by launching various ranges throughout the year, Baroque manages to design clothes that are unique, effortless and perfect for every event.
Fusing eastern, cultural artwork with contemporary style of art, the brand fashions clothes that are meant to be worn by modern women of every age and kind. So at this time Baroque going to launched Chantelle Chiffon Collection 2019 in wide range of aggressive designs for moderate girls and women. 
Chantelle Chiffon Collection 2019
consisting on 3 pcs embroidered dress including dupatte embellished with stunning embroidery or trouser with patches. Fashion sense of Baroque is marvel introducing inspirative designs with amazing stitching style. Colors combination also gorgeous especially i like the color combination of embroidery pattern. Colors, Personality & You – Chantelle Edition; This collection walk with us as we unveil our range of stunning chiffon outfits, made of a distinctive yet trendy color palette & help you select the color that best defines your personality.
Read More: Motifz Luxury Chiffon Collection 2019
People who pick pink are fun, feminine, outgoing & bright but have a soft relaxing vibe to their personalities. If a person prefers light pink instead of the dark one then they tend to be more sweet & delicate & compassionate. So what is your color ? hope you like Chantelle Chiffon Collection 2019 By Baroque or want to make a part of your festive wardrobe. Look below here we published complete catalog of Chantelle Chiffon Collection 2019. Stay with us for more updates about latest collection from leading clothing brands of Pakistan.
Read More: Nostalgic Climax Collection By Imrozia Premium
Read More: Honey Waqar Embroidered Chiffon 2019