Elan Introducing Winter Collection 2019
Elan Winter Collection 2019 girls your favorite clothing brand introducing latest collection in 10 amazing designs that's giving you prominent look in this winter.  Elan is biggest name of women clothing also presenting sophisticated clothing trends for every aged women or girls. So this year Elan bring a good news for customers announced to launched latest assortment for winter 2019. Immerse yourself this season in Élan's signature elegance, with ten radiant unstitched designs crafted to precision. Crafted from sumptuous jaquards and cozy khaddars and accompanied by artistically illustrated pure wool shawls and pure silk dupattas, this collection will see you through the winter season in style. Elan Says "
So in this winter i really say something about Elan, i have seen all other brands winter collection also but one thing make first choice elan amazing pattern and western look. Elan giving some western touch to each attire and presenting very unique cut and style or introducing marvel stitching style in every collection. So here is first look of Elan Winter Collection 2019 Launching on 4th December online, in-stores and at all leading retailers nationwide.
Make a bold statement this winter in 'Jai Dee' – a beguiling royal blue with french chinois and persian influenced embroidery rendered in accents of ochre, cream and burgundy. Paired with our artistically illustrated signature silk dupatta, reign supreme in this regal design that can be styled in numerous ways to suit your winter festivities.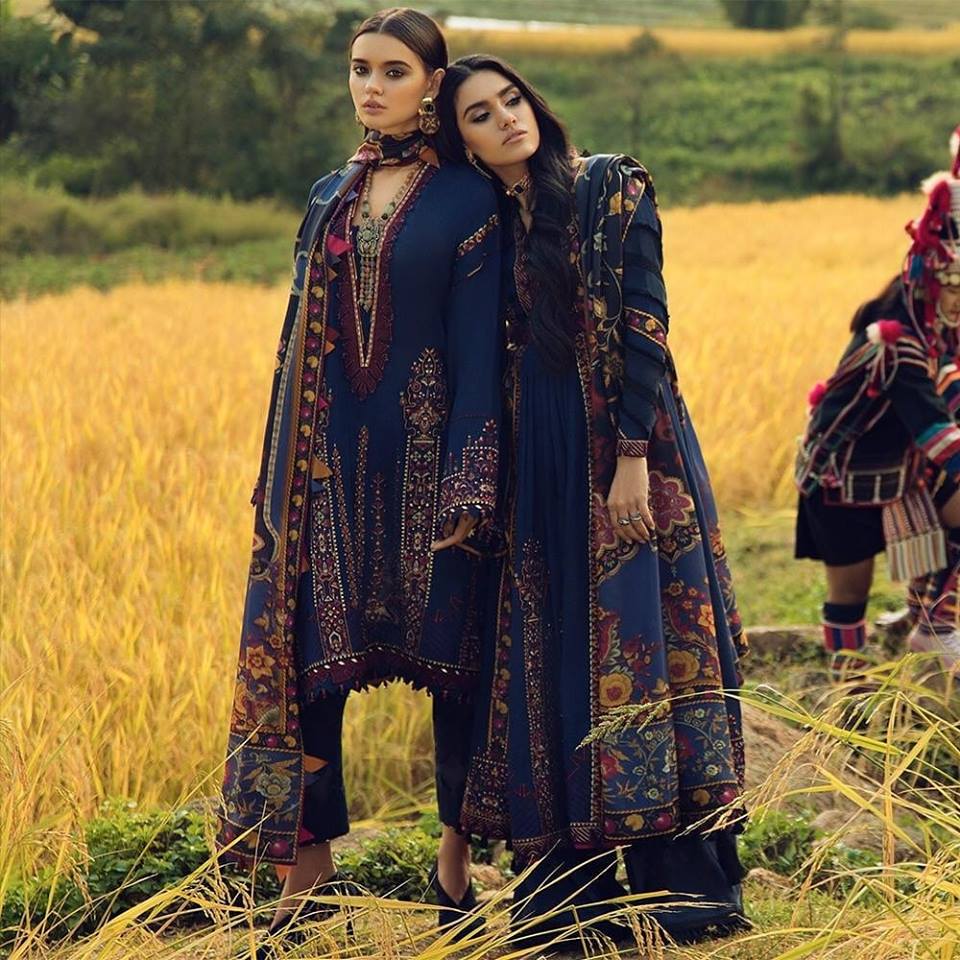 Whether it's an al fresco lunch or an evening soiree 'Kalamae' will serve you well with its sophisticated indigenous ethos. A monochrome striped jaquard serves as the base for sublime Kashmiri embroideries. Accompanied with a sumptuous silk dupatta illustrated in a vibrant palette of ochre and crimson. Style as a boxy kurta for stylish ease or as a long straight silhouette for a truly polished look.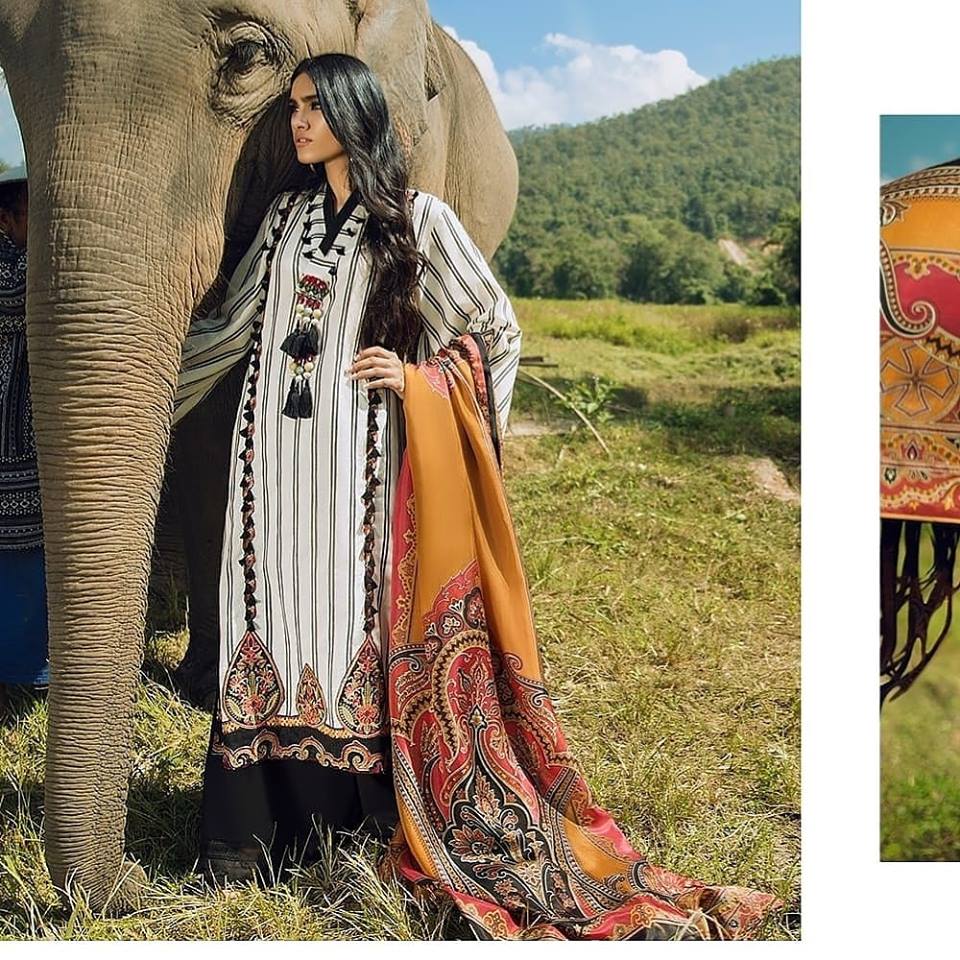 A creamy base is artfully illustrated with oriental embroidery depicting flora in bloom in 'Nam Wan.' Accompanied by our plush silk dupatta beautifully adorned in scrolling floral patterns in shades of pinky corals and accents of navy, this design defines understated elegance. A perfect look for a garden affair.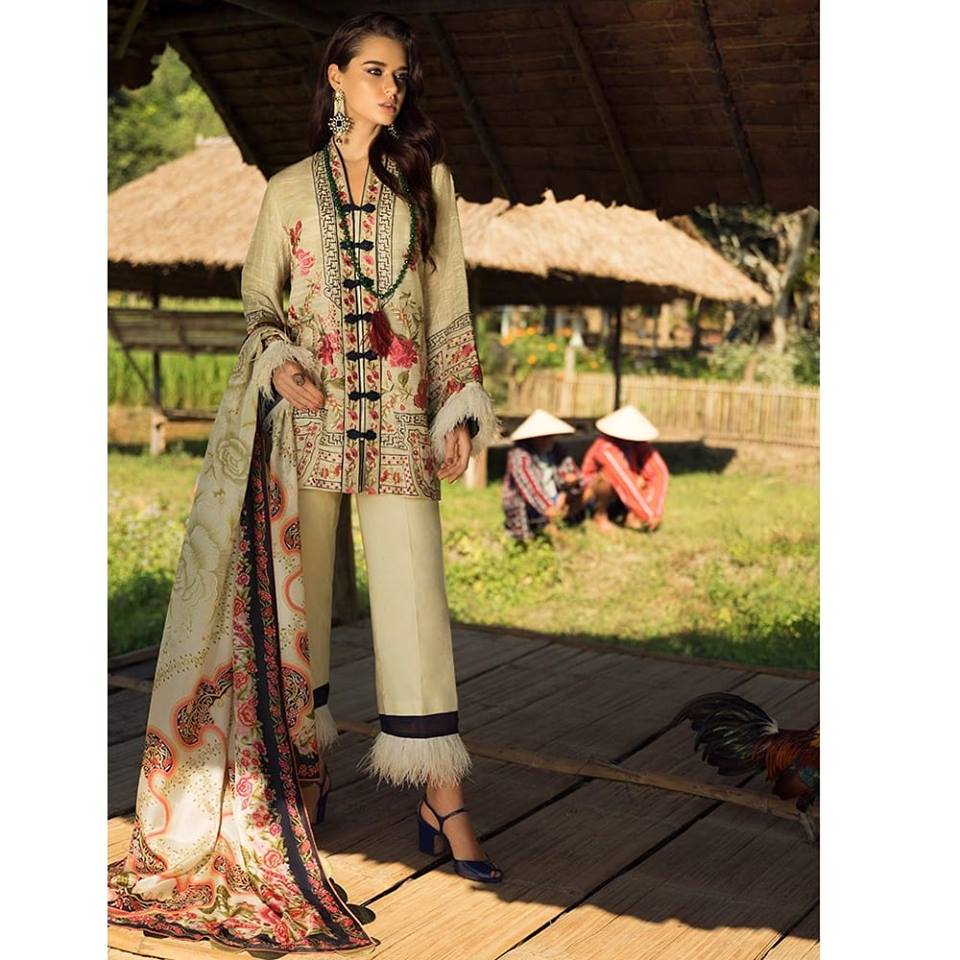 A cloudy grey pure wool pashmina is illustrated with a beautiful blend of chintz and ikkat in 'Pui Fai.' With accents of black gold and lemon this is a sophisticated look well suited for formal occasions. Style the rich jaquard shirt as a short voluminous peplum for a daring look or opt for a long flowing kurta for a relaxed yet elegant vibe.
Khem Kang; A smoldering design with an ebony base minimally layered with salmon pink french chinois embroidery. Paired with a lavish pure wool pashmina shawl artistically rendered with gold guilded arches and intertwining foliage, it's an unforgettable look that will effortlessly take you from day to night this festive season.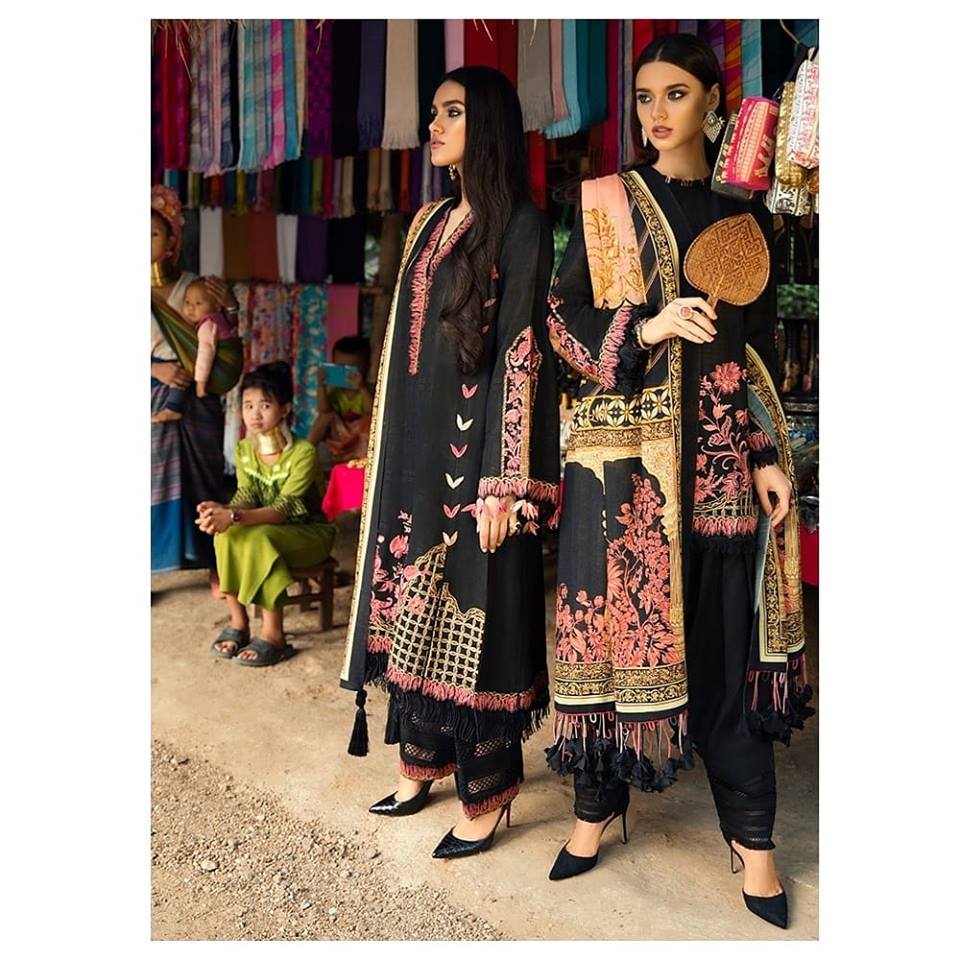 A fusion Kashmiri Firin on a sublime shade of byzantine purple makes for our exquisite 'Klaui Mai.' An embroidered canvas rendered in shades of fuschia and sage is set off by a plush silk dupatta that pays homage to verdant roman frescos. This design is a showstopper no matter what the occasion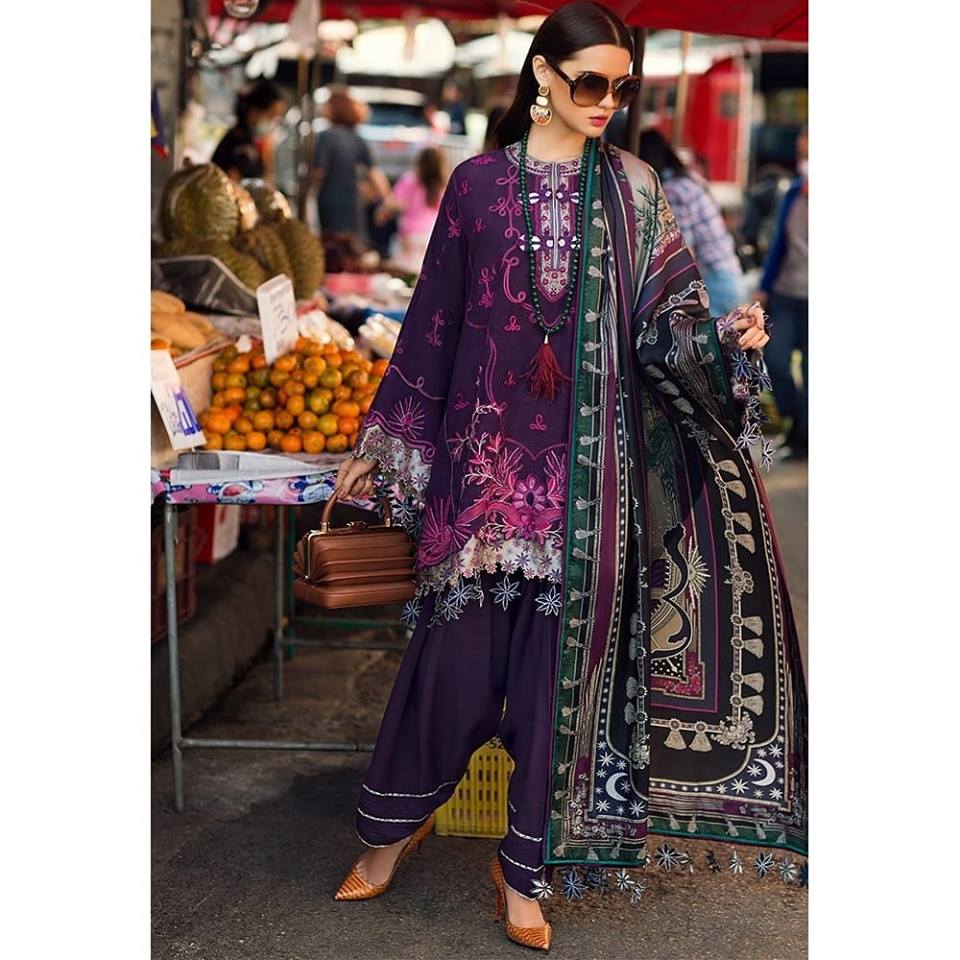 A sumptuous deep green serves as the canvas for 'Suay.' With embroideries that evoke French tapestry and a soft Russian chintz inspired printed shawl this is a stellar look for any festive occasion. Style as a long flowing kaftan for an undeniably elegant style.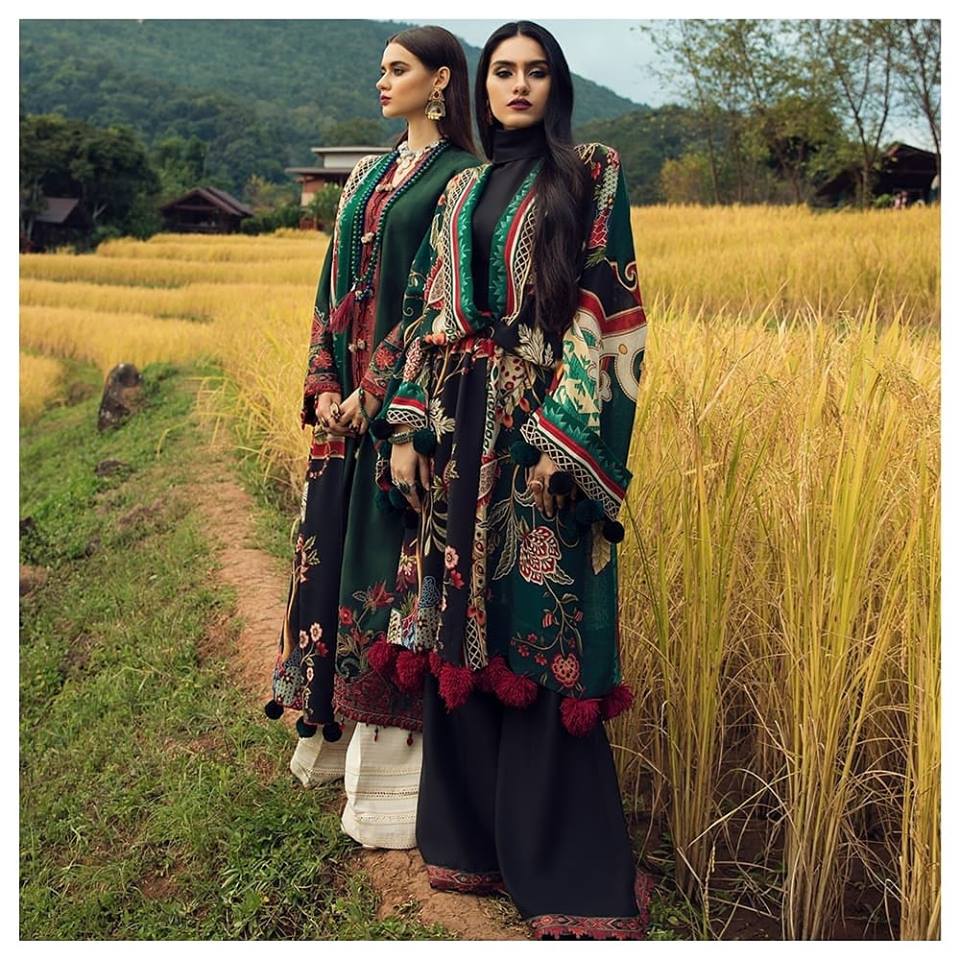 Latest Winter Collection 2019 :
Look Elan Winter Teaser 2019