Elan Presenting Lawn Collection 2019
Elan going to launched very first lawn collection for summer 2019. Another color full lawn collection introducing by Pakistan leading clothing brand Elan lawn 2019, Elan is a largest and famous clothing brand in Pakistan well known by his creative designs and very innovative clothing trends. For this summer 2019 Elan going to launched very first collection of high quality lawn fabrics for women and chic girls in wide range of classic designs and colors. Elan also introducing very dramatic prints and modern cut and style for women and girls. At this time Elan going to introducing magnificent clothing for summer 2019.
Read More: Farah Talib Aziz Lawn 2019
Elan Lawn Collection 2019:
Elan Lawn Collection 2019 consists of three pieces unstitched lawn suits. They have delicate embroideries at necklines, front panels, sleeves, etc. Digital printed net and silk dupatta are the part of this stunning collection. Famous Pakistani models are showcasing the latest Elan Lawn Collection 2019 campaign. The collection of Elan Lawn consists of around 30 impressive designs of lawn dresses. Each design has its charm and uniqueness. The creativity of the prints will impress you. Have a look at the amazing collection just posted below. We have gathered all the designs of the latest Elan lawn spring summer collection 2019. I bet you will surely want to buy.
Read More: Sobia Nazir Lawn 2019
Where To Buy:
Elan is a well known clothing brand of Pakistan or mostly available on all leading women clothing stores across Pakistan or all outlets of Elan in Pakistan or reset of the world. Now mostly clothing store bring this collection online so you can buy easily or prebook your order online or get it at your home. Here we also have this collection online or you can buy these dresses online at our online clothing store. We also provide custom stitching service for our beloved customers you can get stitched these dresses with our professional tailors. So don't wait or ordered your favorite dresses or get it with high quality stitching service. So have a look below or change your style in this summer with Elan attires.
Elan a contemporary women clothing brand in Pakistan always introducing high quality fabrics and very unique ideas in women clothing for casual. formal, semi formal, and bridal wear in very unique designs and prints, Now Elan announced to launched one of the best lawn collection in Pakistan by the name of Elan lawn. Bold prints and rich combination of colors make this collection gorgouse or bring color full change in your summer wardrobe. All dresses of this collection have very unique printing pattern and stunning embroidery on front of shirt with bold and dramatic printed dupatta. This collection looking same as Zaha lawn by Khadijah Shah or she is some time she spending with this brand so her thought looking in this collection prints. Both collection have same cut and style if you looking those collection you can't feel difference between Zaha Lawn and Elan Lawn. No doubt both designer are famous in Pakistani women and also a big name in Pakistani fashion industry.
Read More: Bagh-e-Gul Lawn 2019 By Gul Ahmed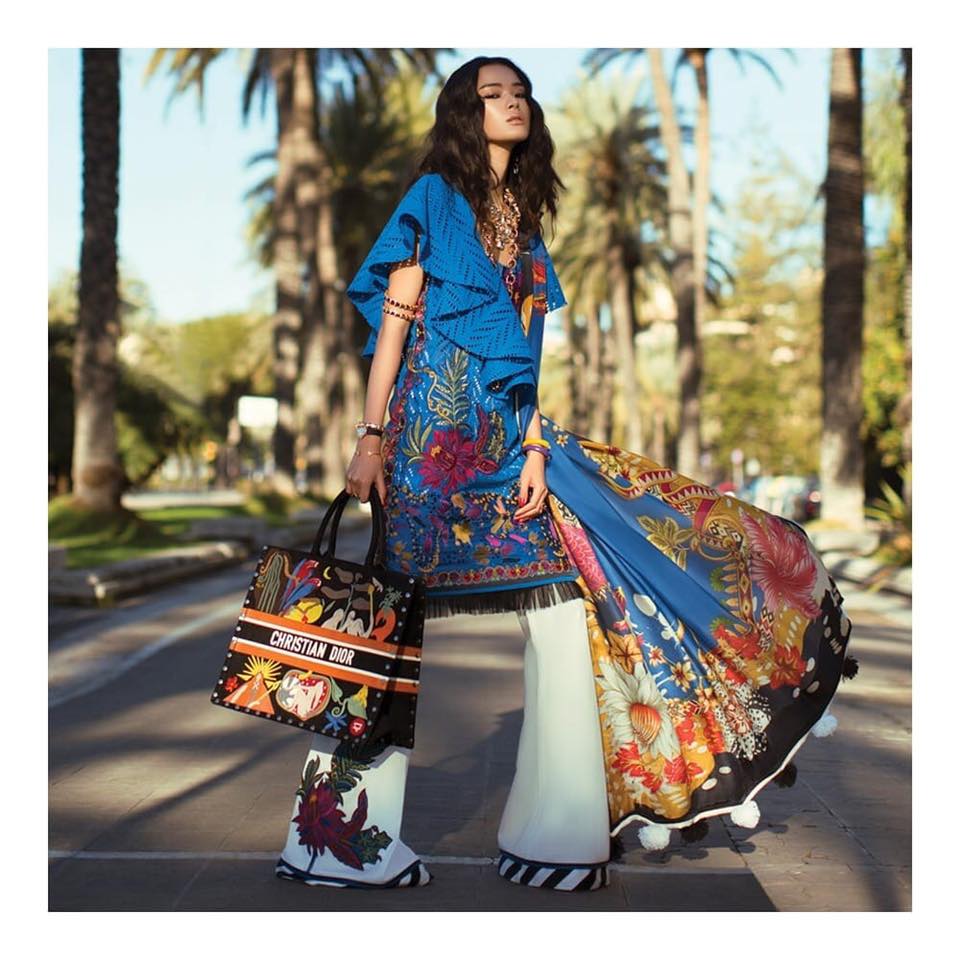 A delightfully exotic design 'Caricia' is rendered in vibrant cobalt and features rich tropicana embroideries. Fashioned from an intricate leaf patterned schiffli that mirror the palm trees that dot the city of Palma, this design brings out the true spirit of this Mediterranean paradise.
Caricia
Code: 6B
We take a leisurely ride in the quaint carriage around Old Town Palma. Clad in vibrant and flamboyant ensembles we spent the day admiring the moorish architecture and taking in the festive vibe of this Mediterranean coastal town.
Price from left to right:
Frenesí
Code: 11A
Caricia
Code: 6B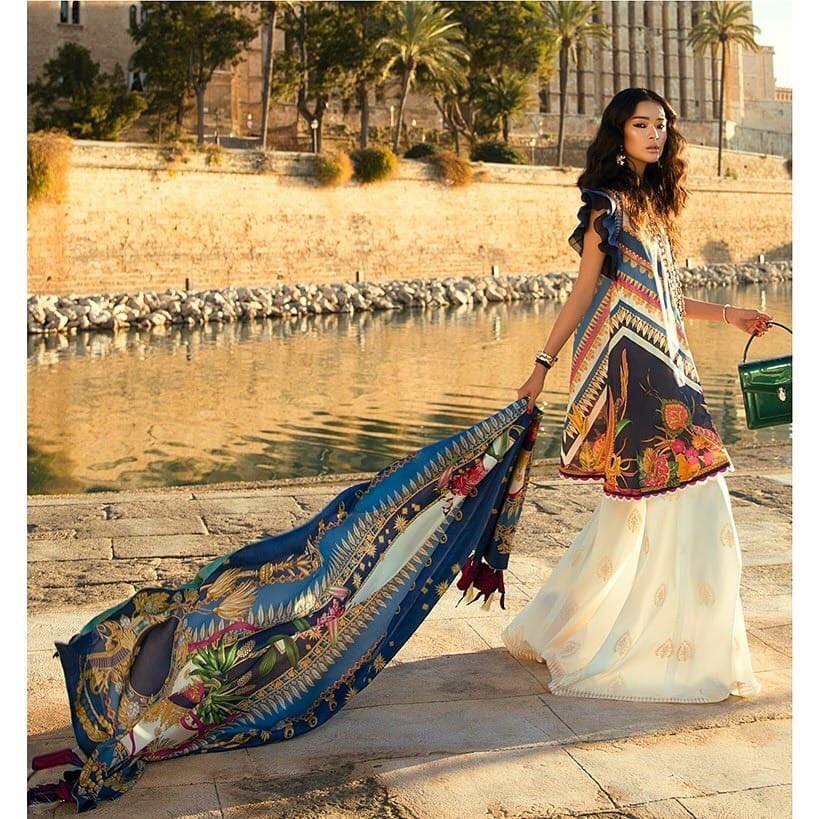 This contemporary print exudes the majesty of the Cathedral de Mallorca standing tall in the background. A regal design, 'Pirulí' is rendered in tones of blues and reds features a blend of ornamental details in a striking chevron pattern and is accompanied by a vividly illustrated silk dupatta.
Pirulí
Code: 2B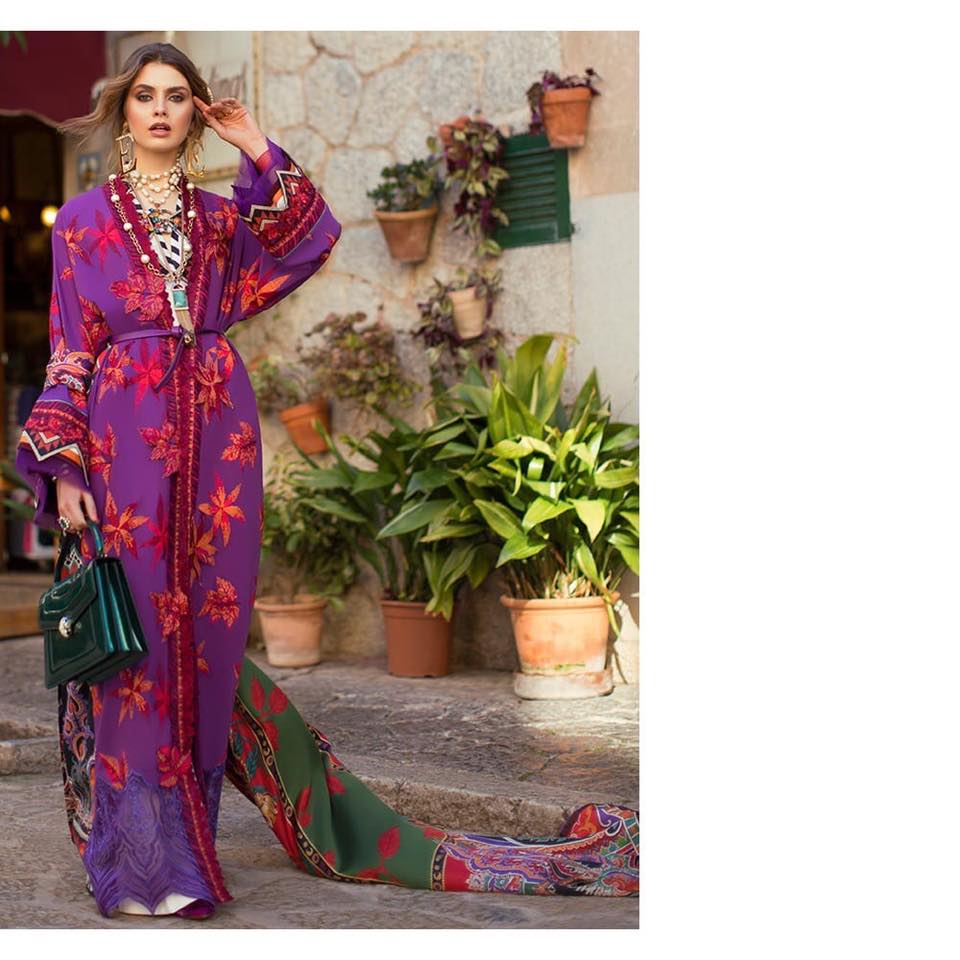 Rendered in deep plum and magenta, 'Sangre' is a vibrant and alluring design using pointillist embroidery to depict florals in bloom. It is accompanied by our plush silk dupatta that beautifully melds eastern architectural elements with rich flora.
Sangre
Code: 1A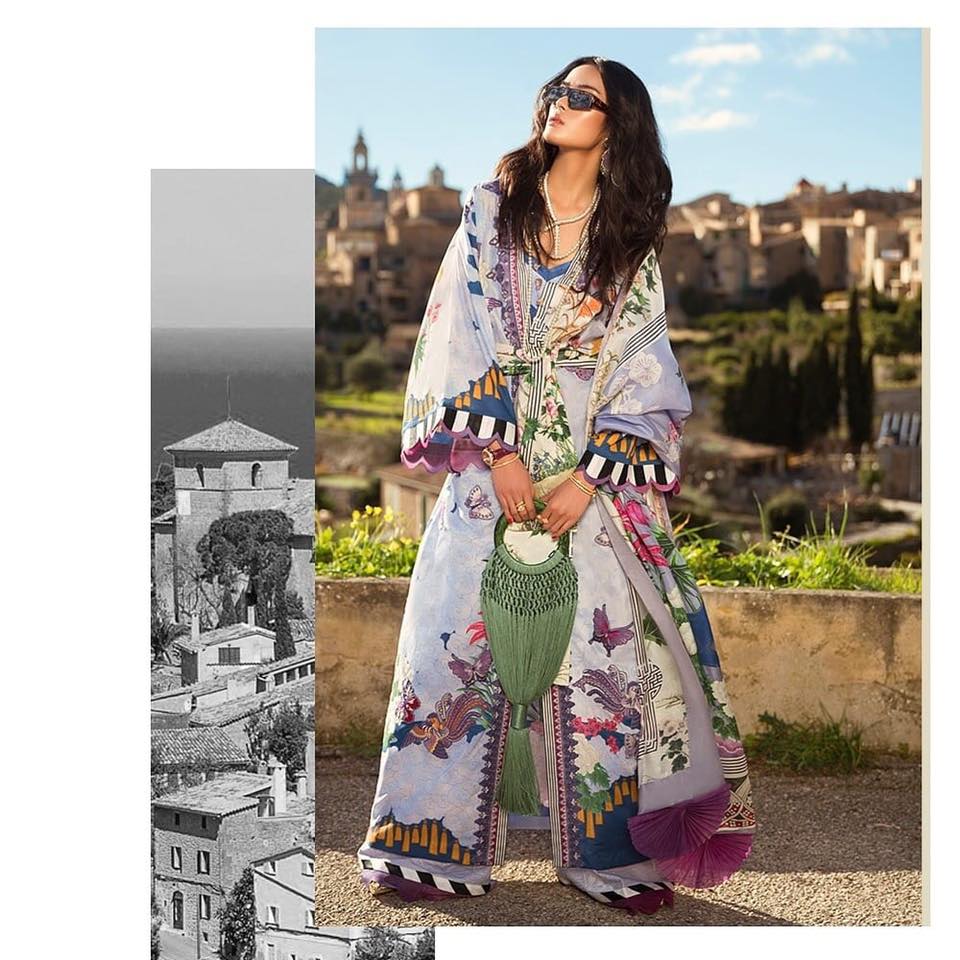 Evocative of cloudy skies and wreathed in florals and butterflies, 'Serenidad' creates a fantastical composition. Crafted in dreamy periwinkle, this design is accompanied by a artistically illustrated silk dupatta and meticulously rendered embroideries.
Serenidad
Code: 5B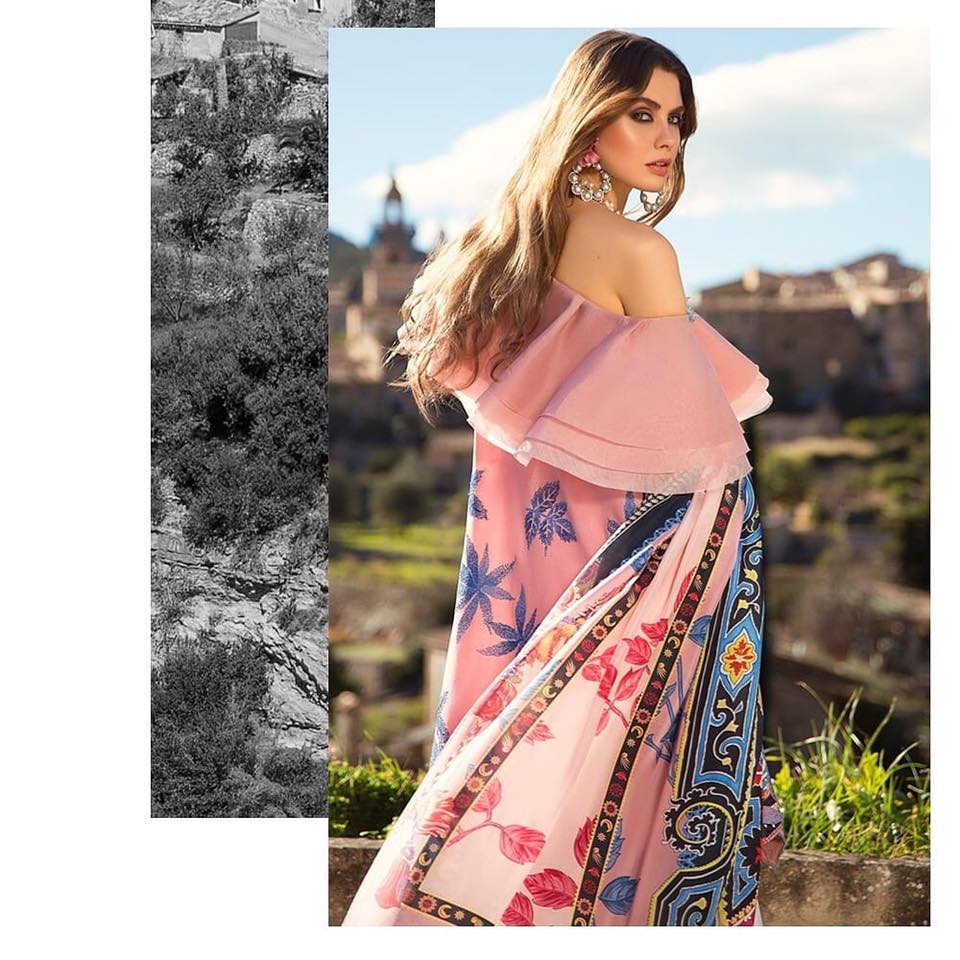 A captivating design artfully illustrated with pointilist embroidered florals, blooms against the romantic Valldemosa skyline. Rendered in candy hues of pinks and blues, 'Sangre' with its fabulously feminine aura wills us to fall in love.
Sangre
Code: 1B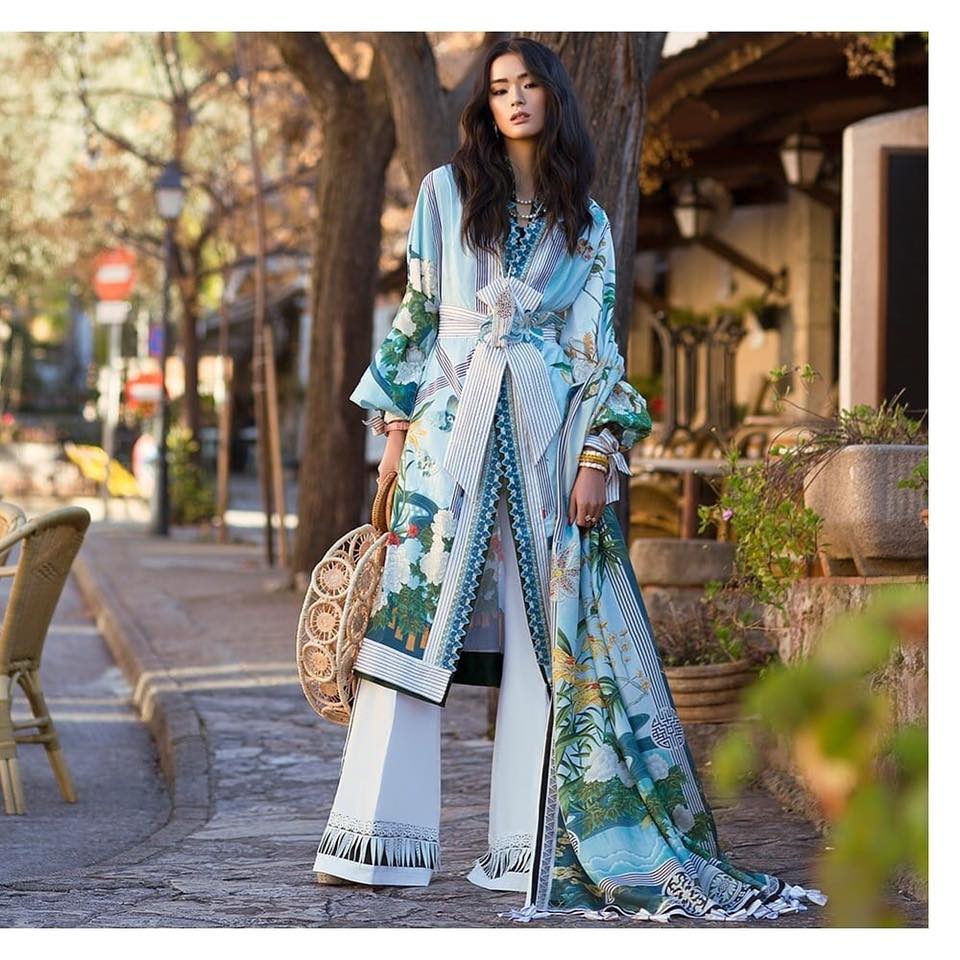 Butterfies and florals are artfully arranged on a soft blue base and overlaid with intricate embroideries in 'Serenidad.' Accompanied by a painterly silk dupatta, this ensemble has a dreamlike quality, that evokes cloudy skies above a beautiful garden.
Serenidad
Code: 5A
Read More: Iznik Premium Lawn Collection 2019