Rangoon Embroidered Chiffon Collection Vol-2 By Ramsha
Rangoon Embroidered Chiffon Collection Vol-2
Rangoon Embroidered Chiffon By Ramsha is a distinct collection that is a fusion of traditional design elements and the modern silhouette that the women of today require. Ramsha is a well growing party wear clothing brand in Pakistan introducing magnificent clothing for chic women. Ramsha is a clothing brand for women which doesn't need an introduction. Started in Pakistan, more than three decades ago, it is not a new name for fashion retailers. This affordable clothing line provides the superior quality of fabric including several types of net and chiffon. When all the fellow brands are offering casual clothing line, Ramsha has come forward with its luxury chiffon and net ensembles to cherish festive moments.
Read More: LadyLike Formal Collection By Xeniaformal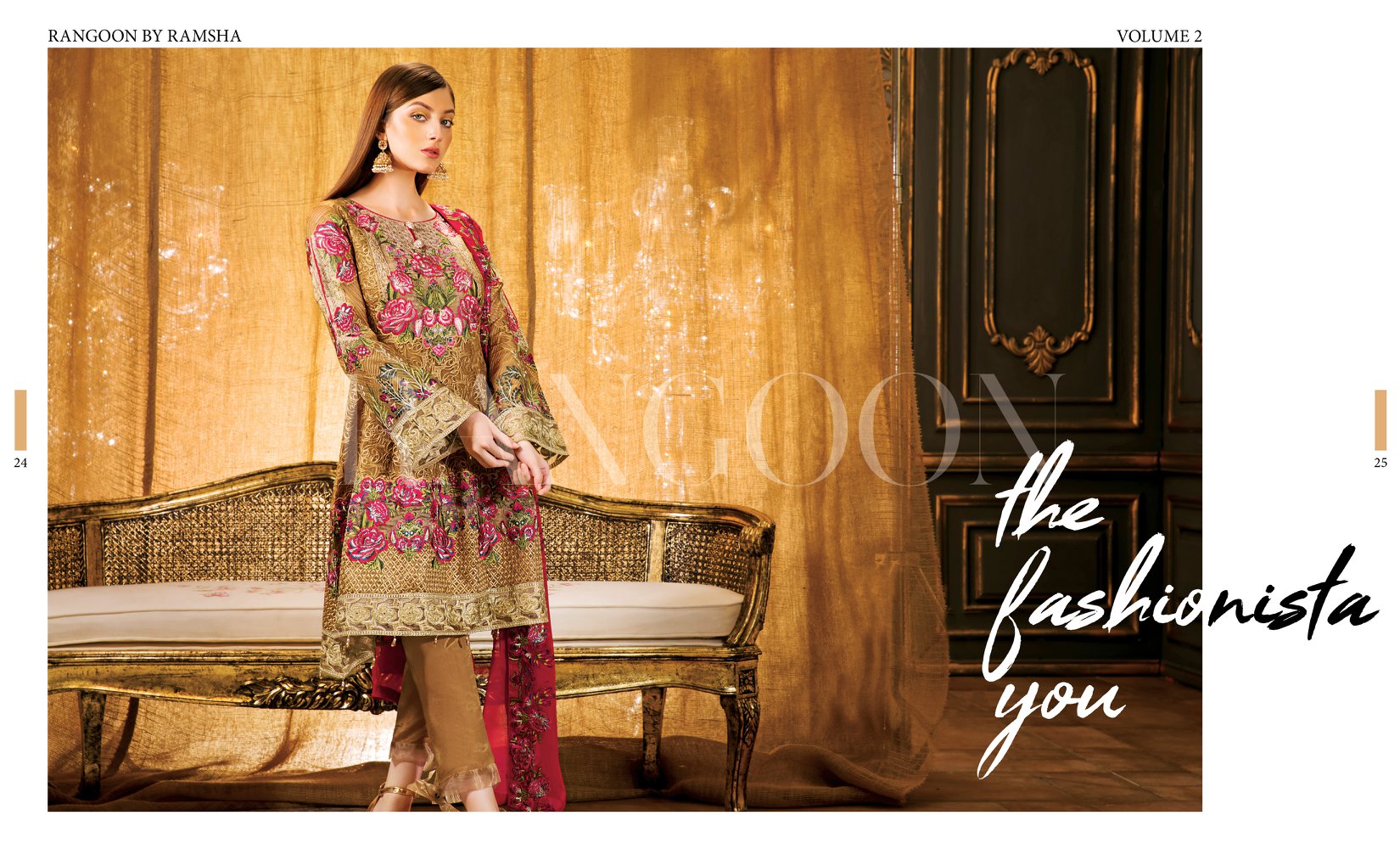 Rangoon Embroidered Chiffon Collection Vol-2 By Ramsha introducing in 12 amazing designs according to latest fashion trends in party wear clothing. Introducing rich embellished dresses with traditional embroidery pattern in dramatic fashion sense in women clothing. Rangoon Embroidered Chiffon Collection consisting of 3 Pcs embroidered dress including adorable embroidered dupatta and dyed trouser with stunning embroidered motif. Color combination also stunning with soft enigmatic colors. Fabric quality also fine Ramsha also represent work on high quality Bomberd Chiffon fabric. So here is complete catalog of Ramsha Rangoon Embroidered Chiffon Collection Vol-2. Hope you like or update your wardrobe with these stunning dresses introducing by Ramsha.
Read More: Maryum Hussain Formal Collection 2019
Product Details: 
Embroidered chiffon front with sequence – 30 inch
Embroidered chiffon back – 30 inch
Embroidered chiffon sleeves – 1.25 Meter
Embroidered tissue sleeves lace -1.25 Meter
Embroidered tissue ghera lace – 1.5 Meter
Embroidered Net dupatta – 2.50 Meter
Grip trouser – 2.5 Meter
Embroidered tissue trouser patch with tissue lace-2 patches
Read More: Bemberg Chiffon Collection 2019 By Motifz
Prices are very economical you can get Rangoon Embroidered Chiffon Collection Vol-2 By Ramsha each dresses on ₨ 6,250.00 unstitched with high quality fabric. I think its very economical price range then others brand because you get rich embroidered dresses with high quality fabric in this price. So Pkvogue also offered a high quality stitching service for our international clients. You can order these dresses now or get quality stitching in normal prices. 
  Stitched Price 
9750/- PKR
For Buy Kindly Contact Us At: +92-300-6530821 WhatsApp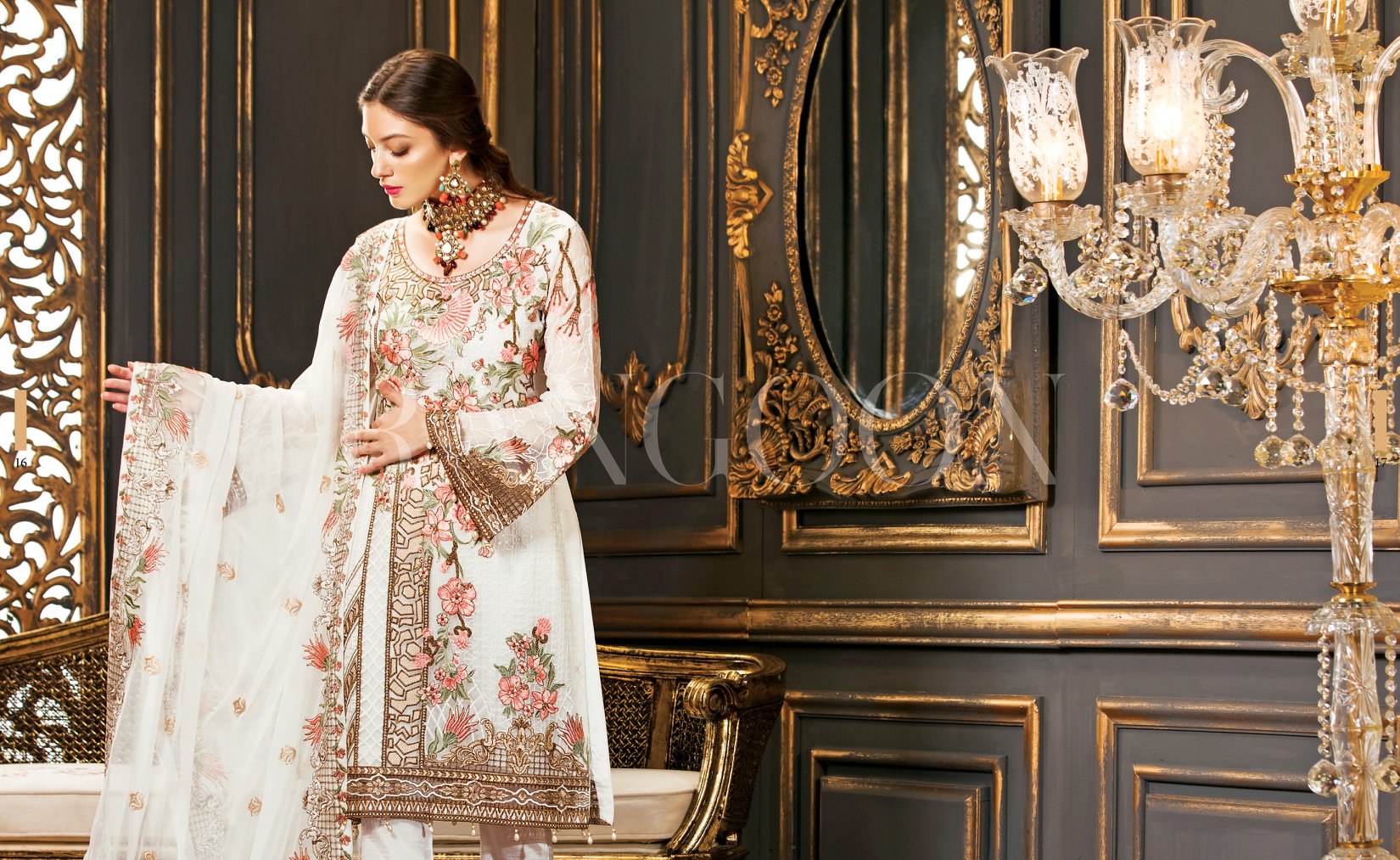 Read More: Motifz Luxury Chiffon Collection 2019