Emraan Rajput Men Kurta Collection 2019
Guy's are you looking Fancy Kurta Designs for men ? Yes you are on right place. Here we have some amazing fancy kurta designs by innovative fashion designer of Pakistan. Emraan Rajput a creative and sensible fashion designer in Pakistan. Brand of Emraan Rajput bring some really a magnificent and feminine ideas in Men clothing. They presenting Luxury suiting, traditional wear, or formal wear clothing for Pakistani Men's. So here we have published some latest fancy Pakistan Men Kurta Designs by Emraan Rajput.
Read More: Latest Kurta Design For Men 2019
Here in this article you can explore best Pakistani Men kurta design collections and shalwar kameez trends for male and boys for every day use or for formal wear purpose. These men fashion kurta pajamas and fashion kurta shalwar trends have been observed this year. All Kurta designs from this collection really innovative and ideal for wearing on occasions and party functions. So i advice you to choose those attire who give you feminine look with style.
Read More: Edenrobe Men Kurta Shalwar Eid Collection 2019
A name with quality and sophisticated fashion clothing, Emraan Rajput have very unique fashion sense to make a master piece for you. If you looking below then you really inspired by Emraan Rajput due to his classic designs and color combination of Men kurta. Actually i don't like to wear something heavy dresses in formal days but after looking these designs my mind change about fashion. So just a one word "if any attire give you prominent look then other you must be wear it". So look here we have published some amazing fancy kurta shalwar designs for you festive days hope you like or bring change in your life style.
Read More: Dynasty Fabrics Unstitched Shalwar Kameez Collection 2019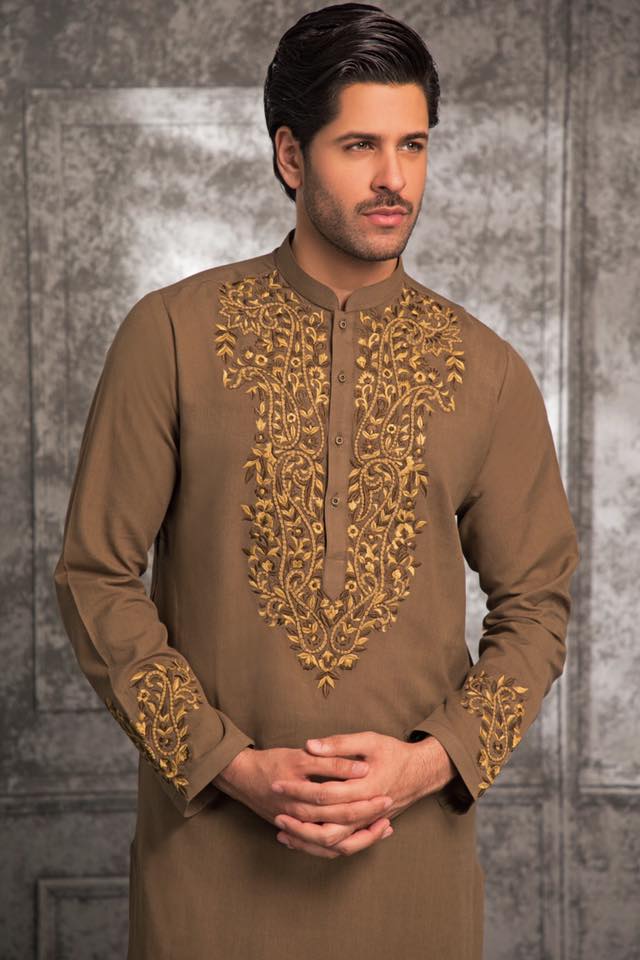 Really i like to wear some specific color in casual days or mostly like to wear dark colors in life. I don't know why i like bold and dark color but if you asked me to choose a color to wear on this Eid or any occasions then my preferring colors are dark shades like dark maroon, camel color, dark green, gray, blue, or some thing like that. So this color is amazing with gold embroidery looking sophisticated. Embroidery little bit heavy but not looking bad. So what is you opinion about this color?
Read More: Latest Pakistani Gents Kurta Designs 2019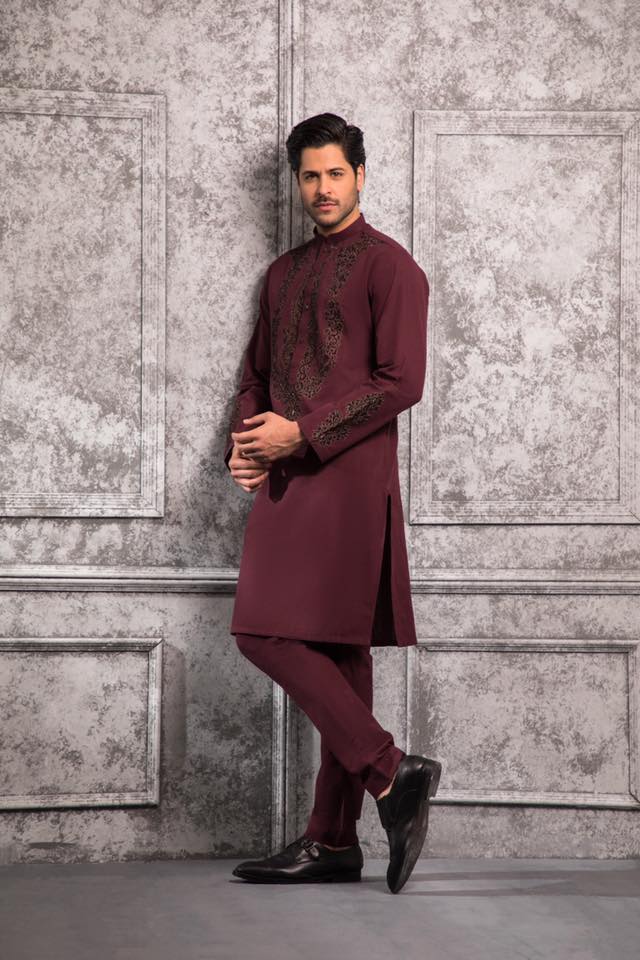 waooo my favorite color with rally a stunning embroidery and very well color combination, After looking this Kurta Shalwar i really impressed or want to wear this master piece on this eid. Dark color Kurta with matching much dark color embroidery, looking cool. If you wear camel color shoes with this then what do you think? it enhance your grace or not?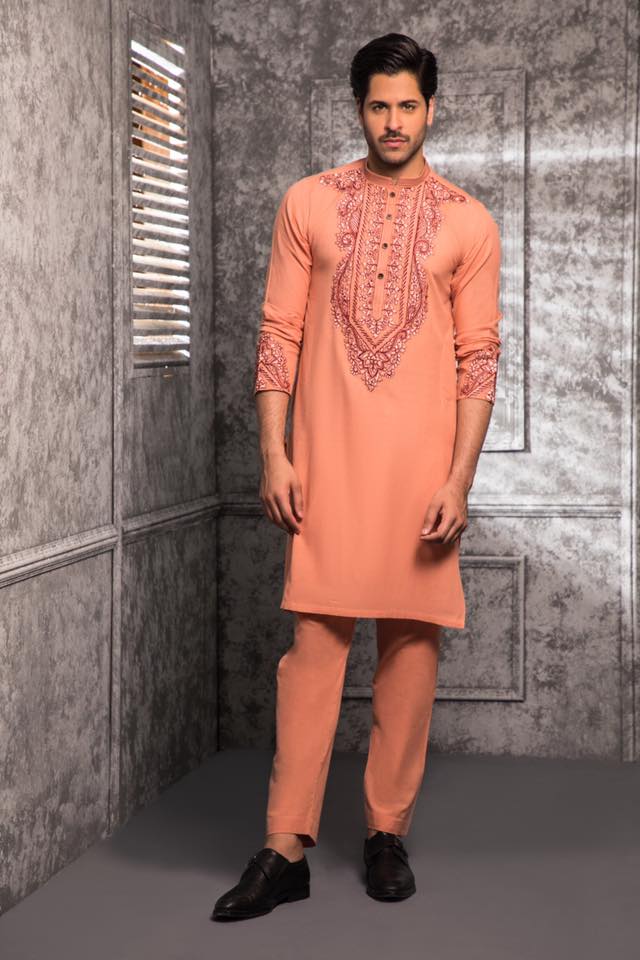 A sharp color in middle age if you wear this color its really a bad idea, But if you are a young boy then maybe its looking cool or classy. Some peoples wear those color who not matched with his personalty or looking awkward. So you need to care about this must be wear those color who looking sophisticated and fine.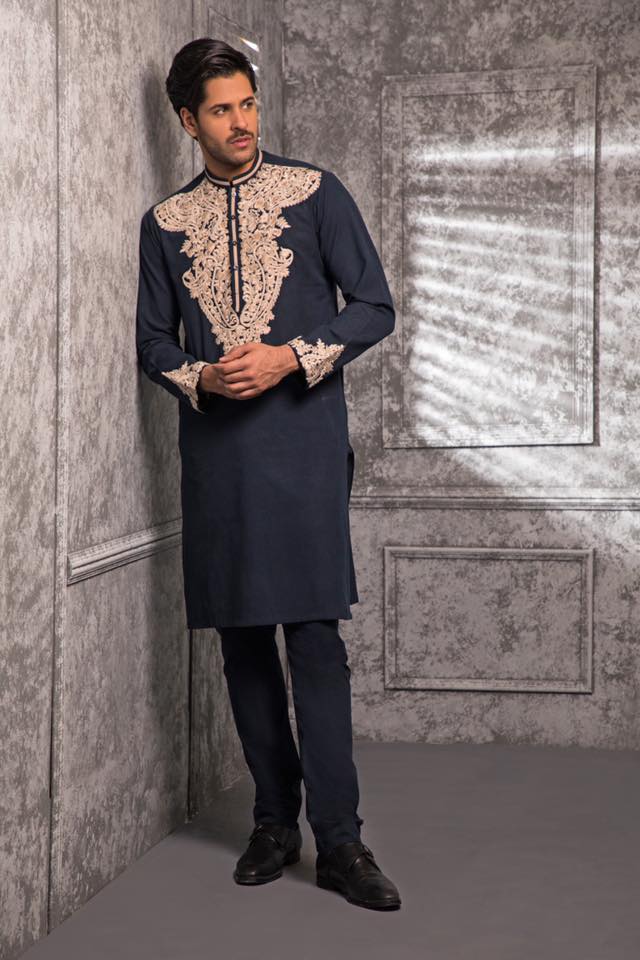 Yet another dark color with light color of embroidery buy be true i am not impressed, a bad idea with bad combination, hope you can understand what i actually want.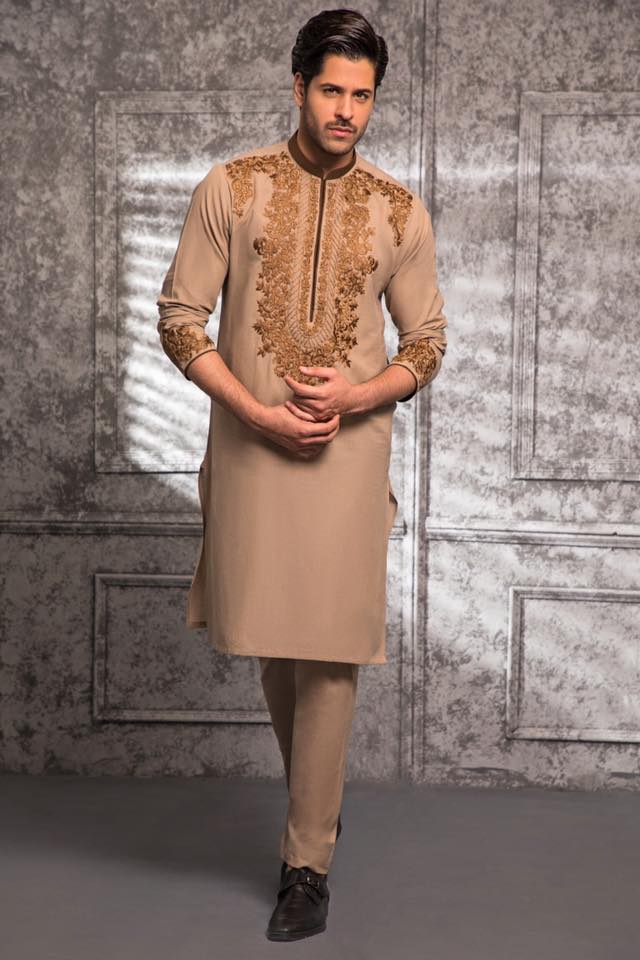 waoooooo, very fine color with perfect combination of embroidery looking cool and feminine. One thing may you noticed in this collection every piece with golden color of embroidery have a different story, giving a sensational look or reflect your personality.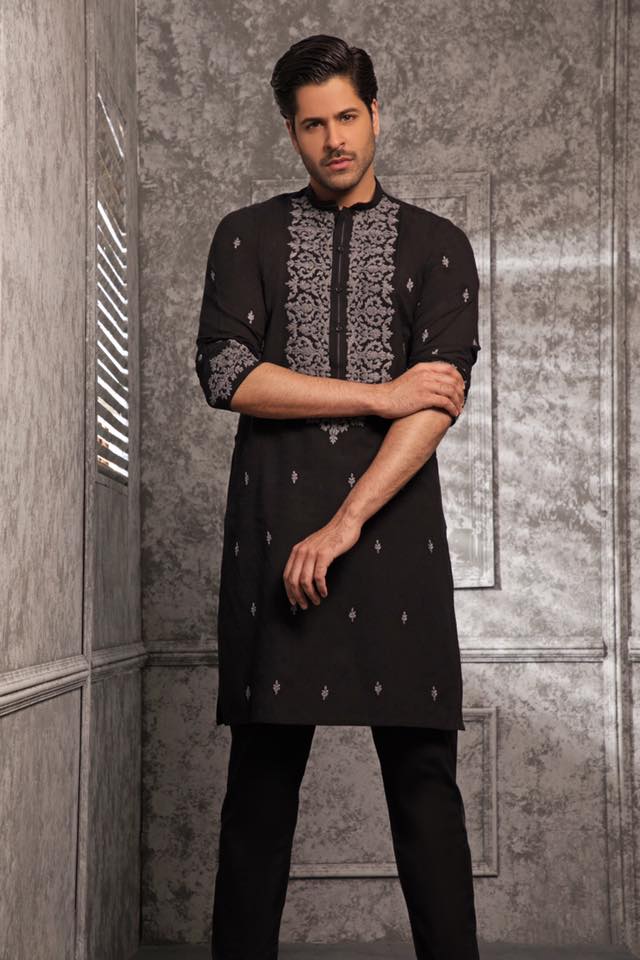 Black with rich embroidery, not looking bad but in middle age you can't wear this kind of dresses. So another Kurta for youngsters.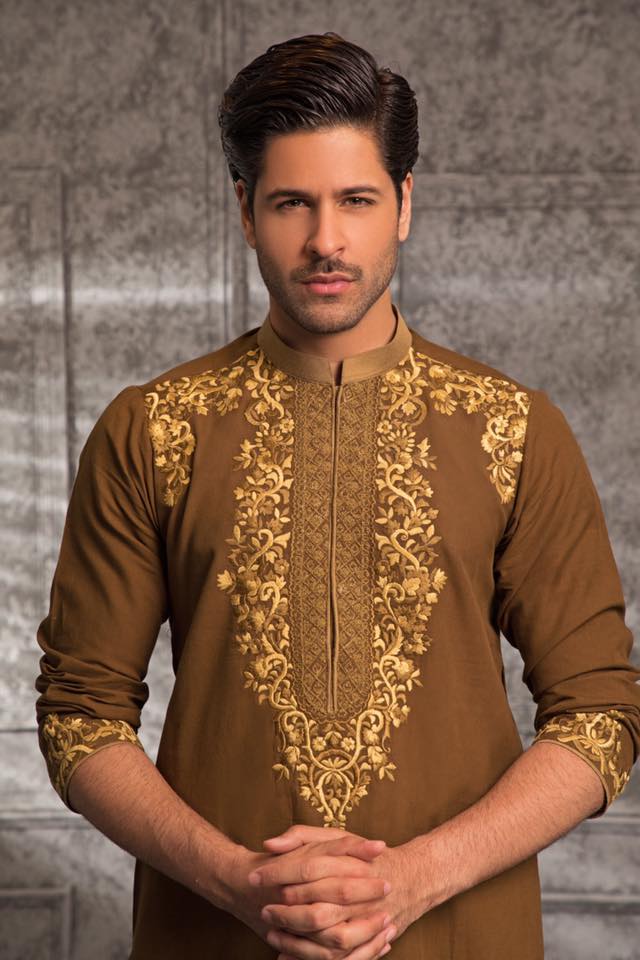 So what do you think about my perception? what i have asked before a combination of gold color embroidery looking different then others. Fine color with perfect match of embroidery looking so gorgouse and perfect for occasions and part wear, this dresses defiantly give you sense able look then others.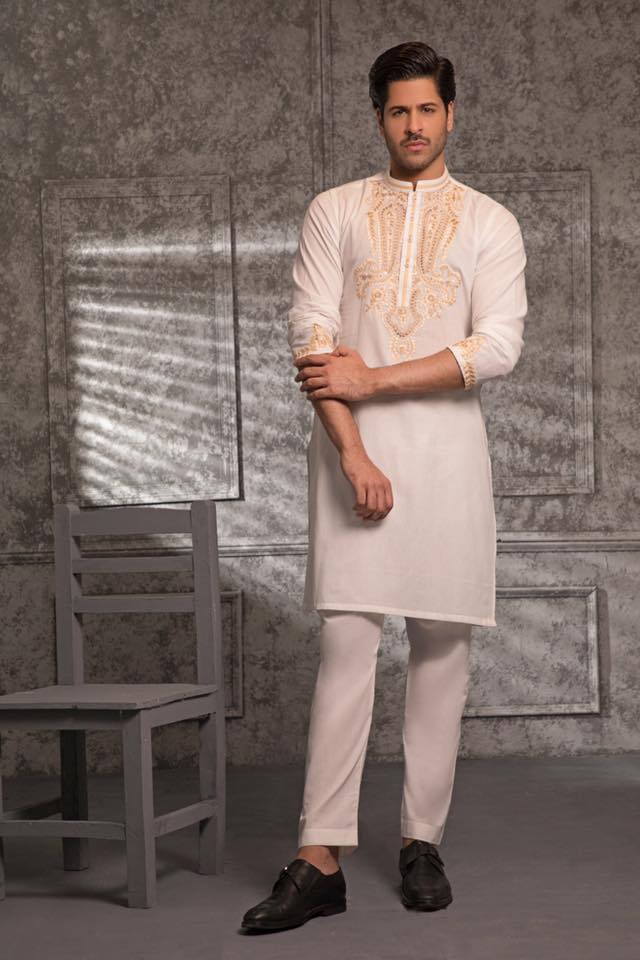 A very first Kurta from this collection in bright color. not looking bad but i think a batter choice for middle age Men's. What do you say about this dresses? My opinion is a nice piece of Kurta Pajama with well pattern of embroidery.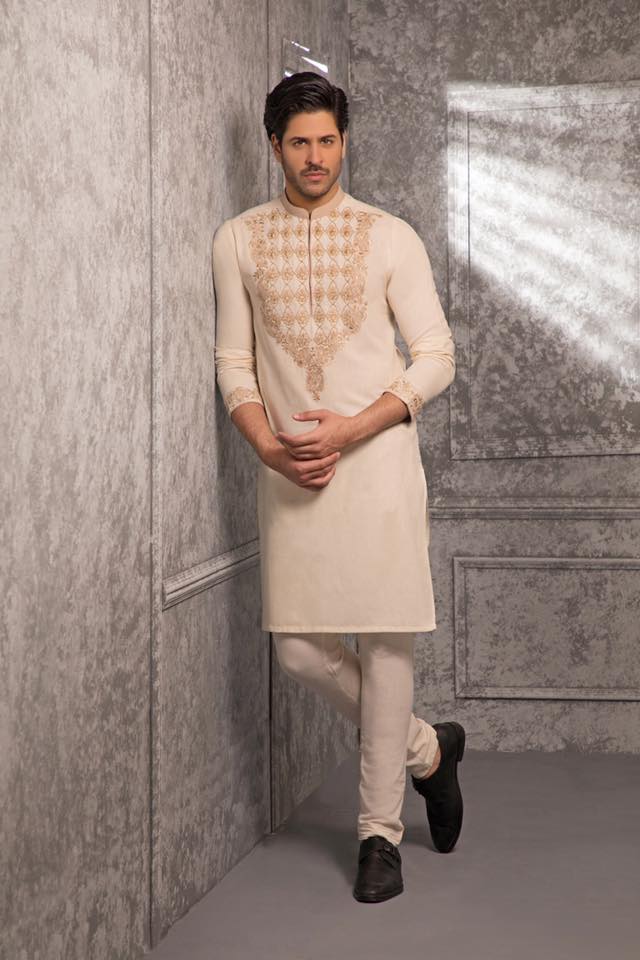 Looking gorgeous for Eid day what do you think if i wear this Kurta on Eid days and paying a Prayer with this? Dose it make sense? I suggest you if you have a fair skin then you need to wear something light like that, because light color giving you good impression. So wear this Kurta pajama on Eid with brown shoes you can shine with style.
'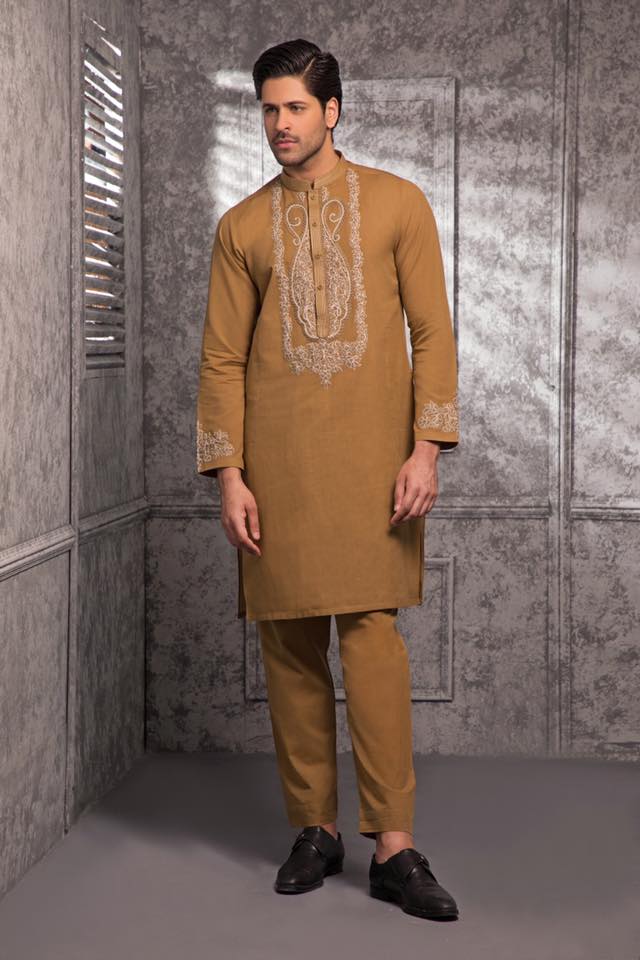 After finding out multiple choices for shalwar kameez and kurta designs recommended by Pkvogue,  you surely would have made your mind with which style you want to go ahead.  kurta design for gents is also trending in the market. Shalwar kamiz and waistcoat style is common. Our collections may guide you to find the best designer dress collection for shalwar kameez and and latest kurta trends in market. So hope you like these stylish Men Kurta designs or want to change your style on this Eid.