Shin With Style Latest Trends In Men Kurta Shalwar
Latest Kurta Design For Men that's trending in 2019. Kurta Shalwar is a traditional attire of men in Pakistan use as a formal or casual wear in various style. Mostly men like to wear simple kurta shalwar in formal days because its reliable attire or Men's feel comfort in this. But if you want attend a function or use on any occasions then you need a stylish piece of Kurta because you look different then others. Nowadays men's also want to wear unique and adorable attire on festive days so that's was Kurta Shalwar, or Shalwar Kameez fashion develop a big industry in Pakistan. So nowadays Men's fashion designer introducing more and more style and trends in men's wear. Some other clothing brand get more attention or introducing amazing fashion sense in Latest Kurta Design For Men.
Read More: Safeer Unstitched Shalwar Kameez Collection by Edenrobe
So here we published Latest Kurta Design For Men hope you like these designs or want to wear on next function. Fashion in men's clothing not end here each brand or every fashion designer introducing amazing ideas in men's wear day by day. So stay with us we update you about latest fashion trends in Latest Kurta Design For Men introducing by leading clothing brands or fashion designers of Pakistan. Kurta for men are one of the most preferred outfit during festivals in Pakistan. Kurta is an ethnic wear for men due to comfort and reliable. They are available in vibrant and eye catching colors which will make you look stylish and traditional at the same time. They come in various cloth types like cotton, silk etc. Kurtas also go well for other occasions like marriages, ethnic day at office or even a casual wear.
Read More: Latest Men Shalwar Kameez Designs 2019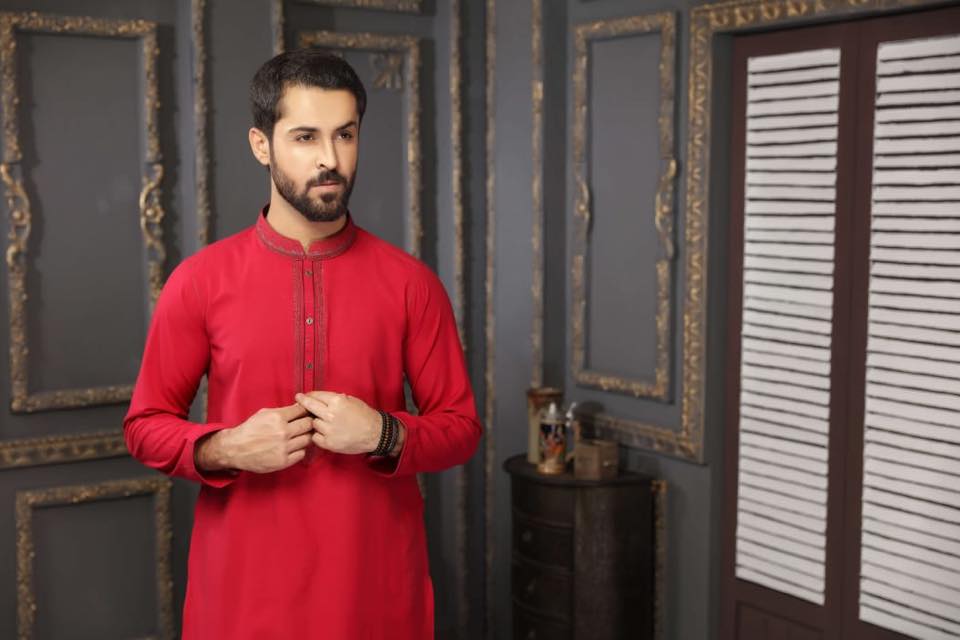 Red Kurta Shalwar: 
Red is a festive color if you want look different in public then you may try to wear a red kurta with white Shalwar. This designs have a little bit embroidered work on Ban with simple straight stitching style. Its defiantly giving you adorable look in summer days or on any occasions with style. So hope you like this designs or want to make a part of your wardrobe.
Read More: Husn-E-Fitr Men Eid Kurta Collection 2018 By Colors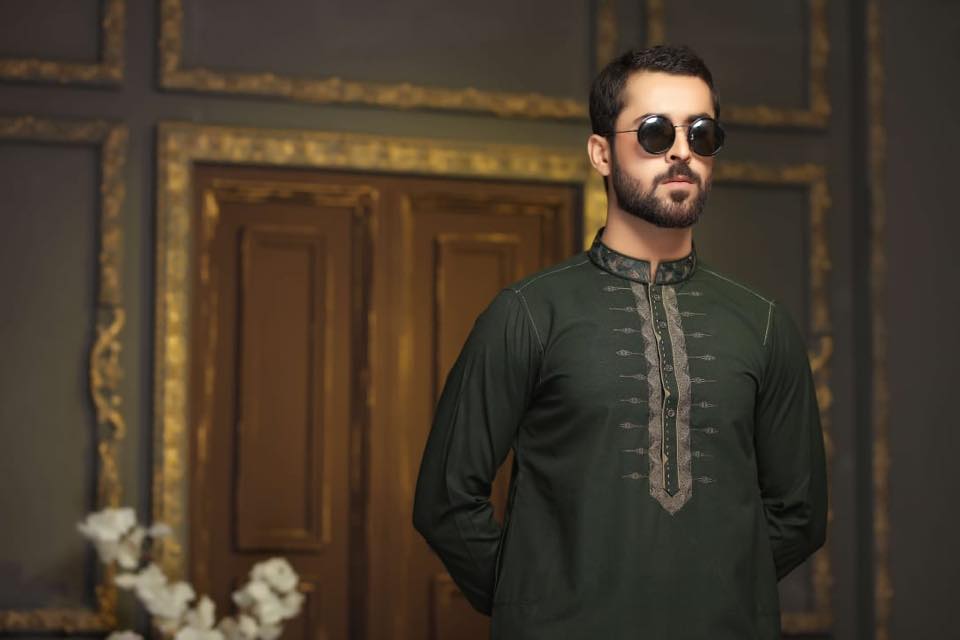 Embroidered Kurta Shalwar 
Its look amazing l really like this color or believe me i don't know the color name of this if you know then told me in comment but really i want to buy this Kurta for my wardrobe. Stunning embroidery on Color or neckline its really look a cool designs with this embroidery pattern with soft color. Simple and elegance hope you also like. After reading the above lines, you may think that, "Is it majorly a traditional and ethnic wear? How best it matches with today's fashion?" Well, in the 21st Century, you can't stay away from looking stylish in every type of outfit. Men's kurta is a sign of fashion though it belongs to mid-1960s and it has evolved with time. You can browse through a huge collection of stylish kurtas on pkvogue.
Read More: Colors Men's Shalwar Kameez Designs 2018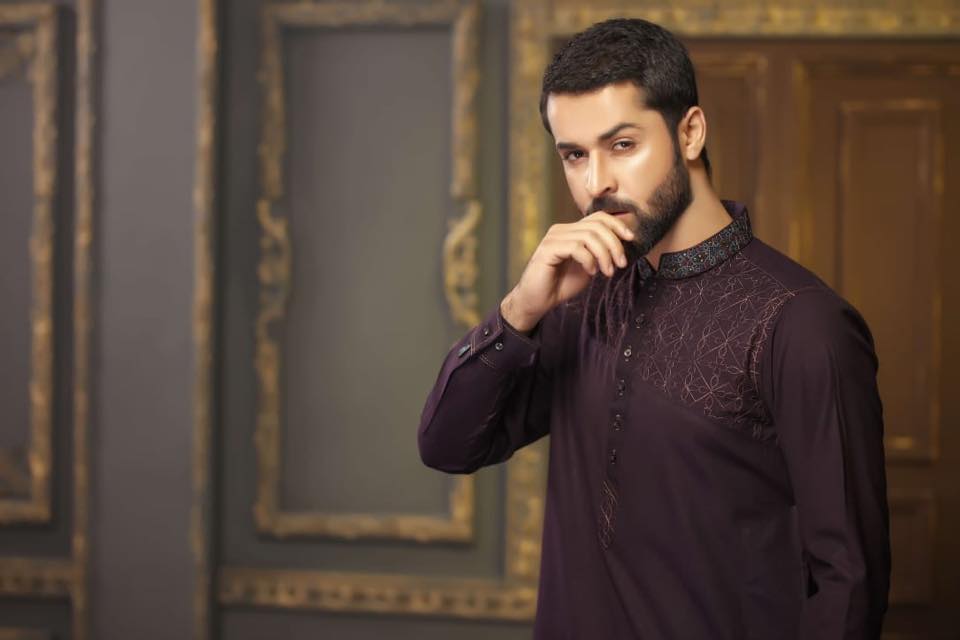 Purple Kurta Shalwar
Really unique and elegance, a shining color with rich embroidery but not looking bad. i think its look sophisticated or easily use to attend any wedding function you must look gorgeous in this color if you have a bright skin or beard. It has embroidery on its collar and its button strip is especially given the touches of amazing hand embroidery to add into its grandeur. It also has the dual capability of to be worn with matching color or a white shalwar.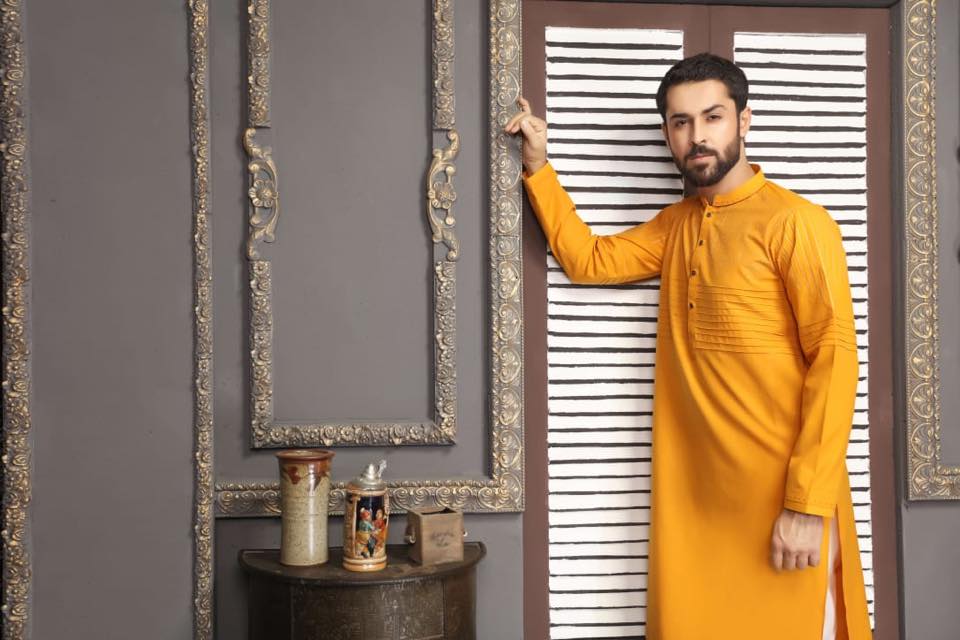 Latest Kurta Design For Men for wedding function. Mehendi is one of the important parts of the marriage. It is a function that requires less embroidered or chic dresses mostly proffered in yellow or sandalwood color or white as the groom is rubbed with turmeric and sandalwood paste; it is a pre-marriage ceremony and holds much importance. So mostly boys want to wear a unique light embroidered kurta with white shalwar. So here is also we published some suggestion for you.
Read More: Edenrobe Men Kurta Collection
Here are some other amazing designs and colors for your selection we also recommend you to but a unstitched fabric or stitched your attire same like these designs because these are very innovative ideas of Men Kurta designs 2019. So stay with us for more update on latest Men Kurta designs 2019. Comment below if you like these designs or keep visiting Pkvogue.
Designer kurta shalwar: – This kind of pajama is perfect wear for those who want to look distinct in the crowd and become an eye candy for ladies. It is a perfect wear for family's special occasions and nowadays because of the designers these kurta pajama are available in a variety of styles and looks. It is available in variety of colors, designs and sizes to satisfy the needs of the customers. An exclusive collection of designer kurta shalwar includes silk designer kurta shalwar, jacquard designer kurta pajama, brocade designer kurta shalwar and etc. So hope you like these designs or want to make a part of your ward robe Like our Facebook page or stay update what's trending in 2019.
edenrobe is the perfect place for men to be always trendy. The fascinating collection of Edenrobe includes Designer Kurta for Men which shares a complementary look on one's personality. This outfit has become very popular as in almost every ceremony or wedding, they are worn by the majority. edenrobe offers an exclusive variety of men kurtas that are the hallmark of elegance and decency. If you are used to wearing polo's and check's, its time to switch your mood towards fashionable kurtas. From a formal gathering to a friends night out, edenrobe kurtas will never compromise your look.