Sana Safinaz Introducing Muzlin Lawn 2019 Vol-2
sana safinaz muzlin collection 2019 introducing by Sana Safinaz to beat the heat of summer season. A perfect collection for chic and sophisticated women in economical price range. A well known and famous fashion designer of Pakistan introducing high quality stuff for your summer wardrobe. Sana Safinaz also setting up some awesome fashion trends in women clothing according to latest fashion and style. These designer also bring some awesome change in women clothing that's really become famous in women and girls. Muzlin Lawn also in those collection that's mostly liked by young collage girls also due to his modern cut and style.
Read More: QLine Lawn Collection 2019 By Qalamkar
Sana Safinaz Muzlin Collection 2019 is here to beat heat of summer, So warp your self in this summer this gorgouse collection introducing by Pakistan Best couple of fashion designers Sana And Safinaz. Muzlin Lawn Vol-2 consisting of various range of dresses like 2pcs and 3pcs also. This clothing brand also presenting wide range of latest dresses for your every day need. 2pcs dresses for those working women who want to wear light stuff in working field and for collage and university girls also. 3 pcs dresses for every women who want to look elegance with style. So here is wide selection for you each day.
Read More: Sobia Nazir Lawn 2019
Sana Safinaz Muzlin 2019 Details
All dresses of this collection have a story or made by awesome fashion sense. Dresses have bright colors and traditional embroidered motif on shirts neckline and damman. Dupatta of this collection is printed in unique ways. Trouser also have plain and dyed with patches and you can adore with tassel and beads also. Sana Safinaz also introducing some very unique stitching ideas in this collection those really become famous in girls and women due to his creative style and trend. all dresses have adorned with tassel and beads these looking so pretty and enhance your look with style. a mixture of solids, prints and embroidery that together create a feeling of a fresh spring breeze washing away the past and heralding a rebirth. We explore an ethos of delight, one that we hold dear in our own offices at Sana Safinaz, as we continue to be fascinated with the natural world that surrounds us. Sana Safinaz Says"
Read More: MPrints Adda Staap Lawn Collection 2019 By Maria B
Quality of this collection very fine we aske this because we also sold this clothing brand since 10 years. Sana Safinaz also a big clothing brand of Pakistan or always sold quality stuff with reasonable price. So don't worried about quality of this collection you never disappointed from this brand. So here is complete catalog of Muzlin Lawn Vol-2 hope you like well or want to update your style. This collection available very soon in market and all outlet of Sana Safinaz. So if you want to buy these dresses then you can contact us or get your dresses stitched with our experienced tailors. We also provide world wide shipping for our international clients. So order us at +92-300-6530821 before ending of stock.
Read More: Jazmine Premium Lawn Collection 2019
This season Sana safinaz launched Muzlin lawn collection 12th of April 2019, which includes unique and modern designs to add comfort to your warm days and nights with a warm flare of extravagance and beauty. Perfectly according to the needs and desire of the modern women, their constant strive of delivering their understanding in all lines of their creations make them more demand-able. This  Muzlin Spring Lawn 2019 includes un-stitched fabric that is designed perfectly and made of the finest material with amazing prints which is very suitable for your summer wardrobe. So look here we published a complete catalog of  Muzlin Spring Lawn 2019 for our beloved visitors hope you like or update your style in this summer season. Pk Vogue bring very first look of all leading clothing brands or fashion designers of Pakistan so stay tuned or like our facebook page to stay update about latest collections.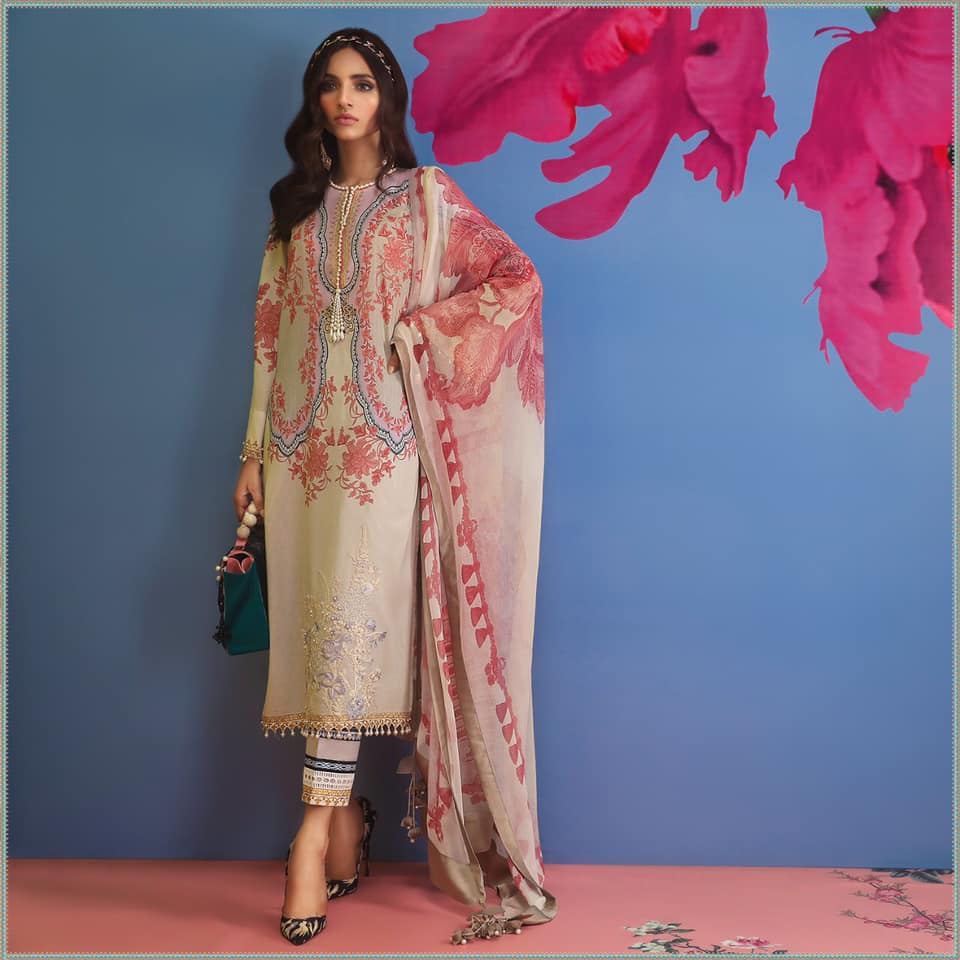 Purple and cream silk thread embroidered botanicals add life to this neutral based option. Edge the hem of CREME DE LA CREME with pearls and add satin borders and jute floral cut outs to the dupatta.
Code: 10B (3 Piece)
Price: PKR 3,950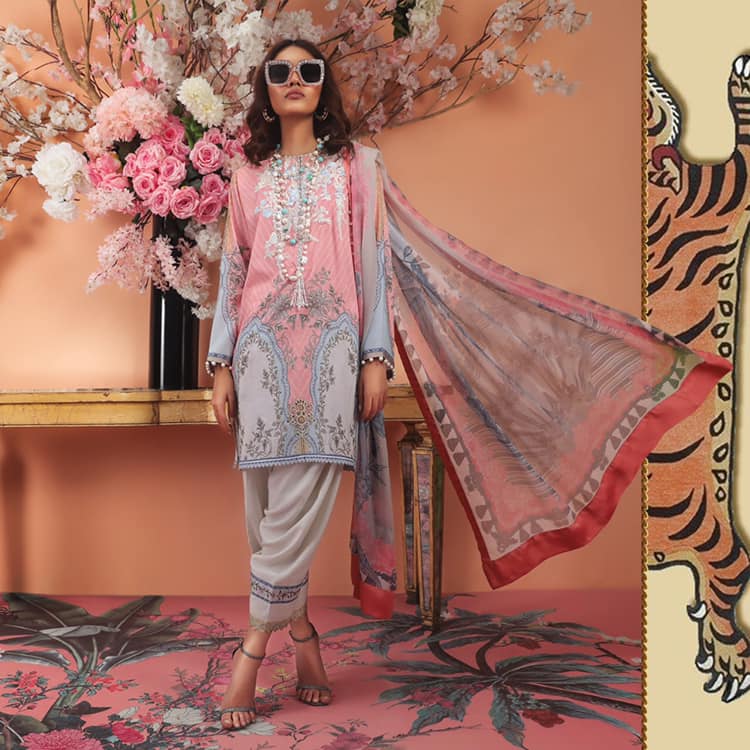 The blue and off white embroidery offsets the pink in FLAMINGO which has windows with grey trellises at its hem. Add tassels to the shirt and satin borders with crystal teardrops to the dupatta.
Code: 10A (3 Piece)
Price: PKR 3,950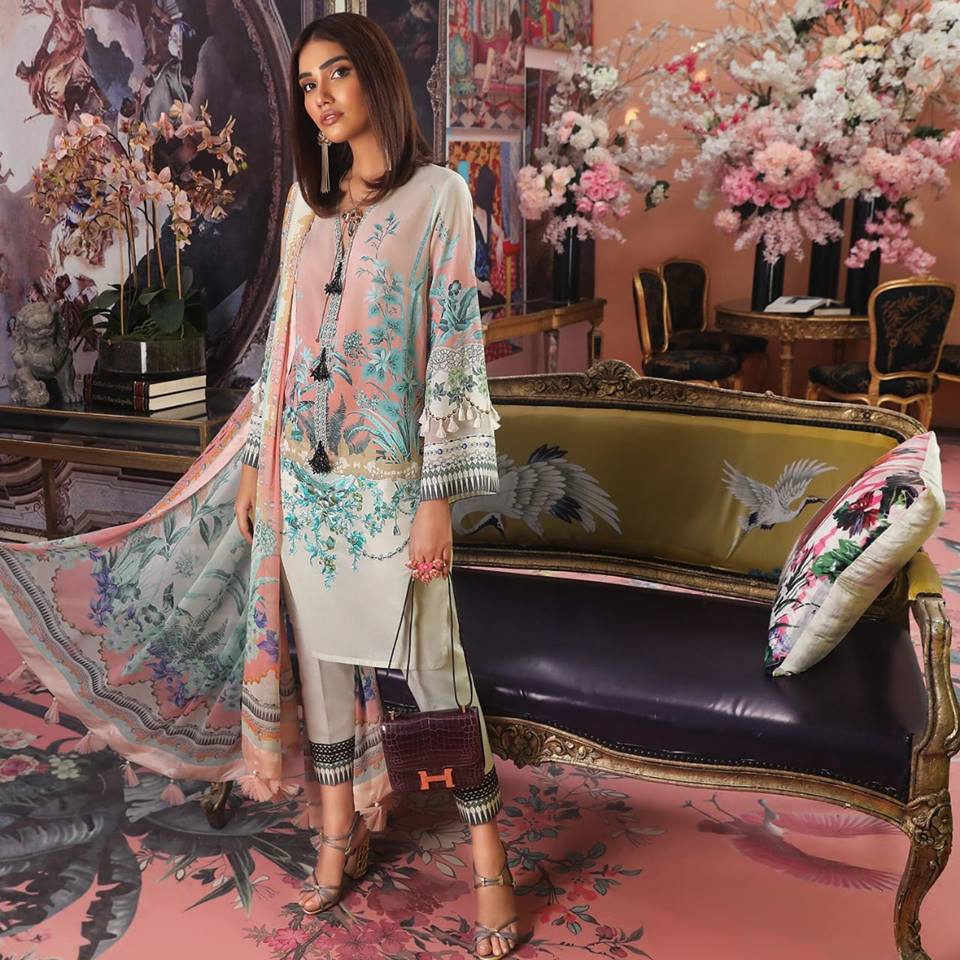 The blue and off white embroidery offsets the pink in FLAMINGO which has windows with grey trellises at its hem. Add tassels to the shirt and satin borders with crystal teardrops to the dupatta. I inspired by color combination and very sophisticated embroidery giving you prominent look then others. Peach and aqua amazing color combination of embroidery also.
Code: 10A (3 Piece)
Price: PKR 3,950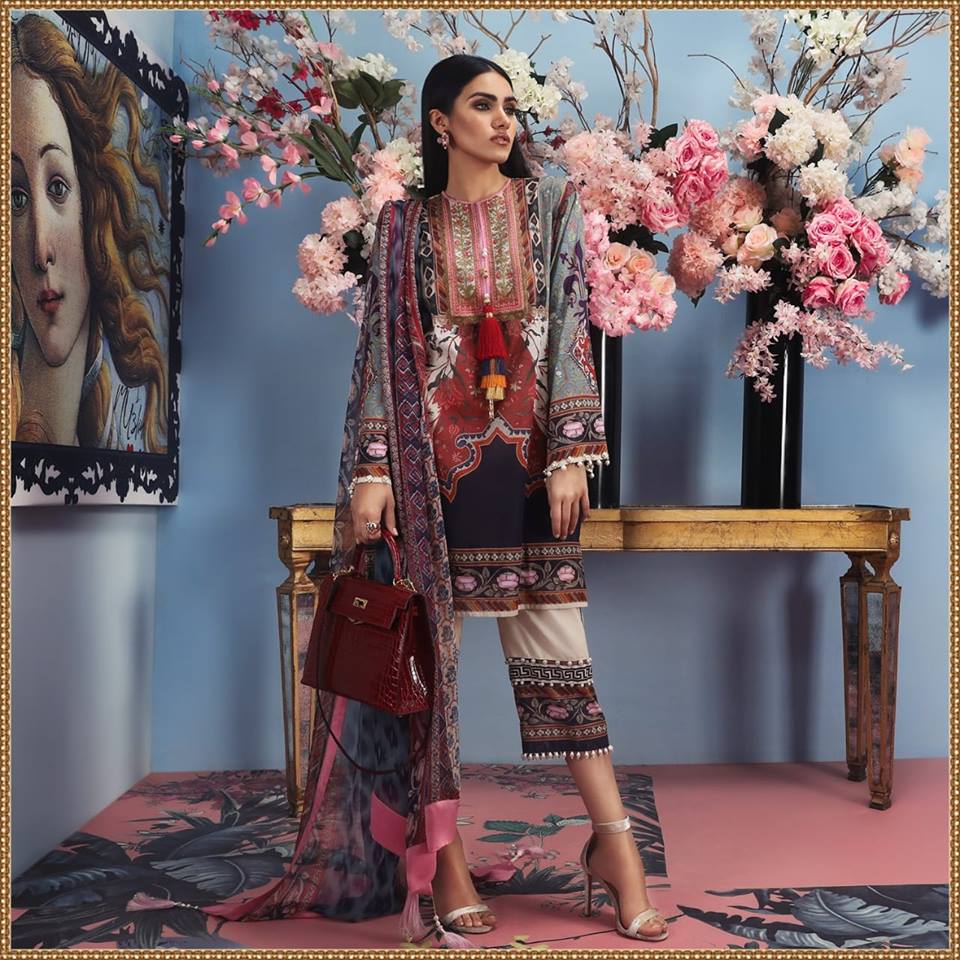 Navy, sage and maroon combine in a print inspired by South Asian carpets and botanical marble etchings. Create a statement pant with added borders and pair with the ikat inspired chiffon blend dupatta of ALLADIN.
Code: 9A (2 Piece)
Price: PKR 2,990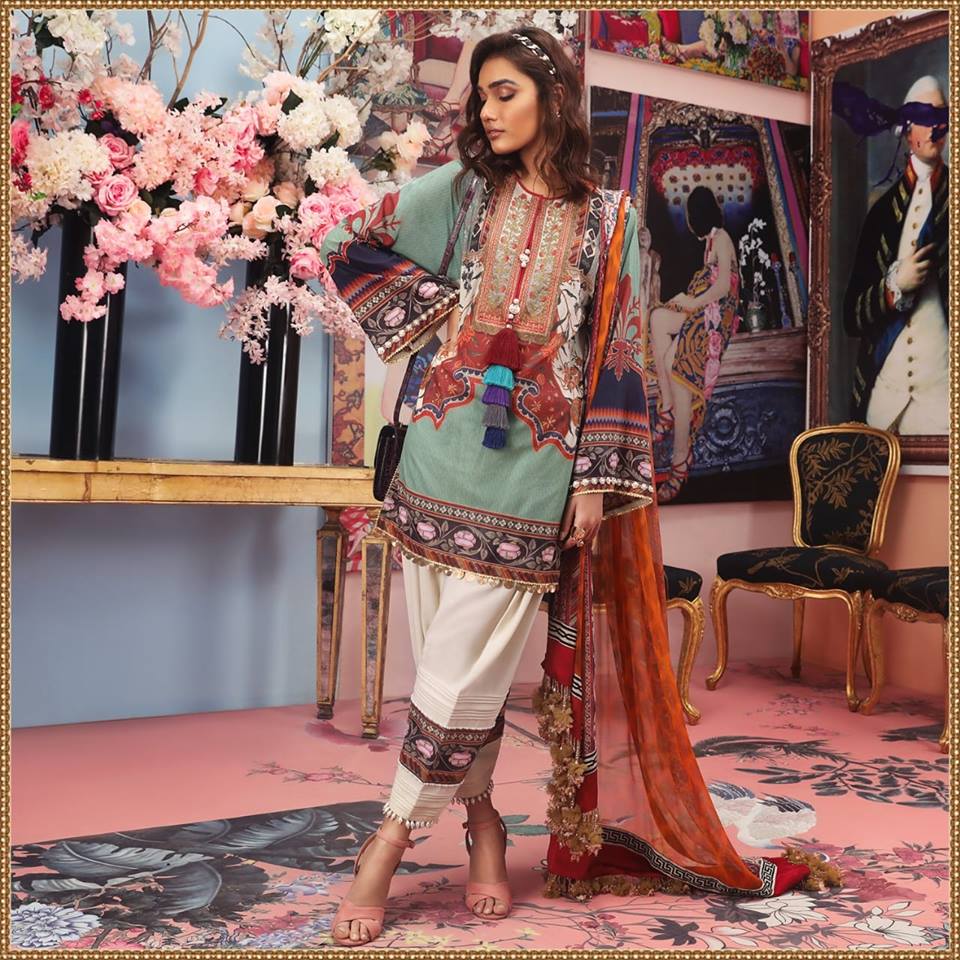 Add gold coin trimmings to sleeves and hemline for an Arabian Nights vibe and pair with a funky shalwar with printed borders. The rotary print chiffon blend dupatta of ALIF LAILA adds an old school touch.
Code: 9B (2 Piece)
Price: PKR 2,990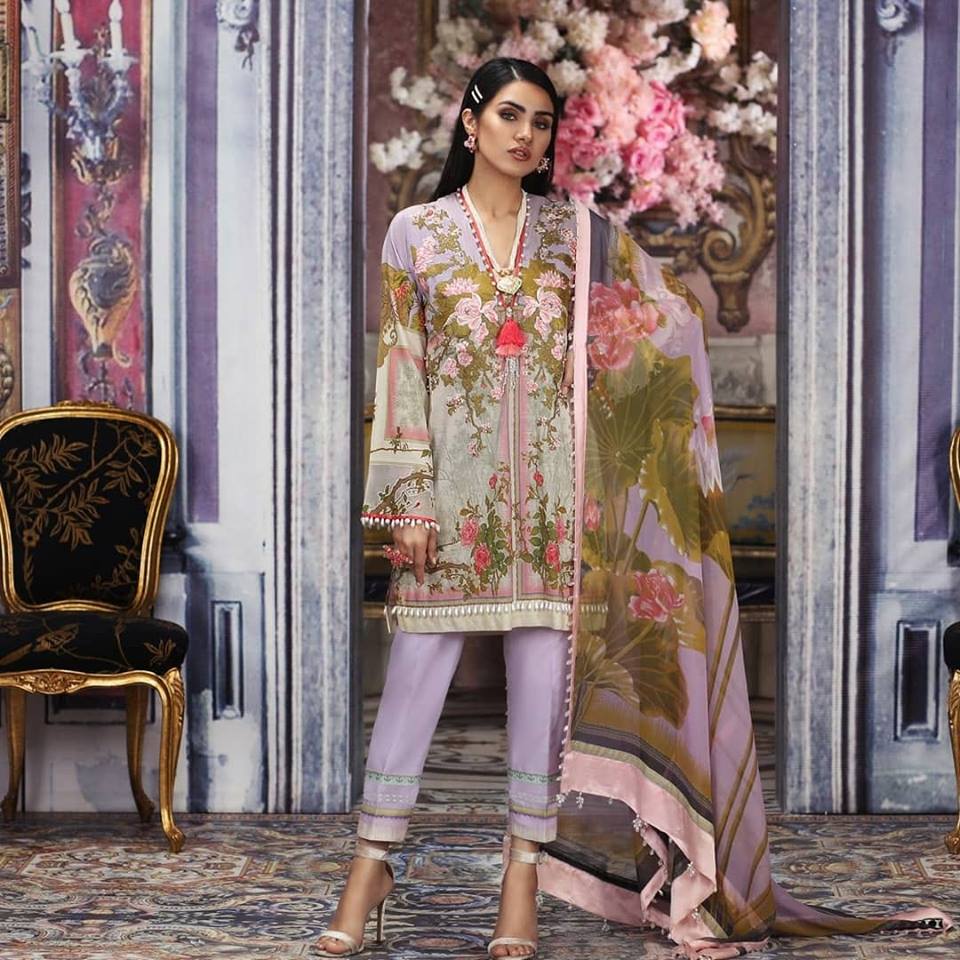 Inspired from Chinese ink on canvas artwork, this lavender and cream shirt features trees, roses and lotus flowers. Finish the blend chiffon dupatta of LOTUS BLOOMS with a satin border and crystal tear drops for a more formal look.
Code: 6B (3 Piece)
Price: PKR 4,350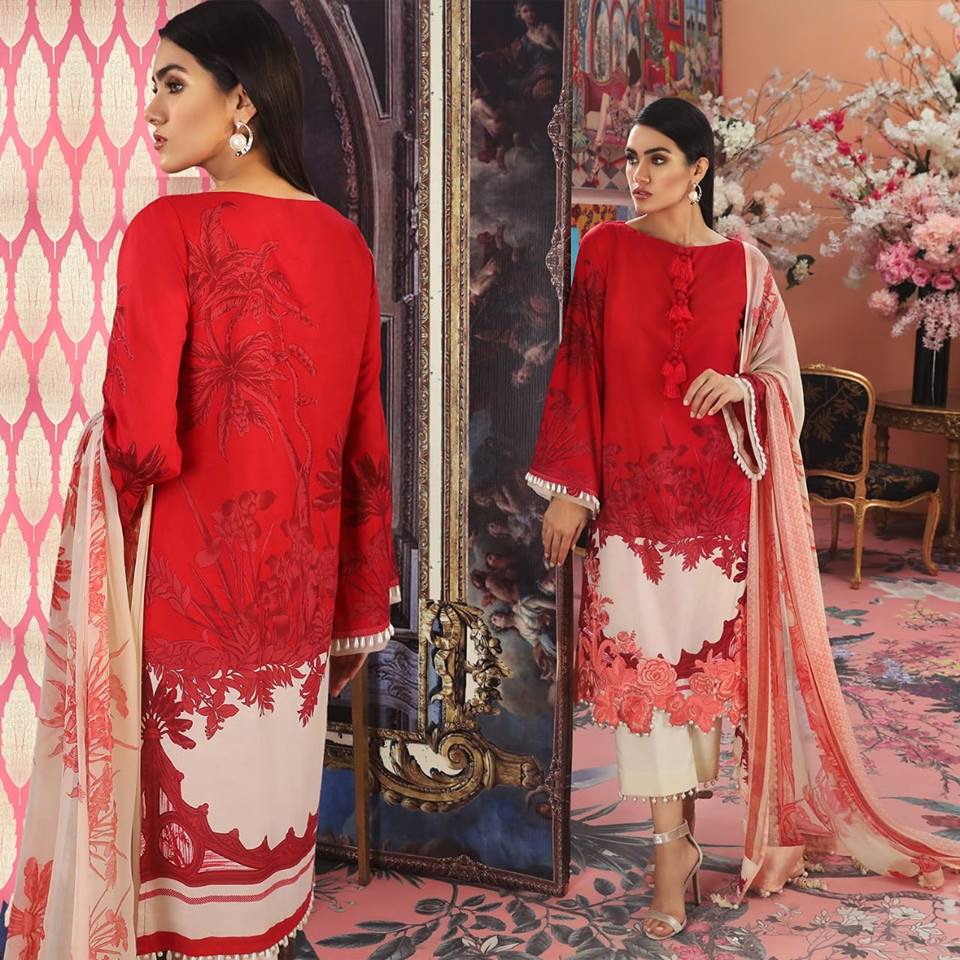 Muzlin Volume II '19
Unstitched Collection
Find the colors of burning embers in RED TREE, featuring a glowing red offset by white and peach color blocking. Add tassels and pearls to the tree of life chiffon blend dupatta for an even more fiery statement.
Code: 1B (2 Piece)
Price: PKR 2,990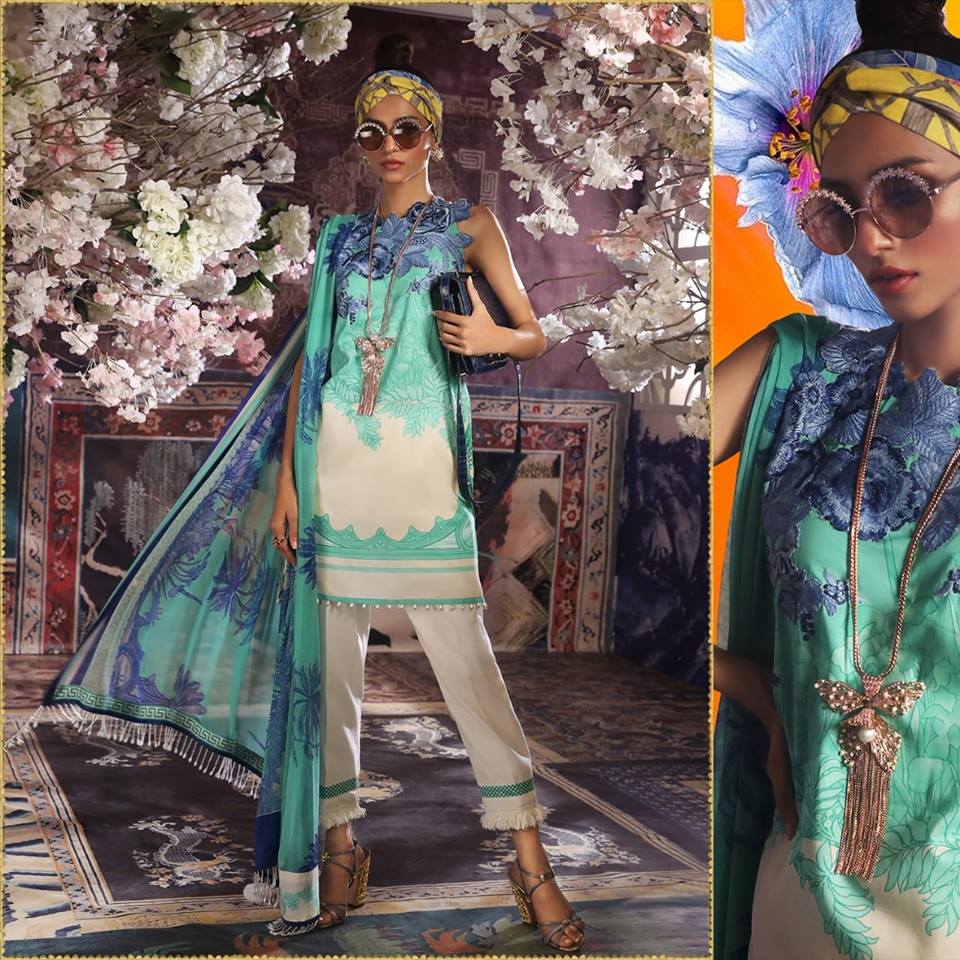 Muzlin Volume II '19
Unstitched Collection
Mint and white color blocking with a blue silk thread embroidered floral border, used here on the neckline, is enlivened with a chiffon blend dupatta featuring the tree of life. Bring some tranquility in your life with MINT TREE, depicted here under the shade of cherry blossoms.
Code: 1A (2 Piece)
Price: PKR 2,990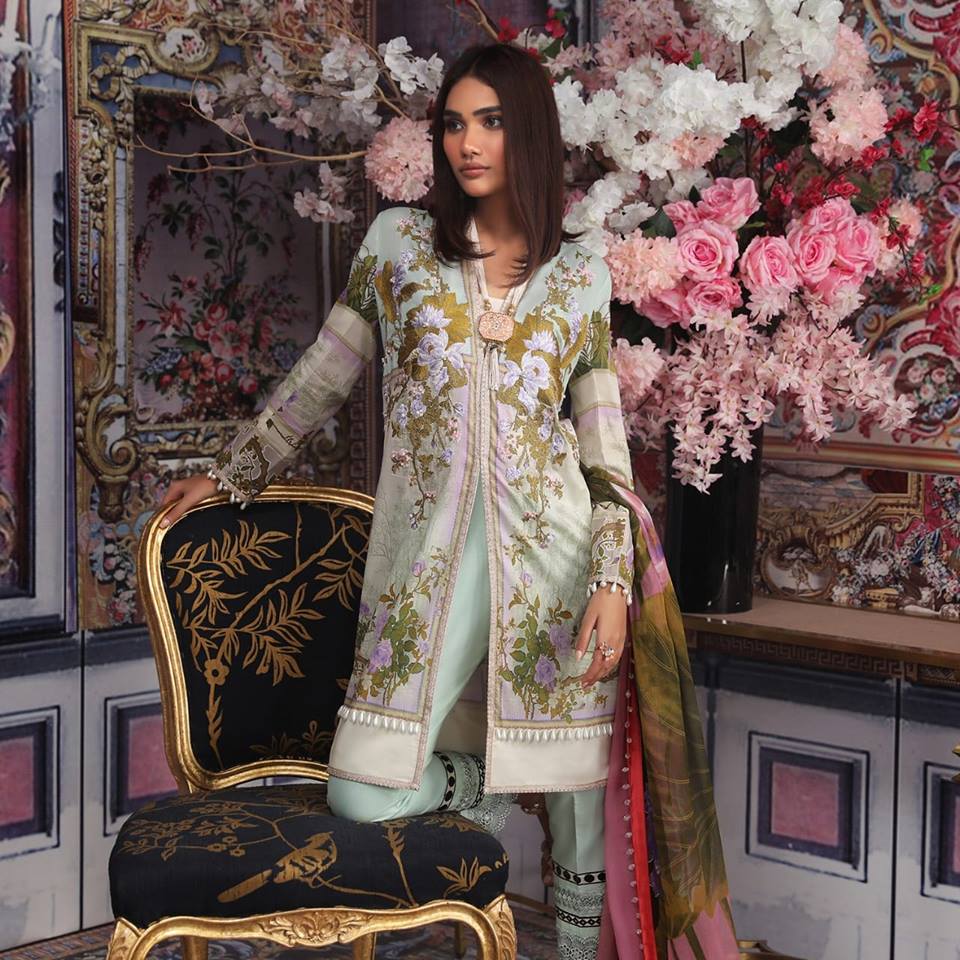 Muzlin Volume II '19
Unstitched Collection
Mint with cream embroidery and a chinoiserie print featuring lily pads, lotus flowers and trees. Add the borders of TIGER LILY to statement pants or add an edge to the chiffon blend dupatta. one of the best dresses i really like this or want to wear on next festive day. Amazing cut and style with very unique embroidered pattern really looking a gorgouse.
Code: 6A (3 Piece)
Price: PKR 4,350
Read More: Alkaram Festive Collection 2019