Farah Talib Aziz Presenting Lawn Collection 2019
Farah Talib Aziz going to launch latest Lawn collection for summer 2019 in wide range of adorable designs for chic and modern women. Latest Lawn Collection of Farah Talib Aziz introducing in wide range of embroidered dresses with colors of spring.  A fully embroidered collection for your festive need or occasions wear dresses introducing for this summer. All dresses have very unique prints or very sensational combination of colors that's giving you prominent look in this summer with glamours style.
Read More: Sobia Nazir Lawn 2019
Farah Talib Aziz is a unique brand name in Pakistani fashion industry or also introducing magnificent fashion trends in women clothing according to latest fashion ideas. FTA bring change in your style with modern cut and style or also setting up amazing trends in each season. So for summer 2019 Farah Talib Aziz again launching a high quality Lawn collection for fashion lovers women and girls. Farah Talib Aziz's is a formal wear designer whose work exuberates effeminate opulence, garnished with her signature embroidery and baroque motifs. Her design philosophy is to magnify femininity, with the help of regally draped cloth and expert artisans, while maintaining a form of elegant sophistication. Stunning audiences with intricate detail and a strong sense of beauty, Farah Talib Aziz creates luxe classic pieces that modernize traditions and serve as cherished legacies.
Read More: Voyage Á Luxe Lawn 2019 By Maria B
Farah Talib Aziz Lawn 2019 have a wide selection for your summer wardrobe, All dresses are embellished with amazing embroidery pattern or extra adorned with beads and tassel. Quality of fabric is amazing FTA know well what women accepted from this brand. So you no need to worried about quality and stuff. Stitching style also amazing or as usual FTA introducing some amazing stitching style in this collection hope you also like those designs or stitch your dresses same like these. So all over one of the best summer collection in normal price range all prices stuff are mention on pictures. Select you favorite designs or buy before ending of stock.
Farah Talib Aziz Lawn embraces spring with an effortlessly chic zeal, a cool color palette and exquisitely luxe weaves.
This exclusively weaved unstitched, three-piece collection featuring premium quality Jacquard and a loom weaved dupatta in stunning print and embroidered lace that defiantly give you glamours look in summer with style.
Immerse yourselves in strikingly stylish, adventurous shades of spring and positively uplifting tapestries, as the #FarahTalibAziz spring 2019 has arrived! A collection that's unlike any other, exquisite luxury textures shot in the whimsy of fabled Portuguese castles and the enchanted gardens of Sintra.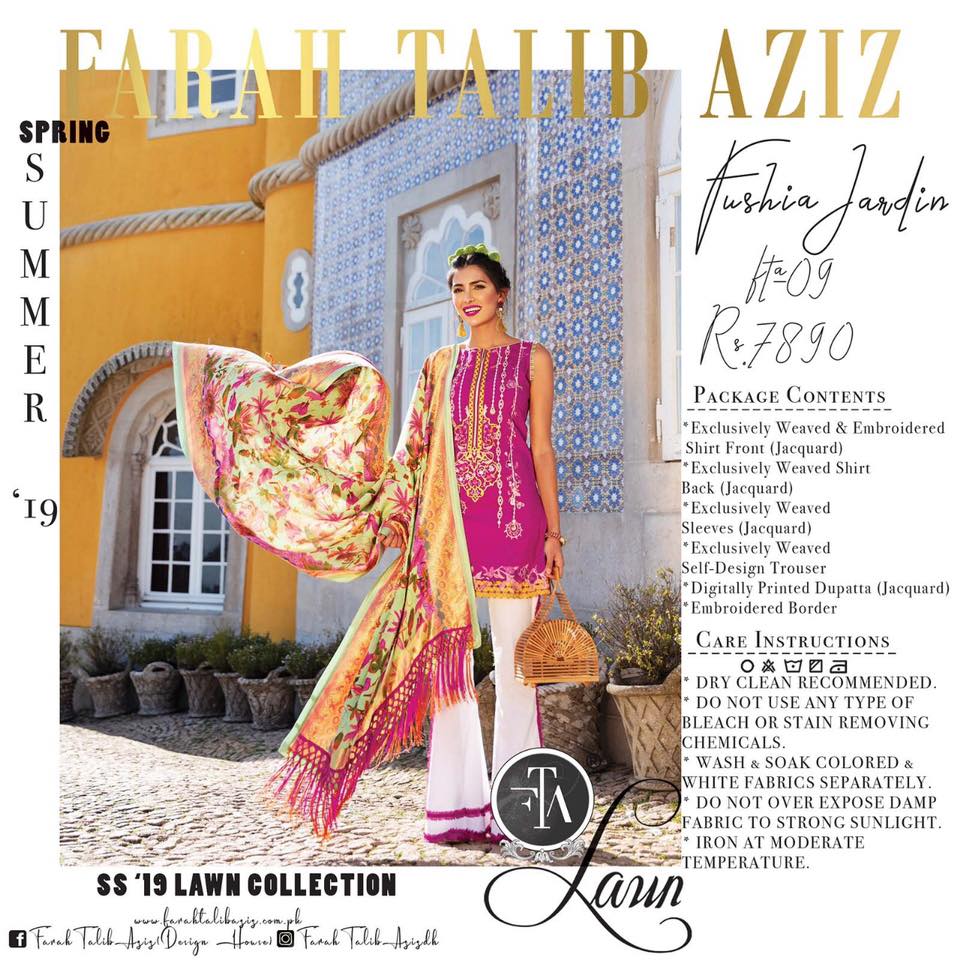 FUCHSIA JARDIN FTA 09
A two-tone weave of bougainvillea pink and orchid purple coming together to create the most luxurious jacquard fabric complimented by an exclusive loom weaved Dupatta. Make a striking style statement this spring in Farah Talib Aziz Luxe Lawn.
This exclusively weaved unstitched, three-piece collection featuring premium quality lawn and a luxurious loom weaves dupatta also look stunning or enhance your grace with sophisticated style.
Read More: Gul Ahmed Premium Lawn Collection 2019