Maria B Lawn Voyage Á Luxe Collection For Summer 2019
Voyage Á Luxe Lawn 2019 introducing by one of the best fashion designer of Pakistan Maria B. A luxury lawn collection introducing by Maria B for summer 2019 in 30 magnificent designs for chic and sophisticated women. Girls be ready we soon start pre-booking of Voyage Á Luxe Lawn By Maria B at our Online Store. So stay ready we will shortly inform about preBooking on our Official Facebook Page. Voyage Á Luxe Lawn 2019 amazing lawn collection consisting of 3 pcs rich embroidered dresses for your festive and occasions need. Girls much awaiting this collection or some days before we published a first look of Voyage Á Luxe Lawn 2019 mostly women like this collection or want to buy these dresses. So here now we published complete catalog for our beloved visitors. Maria B is one of the most versatile brand in Pakistani Fashion Industry introducing high quality fabric or presenting amazing fashion trends for Pakistani women. If you follow fashion closely and want your clothing according to fashion then Voyage Á Luxe Lawn 2019 By Maria B is a best festive and occasions wear collection for your ward robe.
Read More: Cross Stitch Lawn 2019 | Kites And Dreams Spring Lawn
Maria B innovative and very creative fashion designer of Pakistan or introducing amazing fashion sense in her collection or presenting contemporary clothing ideas for fashion lovers girls and women. Pakistani girls and women love Maria b or badly awaited each collection that's introduced by Maria b. So what do you think why Maria b become a leading clothing brand in Pakistan here is the answer very unique creative designs, amazing professional skills, innovative ideas, or introducing contemporary cut and style with sensational colors combination make every creation of Maria b Master piece for women. So this is the some reason why women love Maria B clothing. So now winter season is closed so every fashion designer of clothing brand introducing latest collection in Lawn fabrics. So Maria b also announced some days before to launching a lawn collection by the name of Voyage Á Luxe Lawn 2019 on official page of Maria b or launching date of this collection is 28th of Feb.
Read More: Aayra lawn Collection 2019
Voyage Á Luxe Lawn 2019 By Maria B rich embroidered collection in very unique stitching style make this collection stunning for your summer wardrobe. Voyage Á Luxe Lawn 2019 by Maria b also seems to be having the epic collection of lawn and prime dresses. The apparels are specifically designed for all sorts of formal occasions. these define the embroidery work in the thread work , and decent applique work. Embroidery is also done on tissue patches that give a superb look. Such dresses carry more distinct and bold hues with amazing sets of contrast. Embellishment around the neckline and use of motifs over the shirts look fascinating. The main point of behind this brands apparels is great combination of colors and best amalgamation of designs. So if you are in search of formal as well as not having a dumb look dress and want to enjoy parties to share the happy moments by reuniting together, you are here to have a good deal Maria.b Summer collection. Here is the grand feast of spending you time in selecting beautiful designed cloths to create more festivity in awesome way. So what you are waiting for? Go and grab or select your favorite dresses or buy it now on our online store before ending of stock.
Read More: Gul Ahmed Premium Lawn Collection 2019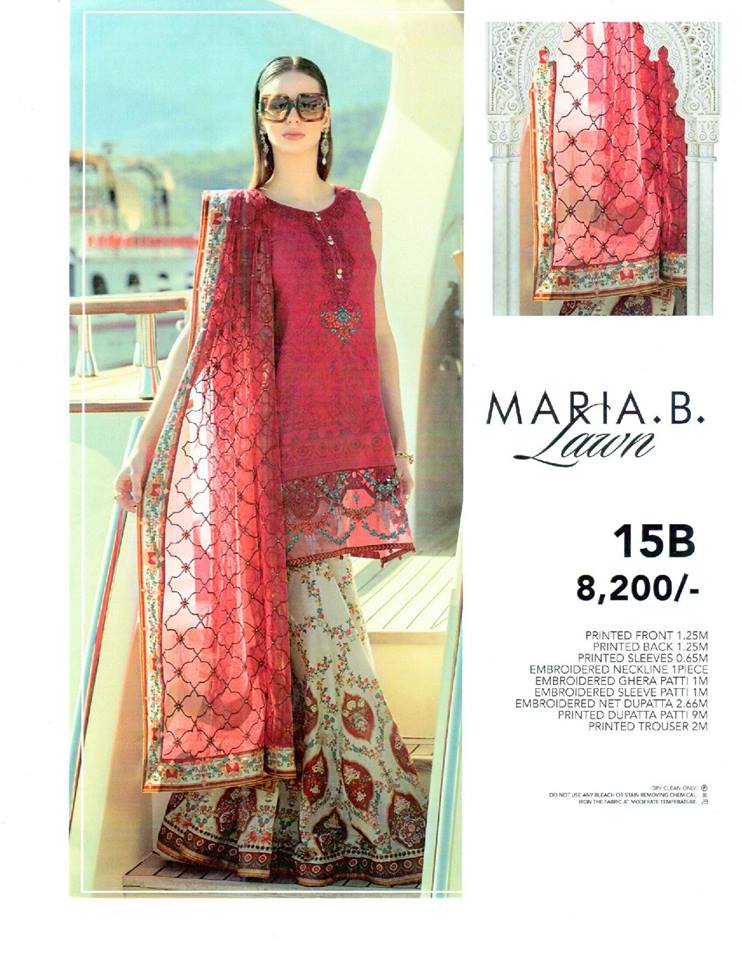 Fabric:
PRINTED FRONT 1.25M
PRINTED BACK 1.25M
PRINTED SLEEVES 0.65M
EMBROIDERED NECKLINE 1 PIECE
EMBROIDERED GHERA PATTI 1M
EMBROIDERED SLEEVE PATTI 1M
EMBROIDERED NET DUPATTA 2.66M
PRINTED DUPATTA PATTI 9M
PRINTED TROUSER 2M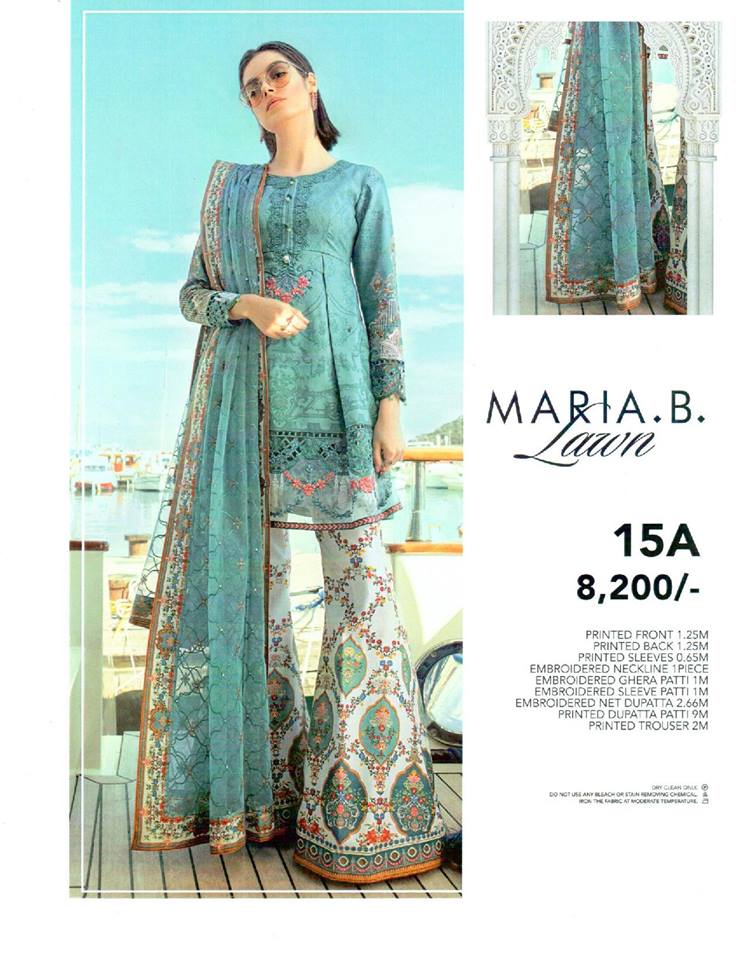 Fabric:
PRINTED FRONT 1.25M
PRINTED BACK 1.25M
PRINTED SLEEVES 0.65M
EMBROIDERED NECKLINE 1 PIECE
EMBROIDERED GHERA PATTI 1M
EMBROIDERED SLEEVE PATTI 1M
EMBROIDERED NET DUPATTA 2.66M
PRINTED DUPATTA PATTI 9M
PRINTED TROUSER 2M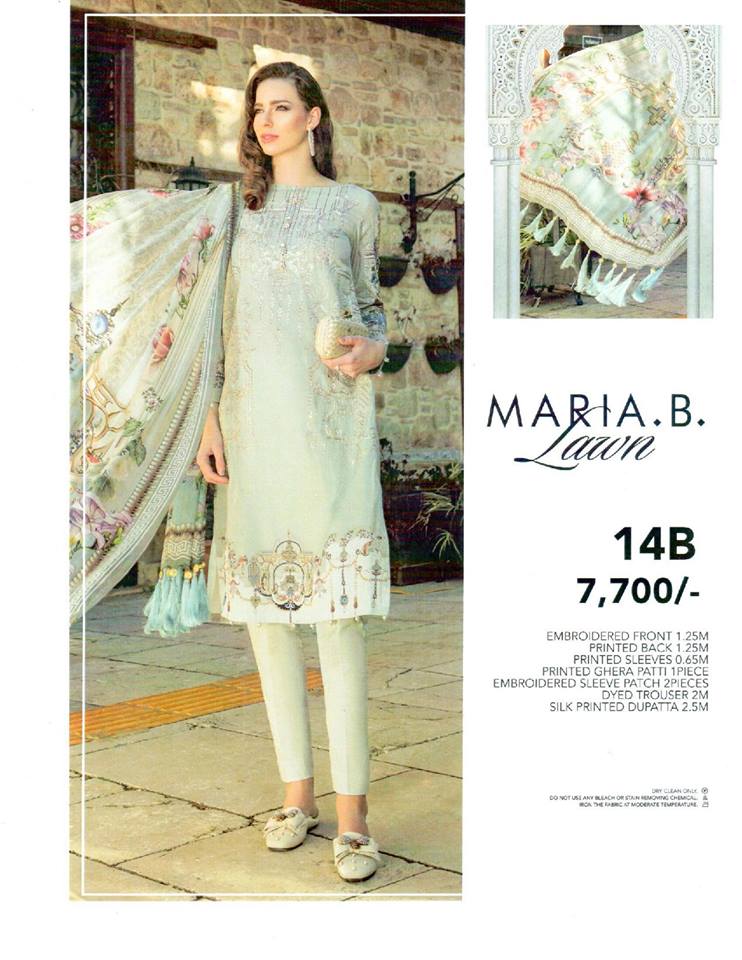 Fabric:
EMBROIDERED FRONT 1.25M
PRINTED BACK 1.25M
PRINTED SLEEVES 0.65M
PRINTED GHERA PATTI 1 PIECE
EMBROIDERED SLEEVE PATCH 2 PIECES
DYED TROUSER 2M
SILK PRINTED DUPATTA 2.5M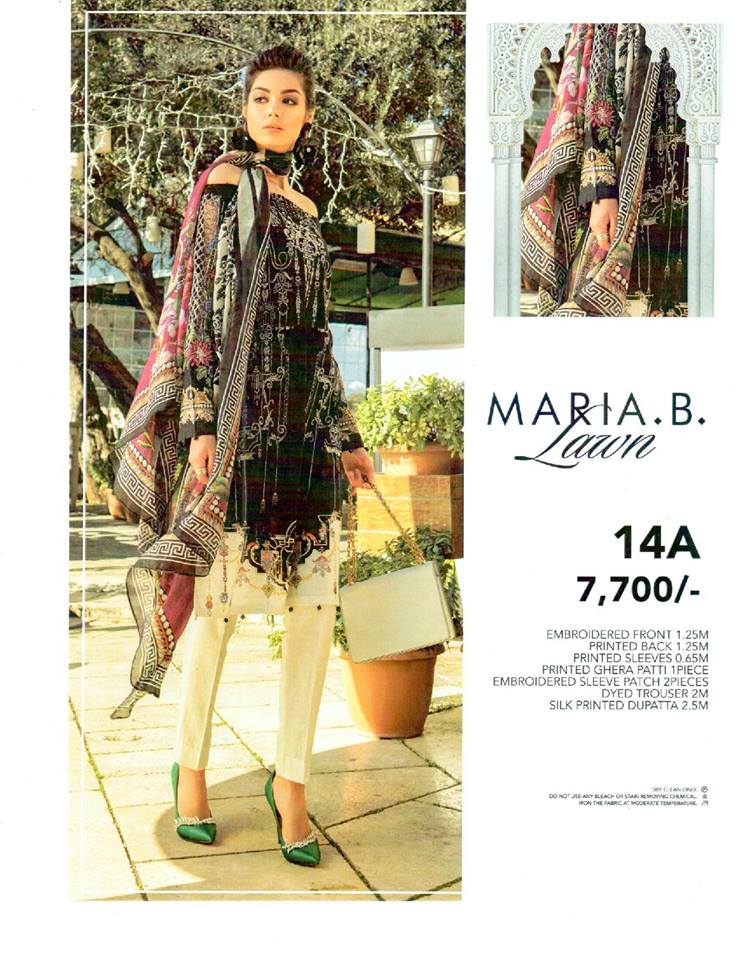 Fabric:
EMBROIDERED FRONT 1.25M
PRINTED BACK 1.25M
PRINTED SLEEVES 0.65M
PRINTED GHERA PATTI 1 PIECE
EMBROIDERED SLEEVE PATCH 2 PIECES
DYED TROUSER 2M
SILK PRINTED DUPATTA 2.5M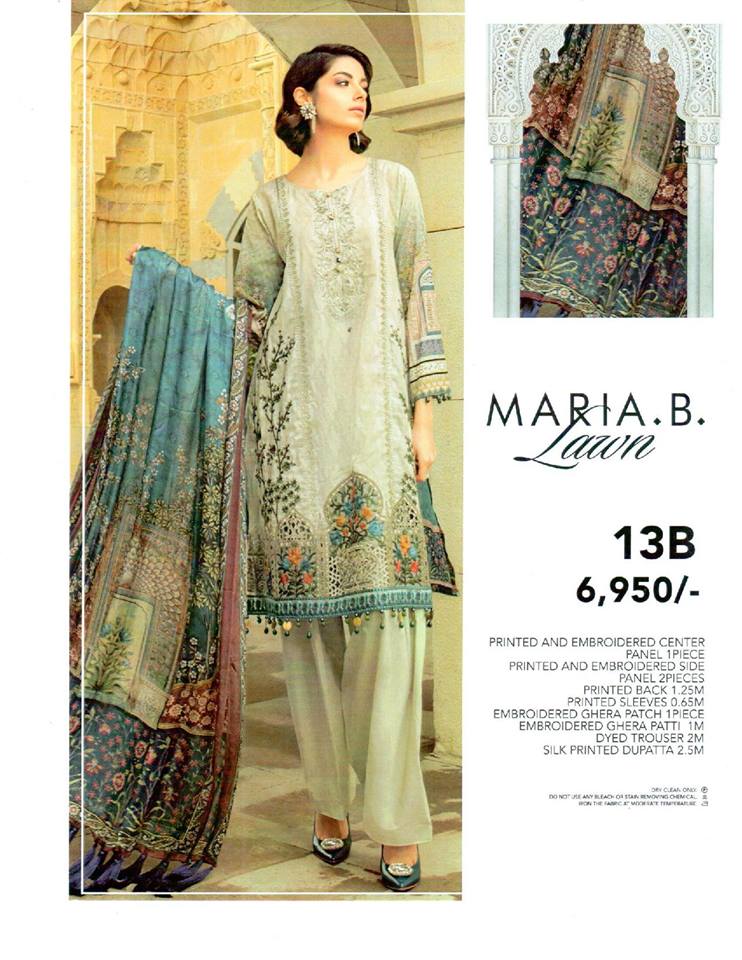 Fabric:
PRINTED & EMBROIDERED CENTER PANEL 1 PIECE
PRINTED & EMBROIDERED SIDE PANEL 2 PIECES
PRINTED BACK 1.25M
PRINTED SLEEVES 0.65M
EMBROIDERED GHERA PATCH 1 PIECE
EMBROIDERED SLEEVE PATTI 1M
DYED TROUSER 2M
SILK PRINTED DUPATTA 2.5M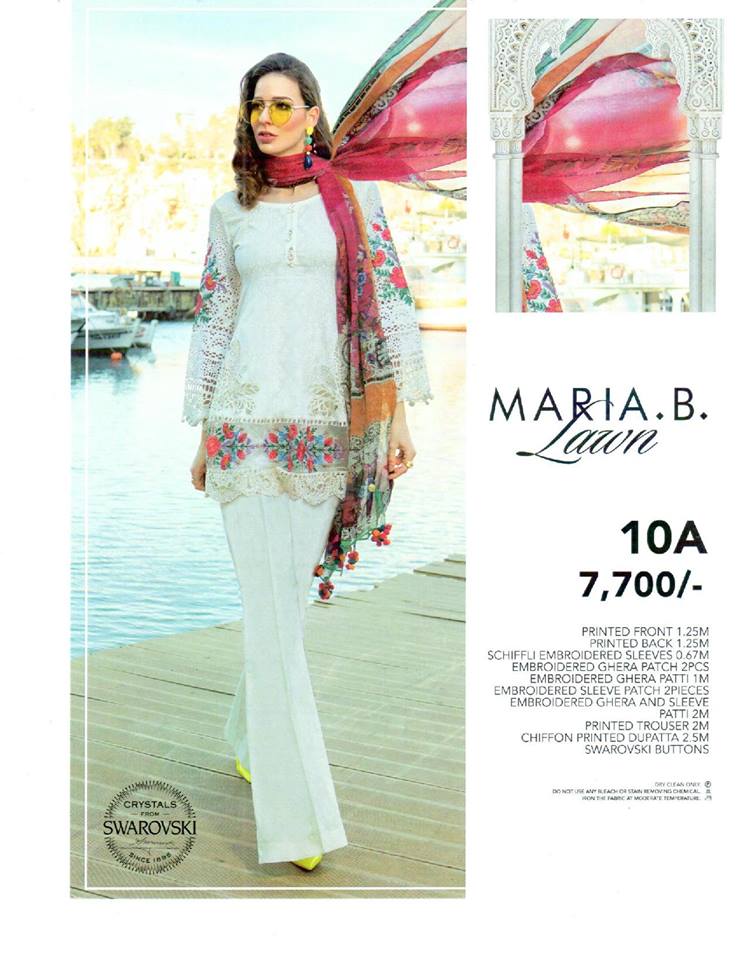 Fabric:
PRINTED FRONT 1.25M
PRINTED BACK 1.25M
CHIFFON EMBROIDERED SLEEVES 0.67M
EMBROIDERED NECKLINE 1PIECE
EMBROIDERED NECKLINE PATTI 1M
EMBROIDERED GHERA & SLEEVE PATTI 2M
PRINTED TROUSER 2M
SILK PRINTED DUPATTA 2.5M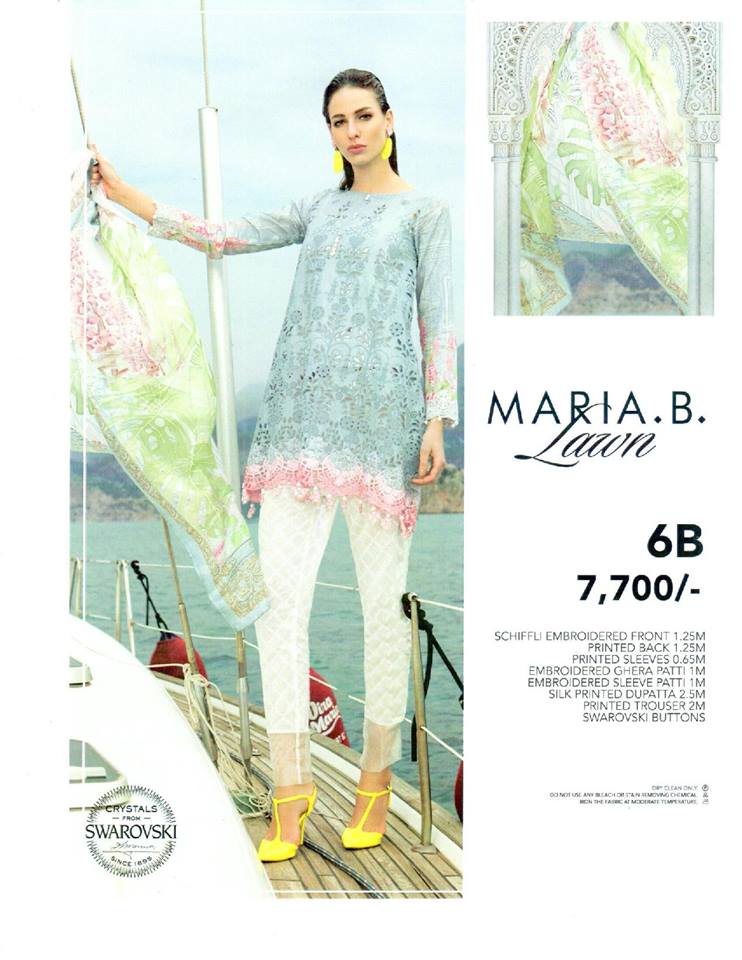 Fabric:
SCHIFFLI EMBROIDERED FRONT 1.25M
PRINTED BACK 1.25M
PRINTED SLEEVES 0.65M
EMBROIDERED GHERA PATTI 1M
EMBROIDERED SLEEVE PATTI 1M
SILK PRINTED DUPATTA 2.5M
PRINTED TROUSER 2M
SWAROVSKI BUTTONS
Girls now you need to keep eyes on your nearest store because these dresses are fastest selling dresses due to most demanding clothing brand of Pakistan so if you want to buy some dresses from Voyage Á Luxe Lawn 2019 By Maria B then you must be prebook your dresses as soon as possible at our Online Store. maria.B is the brand name that achieved the hall of fame through its great quality designs and wide range of variety in female and kids clothing lines. It has gained popularity equally among every classes of our society. Girl and women of all ages pursue their amazingly distinctive apparels. These apparels do not carry, novelty regarding its designs, but it also carries exclusive adornments which keep these attires extremely appealing and glitzy. It has its unique way of the fusing trend with the style especially when it comes to traditional apparels. Maria.B has lifted the standards of trendy outfit for an age of girls. Today we will share the exciting range of best Pakistani designer summer dresses Voyage Á Luxe Lawn 2019 By Maria B
Read More: Gul Ahmed Lawn 2019 | Summer Essential Lawn
May You Like More: