Colors Men's Shalwar Kameez Collection 2019
Men Shalwar Kameez is a traditional dress of Pakistani Men's due to comfort and reliable in wearing. So that's was mostly Man like to wear simple Shalwar Kameez in normal days. But Shalwar Kameez and Kurta Pajama are not a formal dresses of Pakistani men now day's mostly Men's want to wear some fancy Shalwar Kameez on special occasion like Eid days, or some days of wedding or in out gathering or preferring to wear Men Shalwar Kameez then heavy suiting.



Black Shalwar Kameez Design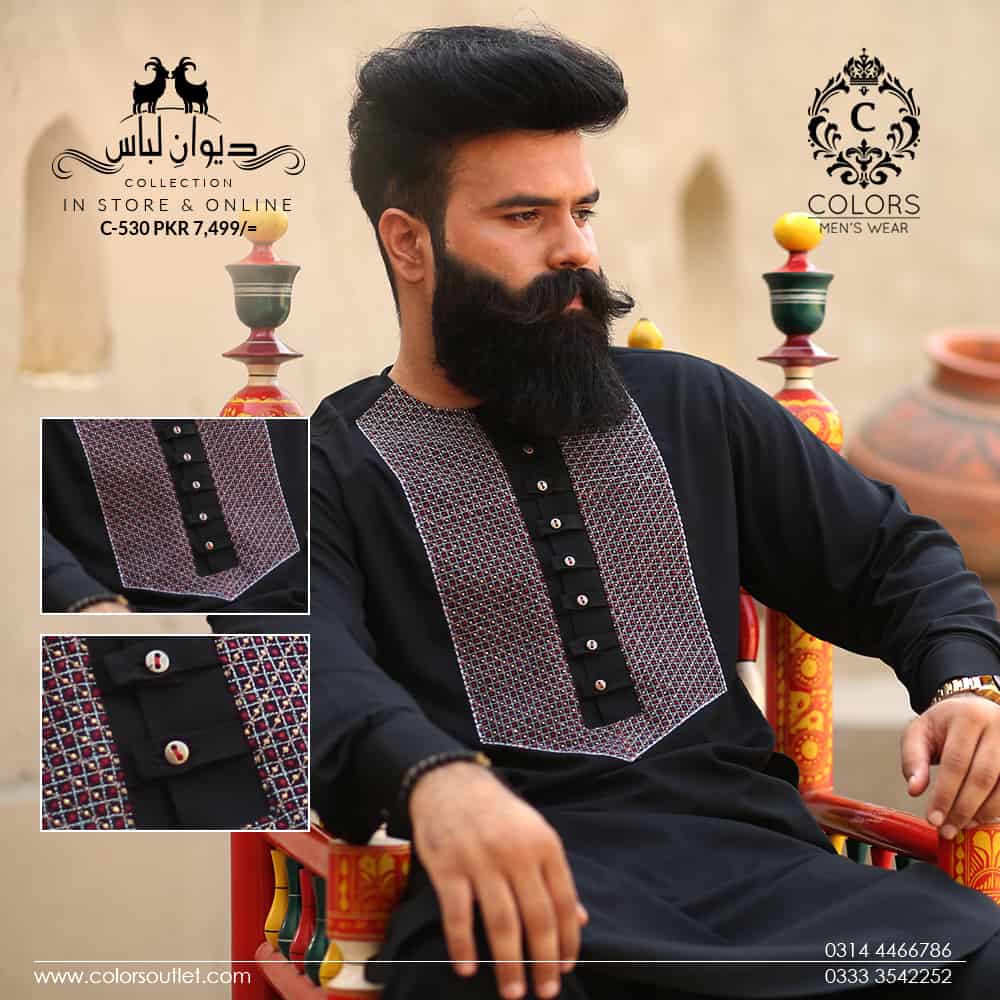 Read More: Rajahs Men's Shalwar Kameez Eid Collection 2018 
Now days you know well the fashion sense of peoples also have growing or every person want that's he wear something unique that's gave her some elegance look then others. So that's was every man searching now some little bit fancy Shalwar Kameez or Kurta pajama to wear as casual dresses. And the game is that, fashion designer come in market or a big race start or fashion brands introducing fashion for Men's. For casual wear go for light colors because light colors will make feel cool when temperature is high.



Today's a lot of Men's fashion designer or some big clothing brand in market or introducing her creation or setting up some unique trends in Men's clothing in sophisticated style. You can easily select your best Men's Shalwar Kameez/Kurta for traditional wedding wear. All of these casual or formal wear dresses kept you comfortable and stylish. Now, in the modern age, Men's also want to select fashionable shalwar kameez to enhance your look. Here we have a list or top Men fashion designer in Pakistan.
Read More: Latest Kurta Design For Men 2019
Designer Men Shalwar Kameez Designs 2019
May You Like More: Colors Men's Shalwar Kameez Designs 2018
Colors introducing Men's Shalwar Kameez designs for winter 2019 in wide range or introducing unique stitching ideas for Men to enhance your grace and style. Colors is a leading and chic Men's clothing brand in Pakistan also presenting sensational Men's clothing with unique ideas that's become a famous in market. Colors stitched Men Shalwar Kameez in variant colors and introducing elegance stitching style for men with high quality fabrics.
Brown Shalwar Kameez Design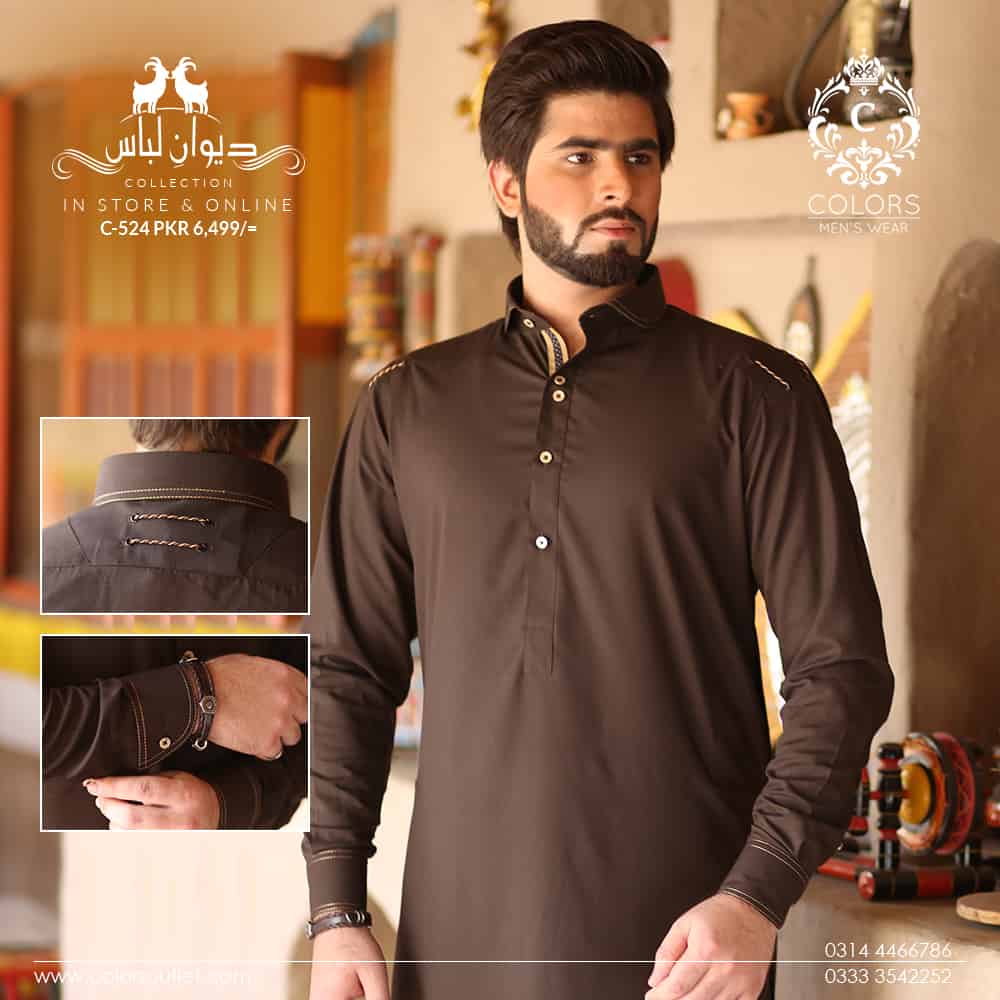 An amazing color Chocolate for sophisticated men with little bit work on neckline and shoulder and Kuff looking gorgouse and chic. I really like this collection or every time when i buy some fabrics for my wardrobe buy this color must. So hope you like this or want to wear or make a part of your wardrobe.
Maroon Shalwar Kameez Design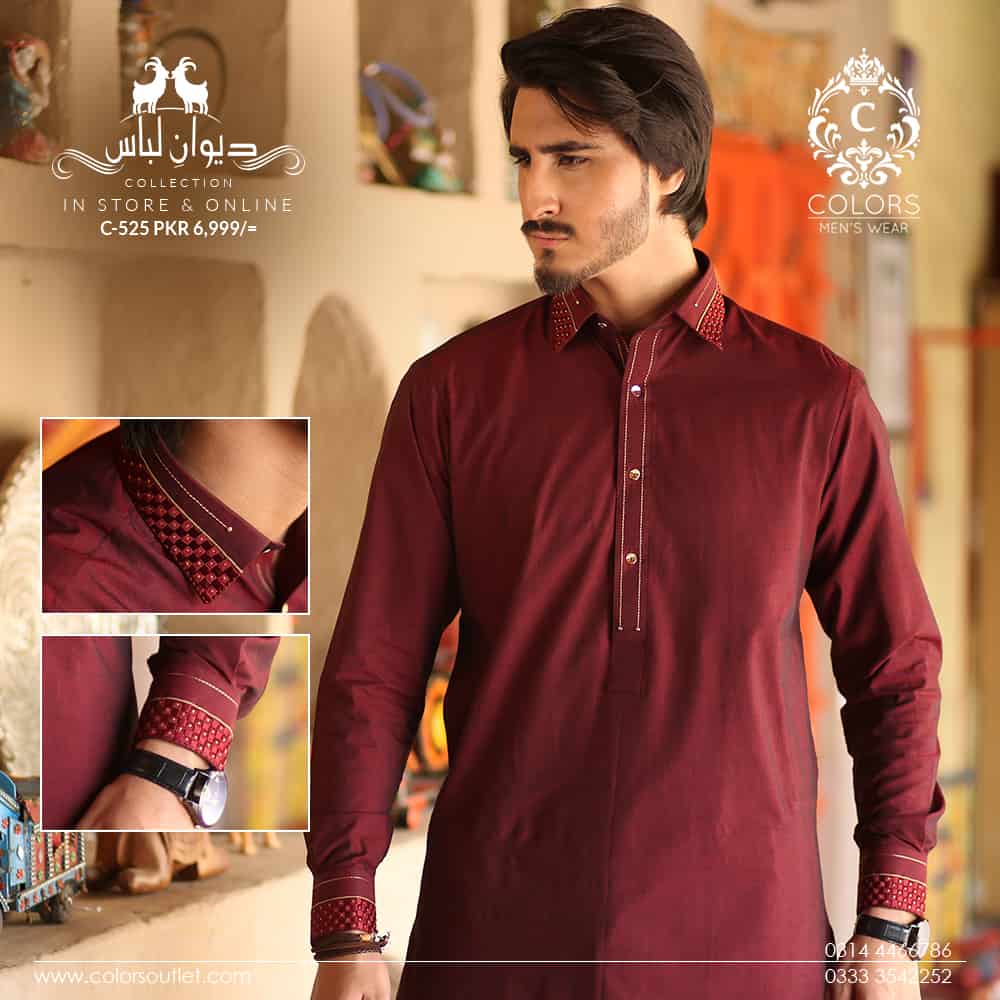 Read More: mens shalwar kameez collar designs
Purple Shalwar Kameez Design
Second designs I really like for my festive wardrobe, really an innovative design with rich embroidery of neckline really looking stunning or the best attire for wedding functions and festive days. But I don't like this color because of some reason, so if I don't like this then it's not mean you also don't like this because every person has own choice. Neither I suggest you if you have fair skin then must try this color.
White Shalwar Kameez Design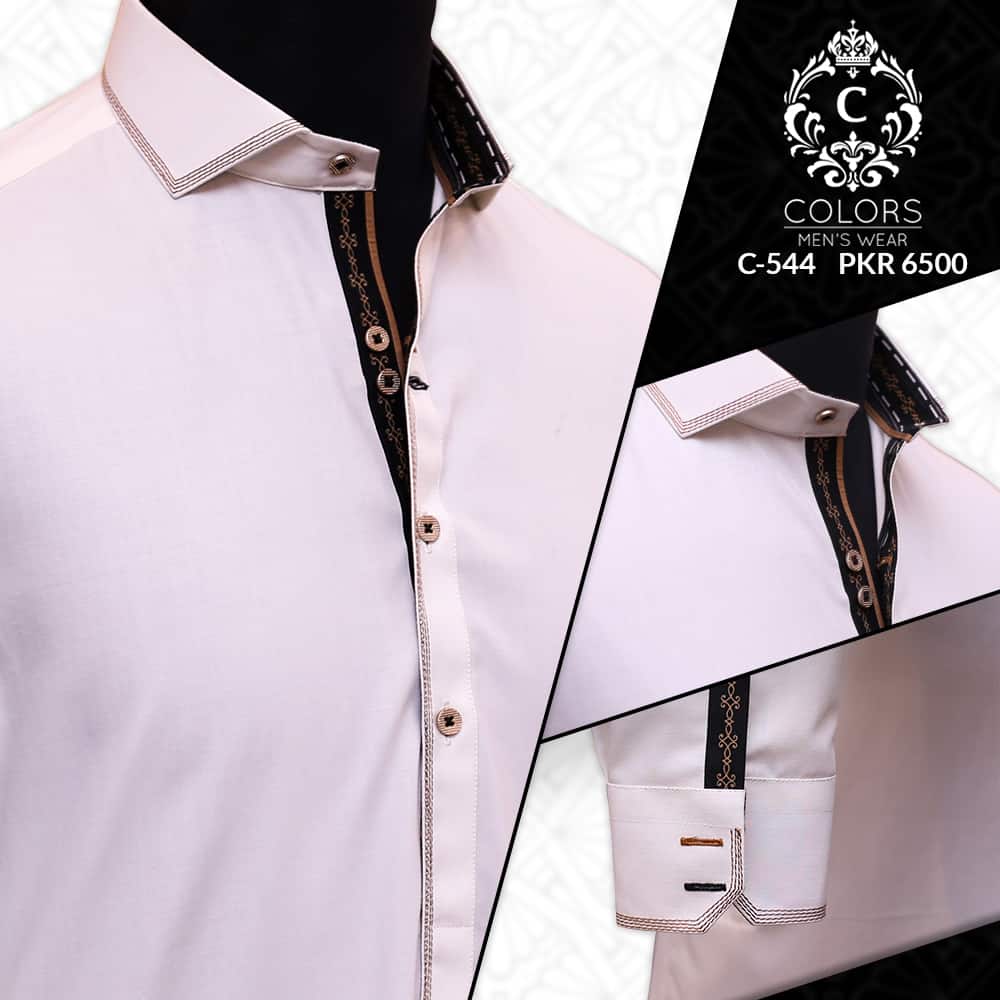 Read More: White Kurta Designs 
Navy Blue Shalwar Kameez Design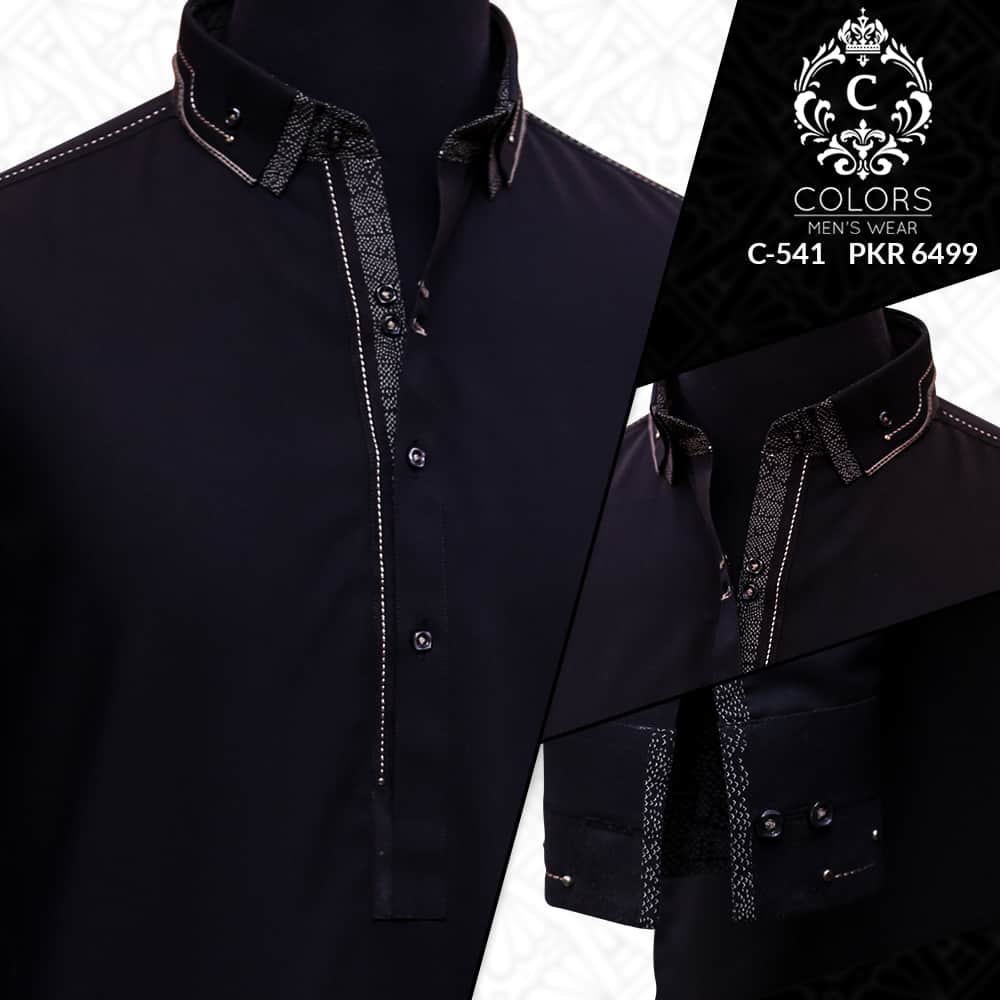 Another sensible design of shalwar kameez, really its looking so nice and sophisticated designs for chic men. A minor work of embroidery I really like other than heavy work. So hope you like Gents Shalwar Kameez Designs 2019.
Read More: Black Kurta Designs For Men
White Shalwar Kameez Design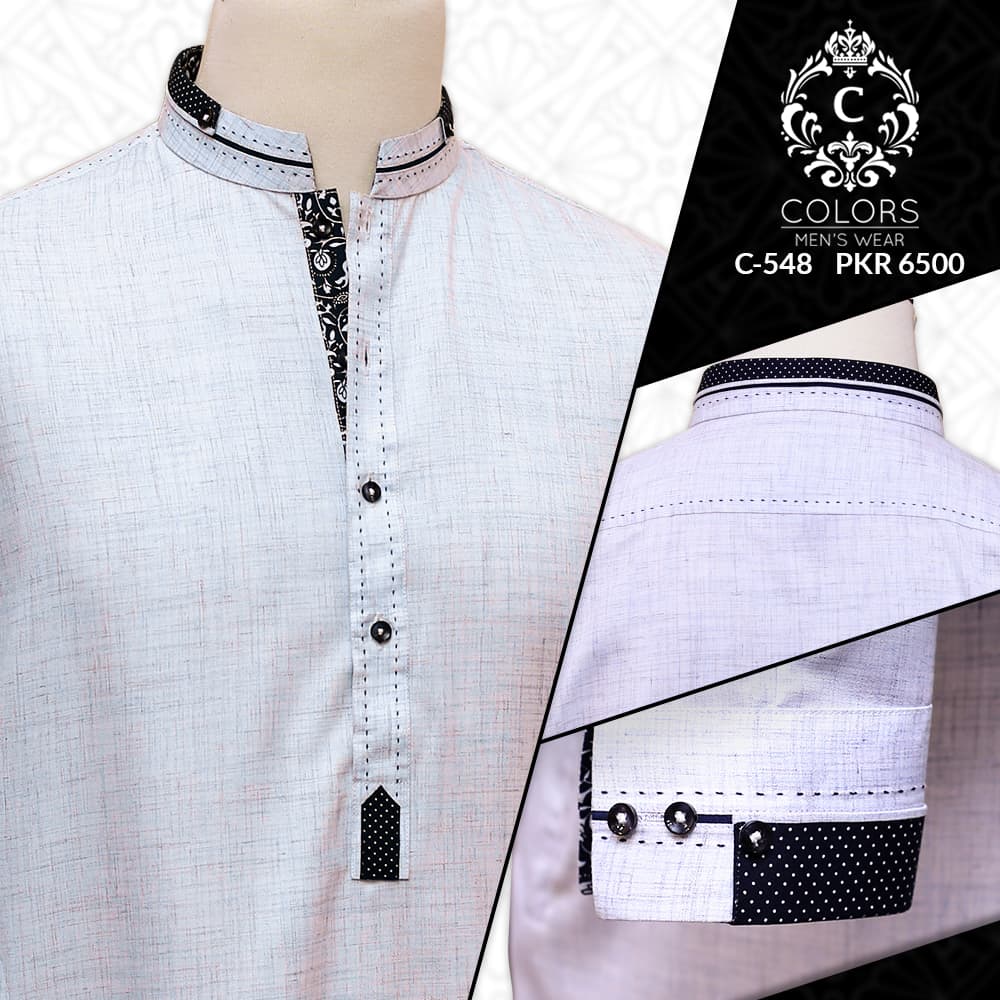 Colors introducing some sophisticated clothing trends in Men Shalwar Kameez introducing awesome collar stitching ideas using some different color to swing inner side of collar same like that's drawing Kameez Ban in various style or stitching colorful ban with dramatic style for Men Shalwar Kameez. Till yet many designers have introduced a range men kurta and shalwar kameez collections in various colours like off-white, brown, blue, green, yellow, purple, orange, maroon, black, white and others. There is no just simple Kurta, but unique and neat embroidery work is done on necklines and sleeves, shoulders that enhance the beauty of a dress.
This adoration makes it elegant and chic to wear at Festivals, occasions, weddings Mehandi functions, events and parties. The latest Gents Shalwar Kameez Designs for the year of 2019 are quite modern and suitable for everyone. It induces exquisite embroideries that will surely give you an ideal and attractive personality look. Moreover, for the very first time, digital printing is done on necklines, sleeves and cuff links to give a unique look. So look here we published some latest Shalwar Kameez designs introducing by Colors. Hope you like or want to make a part of your wardrobe. Stay with us or like our Facebook page to stay update.
Read More: Husn-E-Fitr Men Eid Kurta Collection 2018 By Colors