Rang Rasiya Premium Lawn Collection For Summer 2019
Highly liked & contemporary clothing brand Rang Rasiya introducing Premium Lawn Collection for summer 2019 in wide range of elegance designs for chic and modern women. A premium quality lawn presenting for you summer ward robe in magnificent style. Rang Rasiya introducing a fine quality premium lawn with traditional embroidery pattern and modern cut and style. Rang Rasiya always introducing magnificent or very unique stitching style in each collection. Yes if i asked Rang Rasiya is a trend setter clothing brand in Pakistan then i am not wrong.
Read More: Gul Ahmed Premium Lawn Collection 2019
Rang Rasiya a modern and contemporary clothing brand in Pakistan or liked by thousands of women and girls due to his creative ideas and very unique clothing style. A well established clothing brand introducing sensational clothing for each season. Rang Rasiya also introducing some others collection by the name of Zinnia, Carnation, or Premium collection in different variation. All are highly liked by Pakistani girls or appreciated these collection due to very fine quality of fabrics and amazing fashion sense. Rang Rasiya never compromise on quality each collection of this brand we sold consistently or never get any claim from Rang Rasiya buyers. So we have much trust on this clothing brand hope you also like this brand due to quality of fabric.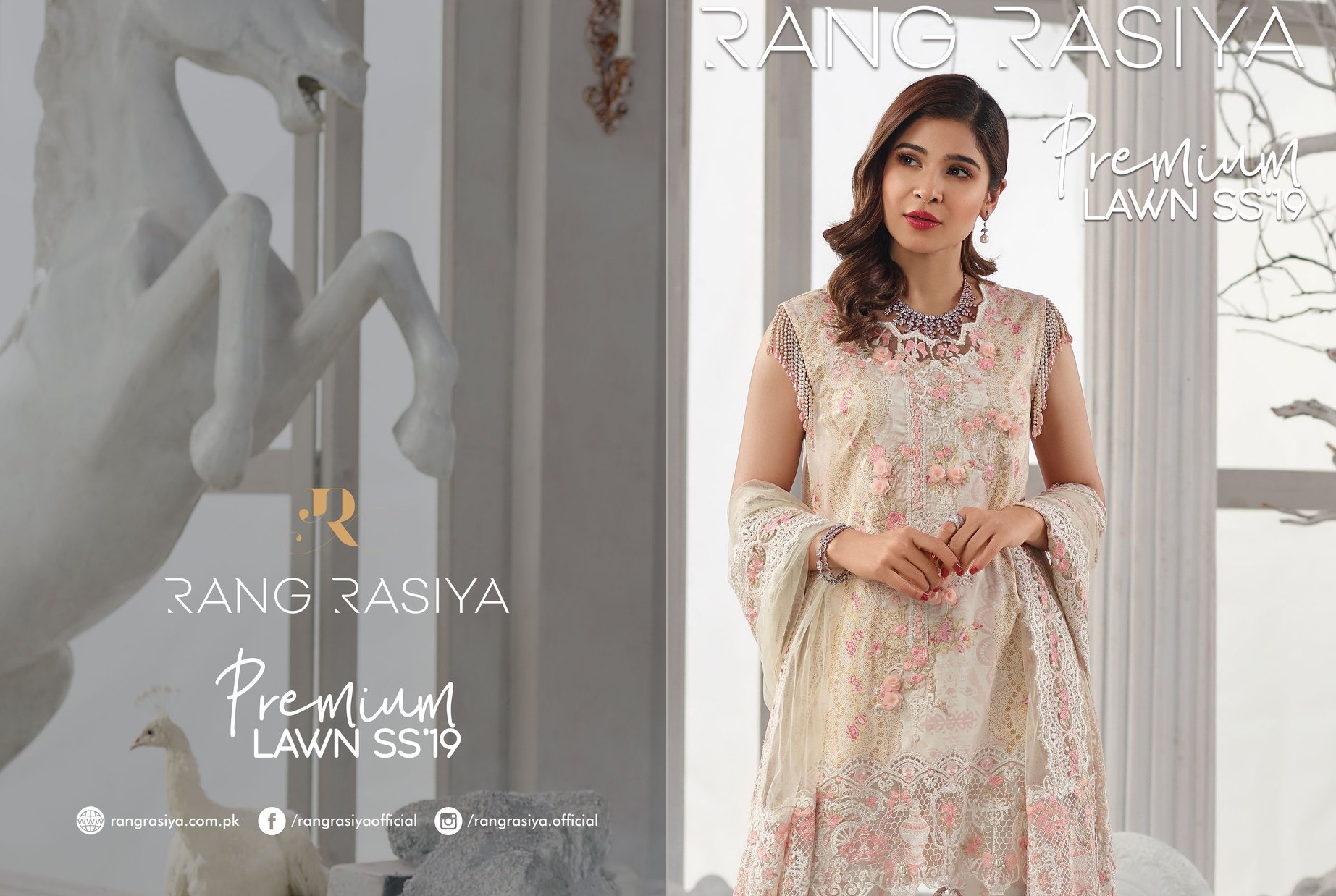 Read More: Voyage Á Luxe Lawn 2019 By Maria B
So for this Spring summer Rang Rasiya going to launched very first collection for spring summer in amazing prints and embellished with stunning embroidery. All dresses have very unique embroidered pattern or sensational colors combination for spring season. Rang Rasiya Premium Lawn 2019 consists of beautiful floral prints that are a reminiscence of spring, featuring three-piece suits with printed shirts, chiffon dupattas, and plain or embroidered patches for trousers. Mostly neutral and light colors can be spotted in their collection with blues, yellows, and pinks being the dominant colors but you can have wide selection in this collection or hope you will get your favorite color in this collection.
Read More: Sobia Nazir Lawn 2019
Girls if you want to update your style in summer 2019 then Rang Rasiya Premium Lawn 2019 is one of the best collection for you. Wrap your self this summer with amazing sophisticated style and glamours prints to enhance you style and look. Rang Rasiya Premium Lawn 2019 available now at all leading clothing stores of Pakistan or outlet of Rang Rasiya. Price range of this collection also economical or start from 6595/- pkr or end on 6995/- pkr. So in this price range Rang Rasiya Premium Lawn 2019 is one of the best collection for your spring wardrobe. So have a look below or select your favorite dresses or order it before ending of stock. We also provide custom stitching service for our international clients so if you need quality stitching then contact us our experienced tailor stitched your dresses as you want. So look below latest collection of Rang Rasiya Lawn 2019 or change your style this summer with adorable clothing.
Read More:    Deeba Lawn Collection 2019 By Shariq Textile
So amazing collection for your festive need in very economical price range. You can look here complete catalog here or decide to buy your favorite dresses easily. All dresses are stunning or extra adorned with tassel and bead to giving sensible look. Rang Rasiya also presenting some dresses with trendy Gahrara style or some with flair style trouser defiantly give you grace full look then others.
Read More: Zaha Lawn 2019 By Khadijah Shah